Main content
Meet The Winners
Meet the winners of the World Service International Playwriting Competition 2018. The writers came from Yemen, Nigeria and Belgium (via South Africa).
'Aziz H'
Winner of English as a Second Language prize for A Broken Heart in a Warzone
Aziz H (a pseudonym) is a Yemeni writer whose play A Broken Heart in a Warzone is set in an unspecified Middle Eastern warzone, plagued by air raids. Two thieves use the raids to their advantage, until they stumble on a dramatic domestic drama that raises the stakes. In this play, humour is a crucial part of an otherwise grisly situation.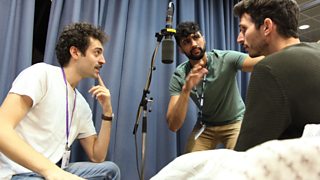 Cast in studio recording A Broken Heart in a Warzone
Aziz says he always wanted to write a dark comedy: "A year ago I read Kurt Vonnegut's Slaughterhouse 5. That novel taught me how to see the world from another angle; to see the funny part of all this misery." He's an avid consumer of Western television, especially comedy, and credits a lot of his tone to these programmes: "The first TV show I fell in love with was an American show called Scrubs. I loved that TV show. And there were other shows like Fargo, 6 Feet Under, Dexter. Maybe the darker stuff came from these TV shows." The ending, he says, is "realistic". "In fiction some people prefer happy endings, but I don't think I can write this way."
Aziz had written short stories and articles before this play, but in his words, "nothing worked". He prefers to write in English, even though it's not his native tongue, because he finds it more "liberating", if also more challenging. And winning the International Playwriting Competition in a second language? "I still can't believe it some days. For someone like me, who isn't a professional writer - it means a lot to me. It's a milestone in my life." He hopes this will be the start of his writing career.
A Broken Heart in a Warzone cast
You can listen to A Broken Heart in a Warzone from the 26th January
Colette Victor
Winner of English as a First Language prize for By God's Mercy
South African born Colette moved to Belgium almost 20 years ago where she started working in poverty alleviation. It wasn't until her eldest daughter was born that she started writing seriously. "I get up at ungodly times in the morning to write but I can't imagine a life where I didn't write." She's written novels before, but this was her first radio play. A daring choice, then, to make her narrator a mattress!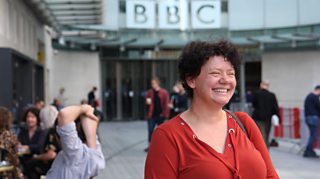 Colette Victor
Set in an impoverished South African township, By God's Mercy takes place in Mercy's 'House of Pleasure' as the matriarch works to put food on the table, look after her sickly husband Sollie, send her talented daughter to college and provide work for the daughter of an old friend. "Often when I'm driving down the street or sitting on a bus and I see people have thrown mattresses out … I've often wondered to myself what that mattress's story would be, because I'm sure all mattresses have a story of some kind to tell." Radio, as she says, is the perfect place to turn an inanimate object into a narrator.
Despite its comic tone, there's a social message that underpins the play. Colette is drawn to subjects around poverty and disease, thanks to her day job, but she was keenly aware of it in South Africa, too, a country she calls one of "extremes and opposites". Inequality is something she wants to draw attention to with her writing.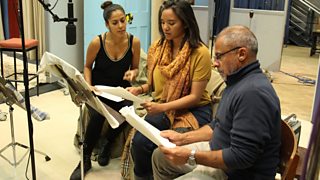 Cast recording By God's Mercy
"I think it would be a really positive thing if people realised we can do something to fight poverty. It's not just something that's there, like the weather. As human beings we have the power to fight poverty in a lot of the choices that we make."
Bode Asiyanbi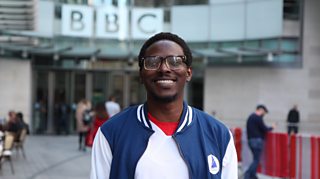 Bode Asiyanbi
Winner of the Georgi Markov prize for The Journey to Fortune?
"I know the Georgi Markov story, so when that prize was inaugurated I was excited, because he was someone who championed freedom of expression and he spoke truth to power. And when I was told I won the prize, it was an out of body experience; it was unreal." In Bode's play The Journey to Fortune? a panellist is surprised to find that he is able to answer the questions put to him. How? His unique experiences on leaving Nigeria for Europe via Libya seem, unwittingly, to have provided them.
The character's experiences are, sadly, not unique; Bode lives in Benin City, at the sharp end of the economic migration from Nigeria to the West. For him, his play was an important way to get at the truth of the situation that still leaves many stranded, in poverty, or worse. "If 1000 people leave Benin City for Europe, 900 of them get stranded in Libya, or perish on the Mediterranean, and just 100 get through to Europe and start to send money back home, that's the story you're going to hear. And when they send money back, maybe they build houses; those are the realities that you see, that feed into the consciousness of those that intend to leave. So the reality of those who perish, of those who are imprisoned in Libya – or spend years in Libya – that story's not told."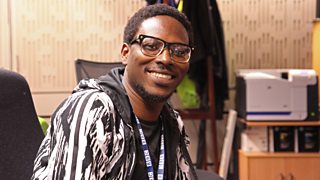 Bode in studio
The Georgi Markov prize honours the script with the most outstanding potential from the competition's shortlist, and was set up in memory of BBC World Service journalist Georgi Markov (1929-1978), who championed freedom of creative expression.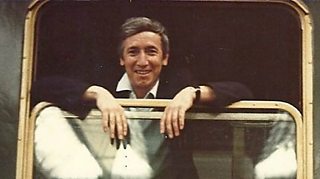 Georgi Markov
The prize has been established by the BBC World Service and its Writer in Residence and the Open University, in association with Annabel and Sasha Markova.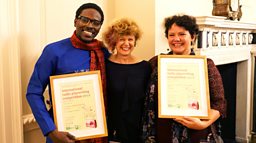 Bode and Colette receiving their awards, with Marion Nancarrow
The Judges
The judging panel comprised the highly-acclaimed actor Raymond Fearon; the award-winning writer and poet Sabrina Mahfouz; and co-Artistic Director of the North Wall, Ria Parry; alongside BBC World Service Senior Commissioning Editor, Steve Titherington; Director of Theatre and Dance at the British Council, Neil Webb; and Executive Producer of BBC Radio Drama, Marion Nancarrow.
The judges making their final selections
The winning plays are remarkable, inventive and beautifully written. It is a privilege to see the breadth of ideas shown by writers around the world.

Steve Titherington, BBC World Service Senior Commissioning Editor

Neil Webb, Director of Theatre and Dance at the British Council, says: "This competition is an important part of the British Council's programme developing new playwrights around the world, discovering new talent, helping global artists find new opportunities, and connecting with the UK. Sharing stories is a powerful way for us to connect with different cultures, explore difficult issues and be inspired by fresh voices."
Regional Winners
Asia
Stand Pipe by Derrick Jeffrey (Thailand)
Caribbean
Tanty Get Ah Android by Julien Marvin Neaves (Trinidad and Tobago)
The Pacific
An Incident Over Water by Paul Charlier (Australia)
The Americas
My Beautiful Blue Muse by Elizabeth Ridley (USA)
Original Shortlist
English as a Second Language
• The Journey To Fortune? by Bode Asiyanbi (Nigeria)
• Token Dead White Guy by Africa Ukoh (Nigeria)
• My Migingo by Edith Osiro (Kenya)
• The Storychild by Mohamad Aziz Salim (Malaysia)
• Shadows of Saint Petersburg by Xenia Pattberg (The Netherlands)
• The Checkpoint Recital by Or Amit (Czech Republic)
• The Meaning of Life by Anna Spatar (Russia)
• A Boat Story by Muhammad Addam (Egypt)
• A Broken Heart in a Warzone by Aziz H (Yemen)
English as a First Language
• Fields of Glittering Things by Iz Mazano (Zimbabwe)
• Atacama by Augusto Amador (USA)
• Stand Pipe by Derrick Jeffrey (Thailand)
• Tanty Get Ah Android by Julien Marvin Neaves (Trinidad and Tobago)
• By God's Mercy by Colette Victor (Belgium)
• An Incident Over Water by Paul Charlier (Australia)
• Fire in the Head R Johns (Australia)
Highly Commended
A Day In October by Tunray Femi, Nigeria
Father and Other Lies by Narda Natiora, Madagascar
55 Shades Of Gay by Jeton Neziraj, Kosovo
Boneshakers by Sigurbjörg Thrastardóttir, Iceland
NO CREAM, NO SUGAR by Klara Chmelarova, Czech Republic
And His Name Was Spring by Rania Yehia, Egypt
Commended
My First Real Job by Yram Adrakpanya, Ghana
"The Legend": A Boxing Story. By Rick Apicella, USA
In Humanity 2.0 by Steven David Brown, Austria
Run, Sasha Run by Aston Cooke, Jamaica
Tomahawk Cody by Montana Cypress, USA
Til Death We Part by Amy De Bhrún, Ireland
Love Cuts Deep by Kenneth Gitari, Kenya
Wild Child by Laura Hall, Denmark
The Maternity Monologues by Catherine Higgins-Moore, USA
Jayaguru-the Godfather by Eresina Hwede, Zimbabwe
Love Jihad by Mansi Jhingran, India
Hunters Perception by Simon Mburu, Kenya
All in a Month of May by David McRobbie, Australia
A Moral Struggle by Nigel Edward Obiya, Kenya
Black Hole by Alfrun Ornolfsdottir, Iceland
The Pearl Diver by Simon Rowe, Japan
Ear to Ear by Mozhdeh Sameti, Iran
Walkin' After Midnight by John Stell, USA
Ishmael by Yasen Vasilev, Bulgaria
Our Partners

The International Radio Playwriting Competition is run by BBC World Service and the British Council, with Commonwealth Writers.