Main content
Three Counties People Awards
We're celebrating the exceptional people of Beds, Herts and Bucks by asking you to nominate someone for a Three Counties People Award.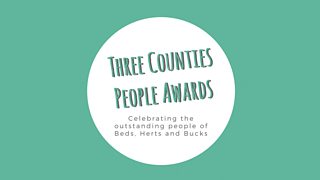 The Three Counties People Awards are celebrating the people of Beds, Herts and Bucks.

BBC Three Counties Radio
We want to hear about those outstanding people who always go the extra mile, who care about their community or who consistently give up their time to help others.
How to nominate
The closing date for nominations is 23:59 on Monday 19 August 2019.
The awards ceremony takes place at the Grove Theatre, Dunstable on Wednesday 25 September.
Click here for full Terms and Conditions
Nomination categories
Young Achiever
Just because you're young doesn't mean you can't make a big difference to the world around you. If you're under 18 and you are devoted to your community, you can be nominated for this award. We're looking for a young person who has made an outstanding contribution to their community or achieved something great against the odds.
999
Recognising the men and women of the emergency services for whom going to work is often a matter of life and death. This is your chance to say thank you to those people who came to your rescue in your time of greatest need. Or for people within the blue light services to recognise an exceptional friend or colleague.
Sport
This award is for a team or individual who makes a significant difference to the local sporting world. This could be through dedicated service to their sport or sports club, individual sporting achievement or team success in Beds, Herts or Bucks.
Carer
Carers play an invaluable role looking after some of the most vulnerable members of our society often with little support or recognition. If you know a carer who deserves to be recognised for their exceptional caring role then nominate them in this category and tell us why they deserve the carers award.
Good Neighbour
This category is for an individual or group that helps make your neighbourhood a better place to live. This could be through an exceptional single act of kindness or a consistent effort to ensure that local people have a better quality of life.
Fundraiser
This award is for an individual or group who has gone the extra mile to raise funds for a charity or good cause. It could be because they have met an ambitious fundraising target or because the go above and beyond the call of duty to raise money.
Volunteer
Many organisations rely on the work of volunteers. But do you know an outstanding volunteer who gives much of their time to help others or who has volunteered for a long time? This is your chance to recognise that person.
Foster Carer
Do you know an individual or couple who have made a lasting, positive impact on the lives of those they have fostered? Perhaps you were in foster care and want to thank those who cared for you. Or maybe you know a foster carer who deserves recognition for their commitment and dedication.
Teacher or teaching assistant
Has a great teacher made a fundamental, positive difference to your life? We're looking for that great teacher or teaching assistant who believed in you, the one you still talk about even after you've left school. The one whose lessons were memorable for all the right reasons.
Diversity and Equality
This award recognises an individual or organisation which has proactively promoted community cohesion or celebrated diversity. If you know someone who works hard to ensure that diverse groups are fairly represented or who brings diverse groups together to foster cohesion, then nominate them in this category.
Environment
This award is for a group or individual who consistently shows great care for their environment and are passionate about protecting the natural world. The positive impact of this person's work must be seen locally and their efforts should be geared towards the three counties.