Main content
The Witterlist - 24th May 2019
If you thought it was going to be a long, long time until Mark and Simon brought you round again to find that Friday afternoon's alright for reviewing, then you might also have been struggling to form a sentence without referencing Elton John songs this week. We dug deep into new musical biopic Rocketman, as well as checking in on The Secret Life of Pets 2, swotting up on Booksmart and getting blue over Aladdin.
If you've missed a show or just want to revisit some of our premium movie content, you can find highlights of all of our programmes on our dedicated Witterlist page.
The Interview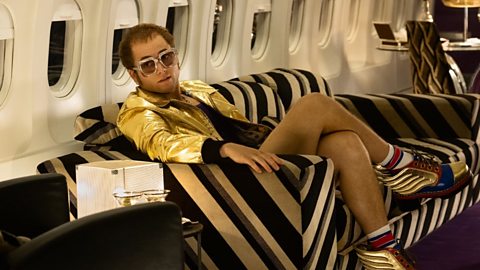 Taron Egerton talks to Simon Mayo about his new film, Rocketman.
Taron Egerton returned to the show to talk about taking on the role of Elton John in Rocketman. Taron told Simon about how the role came to him after ten years in development. He also talked about the contradictions within Elton John's personality and the influence Elton has had on his career.
It's fair to say that Mark loved Rocketman to pieces, mainly because he said so. It's a jukebox musical that uses Elton John's songs and penchant for the fabulously flamboyant and weaves them into a film that is brilliantly entertaining without losing the truth of its subject. Taron Egerton gives a masterclass in capturing the spirit of a person and Mark thought this film should silence anyone who doubts Dexter Fletcher's directorial genius.
In the latest live action/CGI remake of one of their classic cartoons, Disney presents a big-budget retelling of 1992's Aladdin. With Guy Ritchie at the helm and a startlingly blue Will Smith stepping in as the genie, it struggles to shake the memory of the freewheeling performance by Robin Williams in the original and comes nowhere near to justifying its existence.
You might remember The Secret Life of Pets as basically being Toy Story but with animals. It was fine, but ultimately forgettable. Happily, its sequel is well-paced, well-performed and full of laughs from start to finish.
Booksmart is the directorial debut of actress Olivia Wilde; a bold and brash coming-of-age comedy starring Kaitlyn Dever and Beanie Feldstein (who you might remember from Lady Bird) as two bookish best friends who decide to see out their high school years by fitting all the partying they've missed into one night. While that might sound like well-trodden ground, Mark found it to be a refreshingly original, tender and very funny exploration of the enduring power of friendship.
New documentary XY Chelsea investigates Chelsea Manning, who was sentenced to 35 years in prison after she leaked documents about the United States' wars in Iraq and Afghanistan. At times heartbreaking and at times very funny, Mark applauded the documentary for attempting to retain a non-intrusive eye while also giving its subject a voice.
Next week
Next week, Edith Bowman and Clarisse Loughrey step in while Mark and Simon enjoy a week off.