Main content
Jack Garratt: The Story So Far
He started young. Really young. He wrote his first song at the age of 12.
Jack has been supported by BBC Introducing since day one. He first uploaded his music to the BBC Introducing Uploader back in 2009.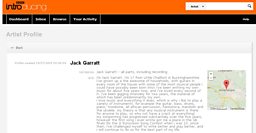 He was first played on the radio by BBC Introducing in Beds, Herts and Bucks. Here's his session from 2012.
In 2014 'Worry' was selected as Zane Lowe's Next Hype record & things went pretty crazy from there!

Actual track list from Zane Lowe show
He smashed the BBC Introducing Stage at Reading and Leeds Festival 2014...
& had a splendid time as well!
Then he was chosen as Huw Stephens' Record Of The Week (& Huw knows good music when he hears it).
& was also added to the Radio 1 playlist!
So yes 2014 was a huge year for Jack Garratt, here are 5 facts you might not know about the man:
1. He's from a little village in Buckinghamshire called Little Chalfont.
2. He first started writing music when he just 12 – he'd write songs in lunch break at school.
3. The first song he ever wrote got him a place in the GB finals for the Junior Eurovision Song Contest.
4. This article about Junior Eurovision will probably make him cringe!
5. He's a multi-instrumentalist – he can play loads of instruments from a trombone to a mandolin.
Then to top it all off and to celebrate the first ever BBC Introducing Day, he came in to do a session for Zane Lowe.