Main content
1Xtra Live Ticket Competition 2019
Note: This page was updated on 19 September 2019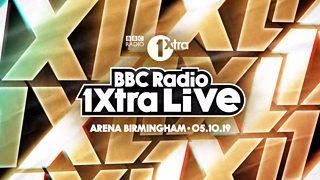 We're giving away tickets to this year's 1Xtra Live. It's your chance to see Aitch, Popcaan, French Montana & more at Arena Birmingham on Saturday 5 October!
To enter, listen closely to the following 1Xtra shows, starting on Saturday 21 September.
Tues 24th Sept - 1Xtra Breakfast 6-10am & MistaJam 4-7pm
Wed 25th Sept - 1Xtra Breakfast 6-10am & MistaJam 4-7pm
Thurs 26th Sept - 1Xtra Breakfast 6-10am & MistaJam 4-7pm
Sat 28th Sept - Nick Bright at 10am
You will need to listen out for a specific track, which the hosts will announce. When you hear the track, call 0370 412 1111. Lines will be open for 15 minutes.
You need to be 16 or over to enter. Do not call before you hear the track, and don't call if you're listening on demand. Standard geographic call charges apply.
See below for full terms and conditions.
Privacy Notice
Your trust is very important to us. This means the BBC is committed to protecting the privacy and security of your personal information.
It is important that you read this notice so that you are aware of how and why we are using such information. This privacy notice describes how we collect and use personal information about you during and after your relationship with us, in accordance with data protection law.
You can find additional information in our privacy policy, available at: http://www.bbc.co.uk/usingthebbc/privacy/privacy-policy/
What will we collect and how we use it?
The BBC will collect and process the personal information that you have provided to us about yourself by entering this competition, including your name, age, general location area and a contact telephone number. If you are a winner, we will ask for your email address and contact details of your chosen guest in order to fulfil the prize.
The BBC is the "data controller" of this information. This means that the BBC decides what your personal information is used for, and the ways in which it is processed.
The personal information that you provide will be processed securely for the purposes of running a radio competition. The legal basis on which the BBC processes your personal information is on the basis of the BBC's legitimate interests in order to provide interesting and engaging radio programming to those that participate and to the wider audience listening in. If you are successful, we will process your personal information for the purpose of post-competition publicity and our lawful basis for such processing is again, for the purposes of legitimate interests in promoting the competition.
Retaining your personal information
In relation to the personal data of those entering the competition, the BBC will retain your personal information until 1 September 2019. We will retain the winners name and their contact details until 1 September 2022.
Sharing your personal information
We will share winners and their guests' information such as name and email address with the festival promoter to ensure you receive your tickets.
Your rights and more information
If you have any questions about how the BBC handles your personal information, or you wish to find out about your rights, please visit the BBC's Privacy and Cookies Policy. You will also be able to find out more information about how the BBC processes your information and how you can contact the BBC's Data Protection Officer. Where there is inconsistency between those documents and this notice, this notice shall prevail.
If you raise a concern with the BBC about the way it has handled your personal information, you are entitled to lodge a concern with a supervisory authority. In the UK, the supervisory authority is the Information Commissioner's Office (ICO).
Terms and Conditions
1. Entry is open to all residents of the UK, the Channel Islands and the Isle of Man except anyone closely related to BBC or BBC Group company employees or those of its affiliates and their close relatives or any person connected to the competition. Entrants must be able to make their way to and from the festivals to which we are giving away tickets.
2. Entrants must be aged 16 years or older to enter. Proof of age, identity and eligibility may be requested.
3. The competition will run at any time during the following shows with different prize for each show as stated.
Tues 25th Sept - 1Xtra Breakfast 6-10am and MistaJam 4-7pm - 4 x seated tickets to 1Xtra Live on Sat 5 October 2019 at Arena Birmingham
Wed 25th Sept - 1Xtra Breakfast 6-10am & MistaJam 4-7pm - 4 x seated tickets to 1Xtra Live on Sat 5 October 2019 at Arena Birmingham
Thurs 26th Sept - 1Xtra Breakfast 6-10am & MistaJam 4-7pm - 4 x seated tickets to 1Xtra Live on Sat 5 October 2019 at Arena Birmingham
Sat 28th Sept - Nick Bright at 10am - 4 x seated tickets to 1Xtra Live on Sat 5 October 2019 at Arena Birmingham
To enter the competition, contestants will need to listen to 1Xtra during the above shows for a 'cue to call'.
The 'cue to call' track for the competition will be revealed during each of the above shows.
When the 'cue to call' is played any listeners who want to enter must call 0370 412 1111. Listeners cannot enter by any other method. Standard geographic charges from landlines and mobiles will apply.
5. The phone lines will be open for 15 minutes after which the liveliest and most entertaining two callers will be put through to the studio with another caller reserved as backup. The caller will then take part in a competition on air where they will each be asked to recall as many items on a list as possible in 20 seconds. Anything attempted after this time will not be accepted.
The caller who recalls the most amount of items, will win.
If caller 1 & 2 recall the same number of items the tickets will go to the caller who most accurately guessed the closest figure in a tie breaker question that they will have answered off air.
6. Use of bad language on air may result in disqualification from the competition. The BBC's decision on disqualification shall be final.
7. Listeners should only call to enter during the times announced on-air. Calls received outside the announced times will not be registered but may still be charged. Entrants must ensure they obtain the bill-payer's consent before entering.
8. Entrants will be interviewed by members of the production team to ensure eligibility, availability and to determine which are the most lively and entertaining by asking two questions, one about the event and one about Radio 1 or 1Xtra. Entrants cannot enter on behalf of someone else. Entrants must be aged 16 or over to enter the competition.
9. The BBC's decision as to the winners is final. No correspondence relating to the competition will be entered into.
10. Winners are excluded from re-entering the competition.
11. Further details will be communicated to the winners via email. It is the winner's responsibility to ensure their guests meet the entry criteria for the event.
12. There is no cash alternative and the prize cannot be sold or transferred in any circumstances. For the avoidance of doubt the prize does not include travel, accommodation or any other expense, cost or fee.
13. The BBC will not be responsible for any failure by the ticket holders to gain entry or re-entry to the event due to the behaviour of the ticket holder or their failure to meet the admission requirements of the event. For more information about ticket requirements including the age policy please visit https://www.bbc.co.uk/programmes/articles/27D6BcGzWGNZGDPHyXdCLJq/terms-conditions
14. Travel and accommodation will not be included unless otherwise stated.
15. The BBC reserves the right to:
(i) amend these terms and conditions, including but not limited to, the competition opening and closing times and the programmes featuring the competition;
(ii) disqualify any entrant who breaches the rules or has acted fraudulently in any way;
(iii) withdraw or substitute any prize, at any stage, should any winner or their guest exhibit inappropriate or dangerous behaviour (including, but not limited to being under the influence of alcohol, illegal drugs or chemical substances or causing a nuisance) while on-air, attending BBC premises or where the prize includes attendance to an event or;
(iv) cancel the competition, at any stage, if in its opinion it is deemed necessary or if circumstances arise outside its control.
16. The BBC, its sub-contractors, subsidiaries and/or agencies cannot accept any responsibility whatsoever for any technical failure or malfunction or any other problem which may result in any entry being lost or not properly registered.
17. This competition accords with the BBC's Code of Conduct for Competitions and Voting, details of which can be found at BBC Competitions Policy
18. The promoter of the competition is the British Broadcasting Corporation and the applicable law is the laws of England and Wales.
19. Entrants will be deemed to have accepted these rules and to agree to be bound by them when registering.