Main content
How Magnum Photos told the story of cinema
15 September 2017
From the day it was created in 1947, Magnum Photos has represented some of the most famous names in photography. But the agency's work also includes more surprising images – pictures of cinema. Cinema Through the Eye of Magnum recounts this remarkable collaboration, from Dennis Stock's portraits of James Dean to Eve Arnold's intimate relationship with Marilyn Monroe.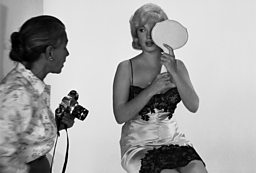 Marilyn Monroe and Magnum photographer Eve Arnold during the filming of The Misfits. 1960 © Eve Arnold / Magnum Photos
I am a war photographer who dreams of being unemployed

Robert Capa
The Magnum photographic agency was formed in 1947 by four photographers - Robert Capa, Henri Cartier-Bresson, George Rodger and David "Chim" Seymour - who had each been scarred by the Second World War. Formed as a photographers' cooperative, it was designed to allow its members to work outside the formulas of conventional magazine journalism. The agency would manage a photographer's work while they were out in the field.
Capa was already a famous war correspondent, having photographed the WWII fighting in Africa, Sicily and Italy, and prior to that the Spanish Civil War. His surreal, movie-like images of the D-Day landings at Omaha Beach would inspire Steven Spielberg, who opened Saving Private Ryan with images replicating those photos scene by scene.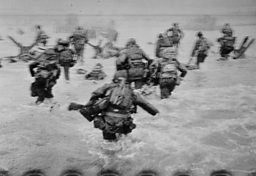 Normandy, France. 6 June, 1944. US troops assault Omaha Beach during the D-Day landings. Robert Capa © International Center of Photography
In a scene reminiscent of Laurence of Arabia, Robert Capa captured this image of the French Camel Corps, the Meharists, riding through the desert to a battle in 1943.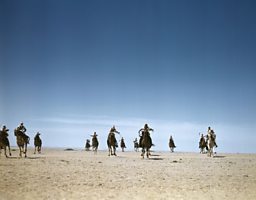 Tunisia. 1943. Robert Capa © International Center of Photography
Life isn't made of stories that you cut into slices like an apple pie... We have to evoke a situation, a truth. This is the poetry of life's reality.

Henri Cartier-Bresson
For Capa, cinema provided a glamorous antidote to war and its horrors. He had been friendly with Ernest Hemingway since 1941, and the writer's connections allowed him to get to know Hollywood directors such as John Huston.
Magnum had to make money, and its photographers had the skill and experience to tell behind-the-scenes stories about film stars and the locations not covered in agency handouts. Magnum photographers were observers of the world, and they brought a breath of fresh air to a world of gloss and touch-ups offering up a sterile notion of perfection.
Th photographers' talent, coupled with Capa's network of movie contacts, meant the agency could offer exclusive spreads to major magazines like LIFE.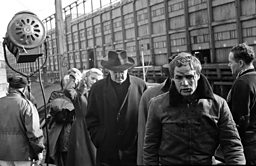 New York. 1954. Marlon Brando walks ahead of fellow actor Karl Malden during filming for On the Waterfront © Elliott Erwitt / Magnum Photos
Magnum photographer Dennis Stock was introduced to the shy, nervy young actor James Dean by director Nicholas Ray. It was 1954, shortly before the release of East of Eden. Ray would direct Dean in Rebel Without a Cause the following year.
With the impression that Dean had a small part in Eden, Stock went to a preview screening at the actor's invitation. He was blown away by the lead performance he saw, concluding that Dean exhibited the same star quality as Marlon Brando and Paul Newman.
After hearing Dean talk nostalgically about his childhood in Fairmount, Indiana, where he had been brought up on his aunt and uncle's farm following his mother's death, Stock conceived a unique photo-essay that would explore the actor's origins. Eventually they would spend two months on and off together, initially around New York where this iconic image was taken in Times Square.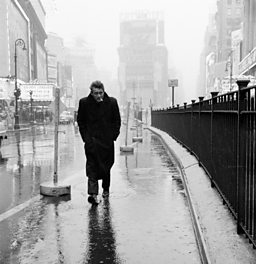 New York City. 1955. James Dean walks through Times Square. © Dennis Stock / Magnum Photos
Stock said, "I wasn't interested in a lot of the poses Jimmy took. They were artificial, so I let him go through a lot of nonsense until he relaxed and became spontaneous. Then I took photos that I thought were revealing of his true character."
After pitching up in Fairmount, Stock took many photographs around the farm and the town, where Dean was a minor celebrity due to having appeared in a few television dramas. This image was taken in the town's Park Cemetery, with the young actor standing alongside his great-grandfather Cal Dean's headstone. Just a few months later Dean would be buried here, alongside his mother and generations of his family.
Dennis Stock was back in Hollywood after a stint in France, at the same time as Giant was wrapping up filming. James Dean invited him upstate for a weekend's driving in Salinas, Monterey County, but after initial enthusiasm he decided against going. Dean was killed in his new Porsche the next day. Salinas was the boyhood home of John Steinbeck and the setting for his novel East of Eden; Dean played the part of Cal in the movie.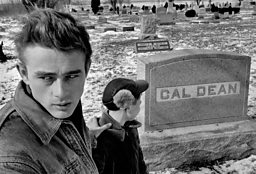 James Dean in Park Cemetery, Fairmount, Indiana, 1955. © Dennis Stock / Magnum Photos
The Misfits was a pivotal moment in photographers' relationship with cinema. Lee Jones, Magnum's head of special projects in New York, decided that the film's dream cast deserved special attention. Nine different photographers took turns over 3 months of the shoot to capture the "total chaos" on what would be Marilyn Monroe's last film.
Eve Arnold, Magnum's first woman member, was Monroe's trusted collaborator. Having previously worked with Marlene Dietrich and Joan Crawford, she started photographing Monroe ten years earlier when they were both relatively unknown. She spent two months on the set of the John Huston movie.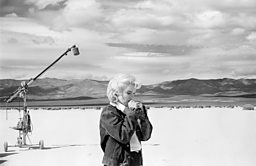 Marilyn Monroe in the Nevada desert going over her lines for a scene she is about to play with Clarke Gable in The Misfits, 1960. © Eve Arnold / Magnum Photos
Photographer Bruce Davidson remarked, "Marilyn is really in torment - this was the movie where it all collapsed. And the hidden homosexuality, total neurosis, drugs, the whole works (on set). This film is a turning point, and the photographs document the disintegration of a system."
Clark Gable had a heart attack the day after filming wrapped on The Misfits and died a few days later.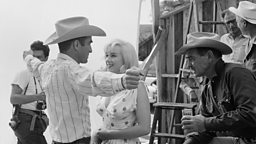 Montgomery Clift,, Marilyn Monroe and Clark Gable in the Nevada Desert, 1960. Background left is Magnum photographer Elliott Erwitt; background right are playwright Arthur Miller (Monroe's husband) and director John Huston. Photo by Ernst Haas / Getty Images
With the advent of television, the movies lost much of their allure for the magazines and so it was the end of an era for Magnum. And when money became tight, producers said there was no need for a set photographer.
Eyes turned to Swinging London and Europe's New Wave. Directors had a different status, and photographing Truffaut or Godard was a different story from working in Hollywood. Magnum had to adapt to the new, scattered environment which had moved on from the centralising force of the studios.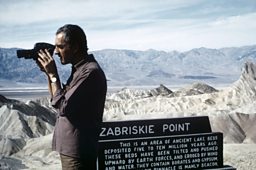 Italian director Michelangelo Antonioni during the filming of Zabriskie Point, California, 1968. © Bruce Davidson / Magnum Photos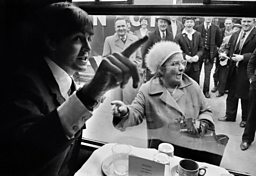 The Beatles film A Hard Day's Night, primarily shot on a moving train. A Fan recognises Paul McCartney, 1964. © David Hurn / Magnum Photos
Although Magnum started to disappear from mainstream film sets, and their world now dominated by the celebrity press, cinema continued to inspire the agency's photographers. Russian-born Gueorgui Pinkhassov said, after watching Andrei Tarkovsky's Solaris (1972): "It was incredible. After watching the movie I wanted to respond to it, and react to it. If I was a poet I'd write poetry but I only know photography."
Pinkhassov managed to get some of his photographs in front of the director, and they ended up meeting. "He told me I could work around him if I wanted to... I asked his definition of photography and he said 'Cartier-Bresson'. I didn't know who he was. That's how he convinced me to be a reporter."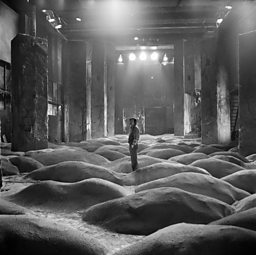 Russian director Andrei Tarkovsky on the set of his 1979 film, Stalker. © Gueorgui Pinkhassov / Magnum Photos
Watch Cinema Through the Eye of Magnum
This film recounts a remarkable collaboration, providing an essential history of both cinema and photography.
More Photography features
From iconic moments of World War One to the polarising work of Martin Parr... take the quiz.

Photographer Eamonn McCabe on the football match where everything changed.