Main content
7 timely reminders that Justin Bieber is a good human being
Justin Bieber has been on the road for most of 2016 on his Purpose tour, playing sold out shows across the world.
So it's no surprise if he's feeling a bit tired and emotional after so long away from home.
He threw his microphone on the floor and told fans to stop screaming at his gig this week in Manchester and has once again reclaimed his title as the bad boy of pop music.
We think he's just a bit misunderstood. Here's a few very important reminders of how good a person Justin can be, when he wants.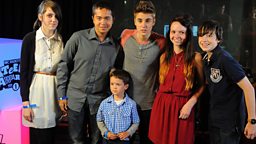 He buys roses for fans outside nightclubs
Justin wooed fans in London on his current tour when he handed out roses outside a nightclub, following his sold-out show at The O2. He was seen buying roses from a street vendor and handing out red, white and pink flowers to fans waiting outside the bar where he was partying.
Oh, and when it comes to romancing fans, don't forget how much he made Radio 1's Clara Amfo swoon when she met him at his LA home for 2016's Live Lounge month.
He does some really amazing work with the Make A Wish foundation
(Warning: Third party video may contain adverts)
Justin Bieber has worked closely with the Make A Wish foundation during his career and is believed to have granted wishes for more than 250 terminally ill fans through the organisation.
"It's a blessing" he says of meeting his young fans - many of whom are left in tears after meeting their idol. We're a little bit moved too.
He backed a charity single to get to No.1 instead of his own
Justin has one or two followers on Twitter (89 million, if you want to be exact) and in 2015, when he was locked in a battle for the UK Christmas No.1, he told fans not to buy his single.
Instead he asked them to buy the NHS charity single instead. It worked, A Bridge Over You was Christmas No.1 and peace and harmony reigned (for about five minutes).
He reportedly donated $545,000 to an AIDS research charity
In 2014, Justin Bieber made a donation to AIDS research charity, amfAR. This wasn't a standing order for £5 a month, he donated $545,000 dollars during an event the charity was hosting in Cannes, France.
TMZ reported at the time that Justin had given away the money because he was "inspired" to do something good.
He gave away the clothes he was wearing
It's a bit of lottery being in the front row of a Justin Bieber gig. During a show in Quebec, Canada in May of this year he generously gave fans his used chewing gum.
Fans at his New Jersey show September were slightly luckier, as he handed over his jacket. Actual Justin clothes. We doubt it was a cheap one.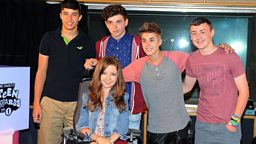 He bought new iPhones for two mega-fans in New York
In February 2014, two Justin Bieber fans were in the New York Apple Store, watching the video for Justin's Confident single on display phones in the store.
They had no idea Justin was in the room and saw what they were doing. As well as posing for photos with the girls, he also bought each of them a brand new iPhone.
He helped raise awareness of the importance of arts eduction in schools
(Warning: Third party video may contain adverts)
Justin didn't seem to mind the screams when he visited a school's music class for a special acoustic performance of Love Yourself to raise awareness of the importance of arts education in schools.
There were tears and hysteria - but he took it all in his stride.