Main content
The girl who helped ban wild animals in circuses
We Can Change The World is a new podcast series aimed at young people to inspire and encourage others to make a difference. Presenter Isy Suttie is joined by Bella Lack, who talks about protecting animals in the UK and worldwide.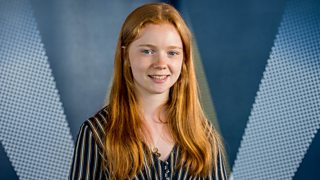 Photo courtesy of The Diana Award
Bella, who wrote letters to her neighbour Sir David Attenborough as a child, became involved in protecting wildlife when she learned about the effect unsustainable palm oil production was having on the habitats of orangutans.
She says, "When you see them they're just so charismatic and so human like and it's just so devastating to think that we could be eradicating a species so alike to us." Bella's first engagement in activism was to put posters about palm oil up around her house but she soon found that social media was a great way of getting her message out there.
Bella explains, "Before I started social media it was quite isolating because I didn't know other young people and when I did go on social media there was actually already a little established community and it's grown a lot, which has been one of the most incredible things to see".
A few years on she has already achieved a huge amount in her effort to protect animals. She's flown to Thailand to expose the mistreatment of Asian elephants being used in tourist rides, become a part of a government initiative to defeat illegal ivory trade and is now a Youth Ambassador for the Born Free Foundation, Save The Asian Elephants, the RSPCA and the Jane Goodall Institute.
Perhaps Bella's biggest success to date though was the petition she set up in August 2018 to ban the use of wild animals in UK circuses. The petition attracted nearly 200,000 signatures and in July 2019 the Wild Animals In Circuses Bill was passed into law. Was it all down to Bella? "I can't say it was definitely my petition but I hope it had an impact!" she exclaims.
Having decided to take a gap year after finishing her GCSEs, Bella has continued to make her message of wildlife advocacy a global one. Her next big project is Reserva, which aims to protect a section of rainforest in Ecuador where only 2% of the forest remains intact and become the world's first youth-funded nature reserve.
Bella talks about how quickly it has gathered momentum, "At the beginning it was just a woman called Cali and I but now our youth council has grown to almost 30 people".
As if all of that wasn't enough, she's even making a film with one of her lifelong heroines - Dame Jane Goodall. It will take Bella across the world to find the solution to the massive loss of species and populations dubbed the "sixth mass extinction". Bella explains, "We're meeting the people on the frontline who are fighting the environmental crisis and who are protecting species - it's a film based around hope."
Having achieved all of this at just 16 years old, Bella no longer has time to be Sir David Attenborough's pen pal but she appreciates that he responded to every letter, "They might not have been long answers from him but it's amazing he took the time to answer and the time to respond to every child, which he says he does".