Main content
Kings of Leon talk emojis, teen crushes and Teenage Mutant Ninja Turtles
After the Kings of Leon blew us away with their Live Lounge set which included a cover of Selena Gomez (eek), we grabbed the guys, or half of them anyway, and threw some questions their way.
We were despo to know all about the new album, what they were into as teens and if they would survive in the wild...
Yes, really.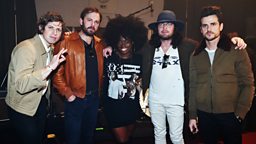 Describe WALLS in five words…
Caleb: That's a hard question when you're jet-lagged. I'll go with 'We Are Like Love Songs'.
And if it was a colour what would it be?
Caleb: We kind of went with a colour palette with this one that was like blue and pink. What's a mixture of blue and pink?
Jared: That would be purple. But I would say like a light orange or a salmon. We recorded it in California and we saw a lot of sunsets for inspiration.
What are the best and worst things about recording an album?
Jared: The best thing is being able to record and play new songs live and have things that are new.
Caleb: The worst thing is when you have to go do press, ha-ha!
Soz, our bad! What should we listen do if we are going through a break-up?
Caleb: Over. It's pretty good for that.
What about to get pumped up for a night out?
Jared: Around The World maybe…
Caleb: I like Eyes On You, that's a good one. It's fun and makes you want to drive.
What did you put on your bedroom WALLS when you were younger?
Caleb: Mine was Ninja Turtles. I liked Raphael and Donatello but I didn't realise Raphael was an a****** and Donatello was a nerd. I was just like anti-Michelangelo.
Jared: I was always made to be the Donatello. I kind of got stuck with him.
Caleb: We both hated Leonardo because that's obviously Nathan, the older brother that we didn't like.
Jared: I had a poster of Alanis Morrissette when I was nine. I had a big crush on her.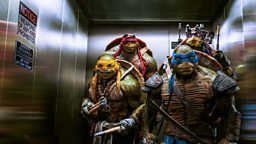 Who would be on it now?
Jared: Still Alanis!
Caleb: I don't know I don't really love anyone. I have big picture of this guy named Blaze Foley who we wrote one of the songs on the album about. He's an old country singer so probably him.
What popular thing are you totally over right now?
Caleb: You know what I'm only just getting into? Emojis. I love them. I like the thinking face, hmmm one. We played a show the other day and I scared all the guys in the band because I said to them, 'My wife [supermodel Lily Aldridge] just sent me the 'hmmm' when I asked what she thought. And they were like 'what the? She hated it??!' I was like 'Nah I'm just kidding!'.
Jared: I'm way over the new iPhone updates. Every time there is a new update, I'm sure it's better if you know what you're doing but if you don't it confuses me for like three weeks.
When is the last time you thought this is such a WASTE OF A MOMENT?
Jared: Sitting in traffic for hours on this trip!
Caleb: Trying to go to bed with jet-lag. And just lying there with my eyes open for four hours thinking 'I should have just stayed at the bar.'
Jared: Well yeah the most 'wasted' moment has been at the bar though.
How long would you survive in the WILD?
Caleb: Do we have things to help?
Jared: I watch a lot of survival shows and it depends where you are and if you get lucky or not. There are places that I couldn't survive 12 hours and there are places I could live forever. Like if you had running water
Caleb: The tools to build a fire!
Jared: Coconuts…
You can treat yourself by watching the full Live Lounge performance right here.