Main content
Eight tips for turning your craft into a business
Most of us dream of being our own boss and getting to do what we love ALL day, EVERY day. But how do you make the leap and turn your passion for crafting – or anything else - into your own (ideally profitable) business? We picked the brains of three creative and wise Woman's Hour guests to get their TOP tips so you can do just that…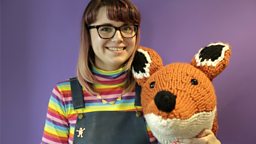 Louise Walker launched her own business selling taxidermy-inspired knitting kits
Know your own worth
"If you want it to be a money-making full-time business, you have to break it down into what you want to earn a year - and then work backwards," says Amy Phipps, who runs Women Who Create UK and craft business Super+Super.

"For workshops I charge a standard daily rate, but then I also know my hourly rate. You have to cost out the materials, if you rent a studio, your time - hand crafted items can take hours or days to make. And also knowing your postage cost is huge – if you get the wrong postage to America you're basically giving your item away for free."
Be prepared to spend most of your time NOT doing the one thing that you love
Think you're going to be sewing / spinning / weaving all day to your heart's content? Think again!
"I love knitting and I love making," says Louise Walker, who launched a business selling Taxidermy-inspired knitting kits, Sincerely Louise. "But during my daytime at the office I have to do everything else; social media, the post, every little thing that makes up that business. There's very little time left to do that thing that you loved in the beginning."
You should also expect that workload to change with the seasons too.
"Nearer Christmas you're making stuff constantly and sorting out posting and packing," says Amy. "But at the start of the year it's probably more planning and admin, bookkeeping - so you have to be able to be a jack of all trades."
Get yourself on social media (and be authentic)
"A lot of us work on our own at home, but you have to stay connected," says Amy, who believes social media is key for finding your tribe, flogging your wares and letting customers see behind the scenes.
"Being on Instagram and really making use of social media is so important for selling, and building those relationships. I think people want to see the real person behind the business, as that's what you don't get from mass-produced products. Yes, there are nicely curated photos of thread and yarn, but I shared a picture of me coming out of a sweaty hot yoga class the other day, because that's what I do."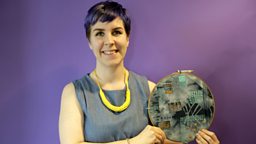 As well as crafting, Amy Phipps hosts workshops to inspire other people
Louise even used social to help her win Etsy's £10,000 People's Choice Award.
"I thought, 'if I win this it will just change my life'," she says. "So I spent two weeks canvassing for votes, getting in contact with followers, doing posts – I even made a video, knitting a kit from start to finish and it got thousands of views." Et voila.
But don't forget to make yourself part of a REAL LIFE community too
There's no substitute for getting out there, so google local groups or use the online marketplace Etsy to connect with people in your area – and then leave the house.
"In Brighton I had a huge community from running a studio," says Amy. "Fantastic people would come to workshops, and I go to as many things as I can."
Markets – such as the Independent Ceramics Market, Crafty Fox or BUST Craftacular - are also a top place for networking,
"Google the kind of markets that are in your area and just go and buy something," says Tallie Maughan, who runs ceramics studio Turning Earth.
"Just by going and buying or selling work you're joining the community, you're going to be surrounded by other artists and that's when you're going to answer questions like 'how much should this be sold for?'."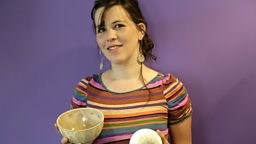 Tallie Maughan helps other people become potters - she's pictured with a bowl by jynsym and a pot by Tom Kemp
You NEED a business plan
"I hated doing a business plan," admits Louise, who spent hours working on hers to apply for a Start Up Loan.
"To actually sit down and put it on paper feels quite corporate, but you have to analyse all your competitors, when you're going to be selling, when you're not going to be selling. It's really useful to look back on."
"Market penetration, how big is your market - by the time you get to a 100 page business plan, you know everything about your situation," says Tallie.
"That kind of research and prep can give you the safety and security you need. People perceive entrepreneurs as being risk takers but actually successful entrepreneurs are just brilliant researchers who know how to trust their own judgement."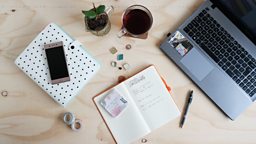 Photo courtesy of Amy Phipps
Get skilled up and get organised
Draw on all the free resources that you can, from the Design Trust to the government's Start Up Loan scheme, which offers free training from business advisors.
"They did the business forecasting for me, and with me," says Talle, "so I learned how to do spreadsheets, which are still the foundation for my business, and that was free."
Amy adds: "Keep all your receipts really well organised and your finances in order from the very beginning.
"I would honestly cry over piles of receipts, that was the biggest stress for me. I've started using a cloud accounting assistant and that's amazing, and I've got an app so I can scan my receipts and it imports all of my transactions."
Get yourself a 'business bestie'
"Having that physical group to go to is fantastic, but maybe find one person who you trust who can be your 'business bestie'," is Amy's genius advice.
"Meet up once a month just for a check in, and they can hold you accountable for the goals and steps you said you were going to do last month.
"That's so important. My cat's not going to tell me to do my accounts. I have somebody that I go to for a coffee and they say, 'right, how are you getting on with this?'.
"No one can really be accountable to their own deadlines," adds Tallie.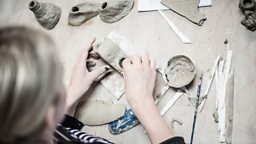 Photo courtesy of Turning Earth
Say goodbye to the 9-5
When it comes to running your own craft business, it's NOT a job, it's a lifestyle.
"Be prepared to be super driven. It's not like a 9 to 5 that you can just switch on and off when you want, it's really all consuming," says Amy.
"But you do it because you love it and you're passionate about it," adds Louise.
"I wouldn't work this hard for anyone else – and any other maker, artist, crafter would say the same thing. But you're doing it for you, and you're on your own terms."
Good luck!
For more top tips from Amy, Louise and Tallie and more listen to our special Woman's Hour programme Passion for Craft on Bank Holiday Monday, 29 May at 10:00 on BBC Radio 4.