Main content
Depositions by Luke Fowler
Artists' Moving Image at the BBC
About the film
Luke Fowler's films dwell on potentiality: what might be, what might have been, what might still be if the world were to turn in a different direction?
But film time runs in many directions, as do arguments. Film made only recently can be easily confused with the archival vintage of washed-out or saturated tones and blurred edges.
Only the disjunction between sounds that live close within the ear and rich voices from a fading past distinguish archive from present.
Gradually the pieces converge: our nostalgia for ancient folkways, traditional song and the romance of freedom, all undercut by scientific rationalism and the pressures of normativity bringing law to bear on lives resistant to conformity.
What is an archive if not a collection of letters to ourselves?
David Toop, 2014
About the artist
Luke Fowler (born 1978) is an artist, filmmaker, and musician based in Glasgow. He collaborates regularly with Richard Youngs, Eric La Casa, Toshiya Tsunoda and Lee Patterson.
Fowler was awarded the inaugural Derek Jarman Award in 2008 and he was shortlisted for the Turner Prize in 2012.
His latest film, The Poor Stockinger, The Luddite Cropper And The Deluded Followers Of Joanna Southcott won awards at the Mexico and Lima film festivals.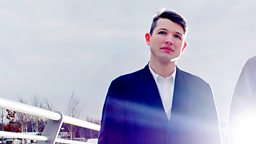 Artists' Moving Image at the BBC
What are the results when artists specialising in the moving image are given the freedom to explore, manipulate and create from the vast BBC film archive?