Main content
Six Iconic Women of the Arts in Italy
1: Visual art – Artemisia Lomi Gentileschi (1593 – c.1656)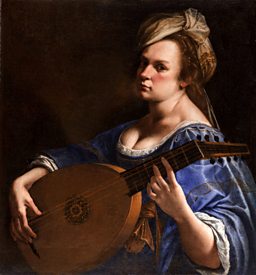 Born in Rome, Artemisia Gentileschi is regarded as one of the greatest female painters of the Baroque period. Taught by her father who was himself influenced by Caravaggio, Gentileschi's adolescence was blighted when at the age of 12 she was raped by one of her father's associates; a protracted court case, during which she suffered further acute, legally instigated physical abuse, followed. She later married another painter and moved to Florence, where she mixed with cultured society, including Michelangelo and the astronomer Galileo, and received commissions from the Medicis. Her first signed and dated painting, "Susanna and the Elders" (1610), was followed by a luridly graphic Biblical scene: "Judith Slaying Holofernes". By 1630 Gentileschi had re-settled in Naples, producing "Self Portrait as the Allegory of Painting" and "The Birth of St. John the Baptist.". She visited London to help her father fulfil a domestic commission for Queen Henrietta Maria, wife of Charles I, and died in Naples around 1652. A brilliant technician in paint, Gentileschi's remarkable achievement was to build and sustain a career in a completely male-dominated field. She is pictured here in "Self-portrait as a lute-player".
2: Music – Barbara Strozzi (1619 – 1677)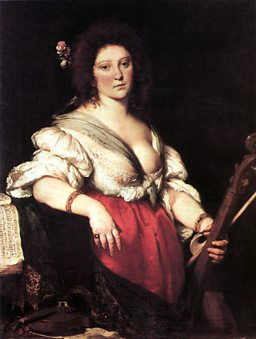 Barbara Strozzi was one of the most important composers of Italian cantatas in the 17th century and, probably, also a courtesan. Documentary evidence relating to Strozzi's life is scarce, but we know she was born in Venice and was probably the illegitimate daughter of the poet and librettist, Giulio Strozzi. Through him, Barbara came into contact with the great Italian composers Claudio Monteverdi and later Francesco Cavalli who'd be her teacher. She was also introduced to the literati of Venice, whom she would sing for, acting as mistress of ceremonies for the meetings of the Accademia degli Unisoni, established by her father. Strozzi published eight collections of vocal works during her lifetime, containing over 100 works in total: her music travelled as far as Austria, Germany and England.
3: Ballet – Marie Taglioni (1804 – 1884)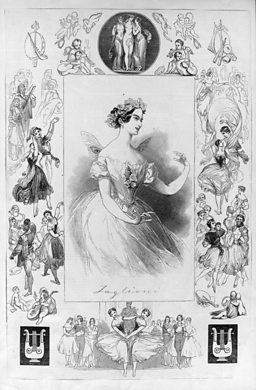 Marie Taglioni became the most famous ballerina of the Romantic Ballet era when in 1832 she danced the lead in her father's ballet La Sylphide in Paris. Filippo Taglioni – dancer, ballet master and choreographer – had worked his daughter hard to develop her technique and a style that was about lightness of movement, looking to defy gravity, epitomised as the Sylph seemingly floating above the ground. This ballet also incorporated dancing on pointe for the first time to help further the narrative, and not merely as a technical stunt. With Marie the cult of the ballerina was born and soon all aspiring ballerinas were measured against her. Half-Italian and half-Swedish by birth, Taglioni enjoyed an international career and was the Margot Fonteyn of her day: the world's ballerinas all aspired to acquire, and perform in, her innovative new style. (Hulton Archive/Getty Images)
4: Drama – Eleonora Duse (1858 – 1924)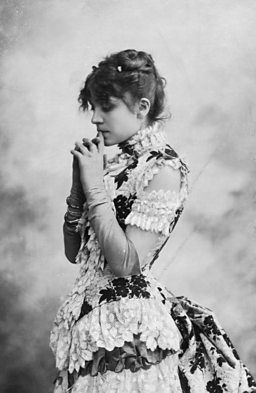 Eleonora Dose, often abbreviated to "Duse", is regarded as one of the greatest actors of all time, anywhere. Born into an acting family in Vigevano, Lombardy, she made her stage debut at the age of four in a dramatisation of Victor Hugo's novel, Les Misérables. She began to attract critical attention playing Juliet in Verona as a young teenager, but it was a performance as Émile Zola's Thérèse Raquin in Naples, when she was 20, which caused a sensation with audiences and critics, for the psychological "truthfulness" of her interpretation. The remarkable photo seen here was taken around then. Influenced by Sarah Bernhardt, but stylistically quite her opposite, Duse eventually set up her own theatre company in Rome; her relationship with the poet Gabriele D'Annunzio inspired him to write a number of plays for her, and she also specialised in plumbing the psychological depths of Henrik Ibsen's plays – the playwright himself was shocked by her performance as Hedda Gabler. Critics including George Bernard Shaw queued up to praise Duse's ability to reveal character: one commentator wrote that "To watch her was to read a psychological novel." After quitting the stage in 1909 for health reasons, financial losses after WW1 forced Duse out of retirement. She collapsed and died in Pittsburgh on a US tour: her body was repatriated to Italy and buried in Asolo. (Getty Images)
5: Film – Sophia Loren (b.1934)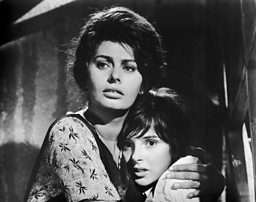 Sophia Loren was born Sofia Scicolone, in Rome, and started her film career in 1950 at the age of 15. Statuesque and striking, she earned the nickname "Sofia Lazzaro" because her beauty, people joked, could raise Lazarus from the dead. In 1956 she was contracted to Paramount, attracting international attention when she appeared alongside Cary Grant in the 1958 film, Houseboat. Her heart-rending performance in Vittorio de Sica's 1961 film Two Women (pictured) – about a mother raped while protecting her daughter in war-torn Italy – won her an Oscar, the first for a foreign language performance. After starting a family with the producer Carlo Ponti, Loren wound down her acting career, but she remains the most decorated Italian actress, with a Grammy, five Golden Globes, a BAFTA, another honorary Oscar, and a record number of David di Donatello Awards (organised by the Italian Film Academy which also runs the Venice Film Festival). The American Film Institute rates her in the top 25 of its American Screen Legends. (Getty Images)
6: Literature – Elena Ferrante (b.?)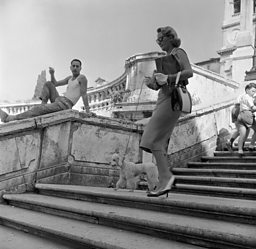 Who is the author Elena Ferrante, the woman named by Time magazine in 2016 as one of the 100 most influential people on the planet? It's known that she was born in Naples: her novels include The Days of Abandonment, Troubling Love, and The Lost Daughter, but her Neapolitan quartet – My Brilliant Friend, The Story of a New Name, Those Who Leave and Those Who Stay, and The Story of The Lost Child – has been translated into several languages and gone on to achieve almost cult status internationally. Beginning in 1950s Naples, the books embody the story of a nation, of a neighbourhood, a city and a country undergoing momentous change, as chronicled via the forensic exploration of a lifelong friendship between two girls, Lila and the story's narrator, Lena, who grow up together in the city's tough streets. "Elena Ferrante" is a pseudonym: she has only ever given one interview, through her publisher, and has stated that her books, "once they are written, have no need of their authors." An Italian writer, philologist and university professor who conducted his own detailed examination of Ferrante's writings, exposing particular knowledge of the city of Pisa, "outed" her as the Neapolitan professor Marcella Marmo, who had worked in Pisa. Both Marmo and Ferrante's publisher denied this identification. In a New York Review of Books article in October 2016, investigative journalist Claudio Gatti used financial records in Ferrante's publishing company to claim that he had identified the author as translator Anita Raja, prompting a media backlash. (Getty Images)