Main content
A Christmas Garland of Poached Pears, Blue Cheese & Figs
Christmas Garland of Poached Pears, Blue Cheese and Figs
with a Honey Dressing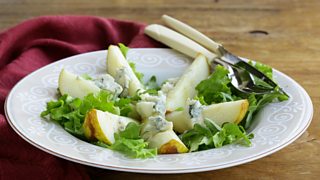 This is one of Jenny's favourite starters – fresh pears, a light creamy blue-veined cheese, figs and a few mixed salad leaves. This can be served as a garland on a large plate with crusty bread, salad, parma ham, smoked salmon or spiced meats in the centre.
Ingredients Serves 2
6 pears
Juice of 1 lemon
100/ 4 oz pomegranate seeds
6 figs
150g/6 oz blue cheese crumbled
100g/ 4 oz walnut pieces
75g/3oz soft creamy blue cheese
3 fresh fig – quartered
2 dsp honey
Low Fat Dressing
2 dsp balsamic vinegar
¼ tsp mustard
Salt and freshly ground black pepper
Mixed Leaves e.g watercress or lamb's lettuce or rocket
Walnuts
Other suggestions
Peaches, nectarines, pears,
Plums can also be used in this recipe.
Method
Peel and quarter the pears and toss in a little lemon juice before cooking in honey and balsamic.
Top the pears with cheese and heat below a hot grill with the figs for 1 minute until the cheese melts and the figs roast slightly.
Arrange the leaves on a plate. Top with pears, figs, walnuts, pomegranate and spoon over a little dressing just before serving. To turn this dish into a light lunch, increase the quantities and serve with either crispy bacon or smoked ham or crusty bread.
Roasted apple & Butternut Squash Soup
This soup makes the most of two of Winter's finest ingredients. The slow-roasted squash and apple combined with the spicy flavour of cider (or apple juice) to make a warming and delicious first course or light lunch.
Serves 6-8 Ingredients
3 large coking apples/450g/1lb – peeled, cored and halved
900g/2lb prepared butternut squash flesh – cut into large chunks
2 onions – cut into chunks
2 carrots – cut into chunks
3 cloves grlic – finely chopped
1 tsp fresh rosemary – chopped
½ tsp ground ginger
½ tsp ground mace
25g/1oz soft brown sugar
25g/1oz butter or 1 dsp olive oil
4-6 tbsp water
570ml/1pt vegetable or chicken stock
275ml/½ pt cider or unsweetened apple juice
Salt and freshly ground black pepper
Horseradish Cream
2 tsp. Horserqadish sauce
125 mls. Greek yoghurt
Method
Preheat the oven to 200C/gas mark 6. Place the apples, squash, onions, carrots, garlic, rosemary, ginger, mace and sugar in a roasting tin. Mix well. Dot with the butter or drizzle with oil and sprinkle the water over the top. Cover with foil and roast until all the vegetables have softened, approximately 1-1 ½ hours.
Scoop some of the vegetables from the roasting tin and place in a food processor. Add some of the stock and puree until smooth, then pour into a large saucepan. Repeat until all the vegetables have been pureed.
Stir in the remainder of the stock and the cider or apple juice and bring to the boil. Reduce the heat and simmer gently for 10-15 minutes to blend the flavours. Season to taste.
Meanwhile, in a separate bowl, mix the yoghurt, horseradish cream and use to garnish the hot soup with a little corriander or Basil.