Main content
The Husbands of River Song: The Fact File
The read through for The Husbands of River Song took place on Monday, 31 August, 2015. The shoot began the following day and the episode wrapped on Saturday, 26 September.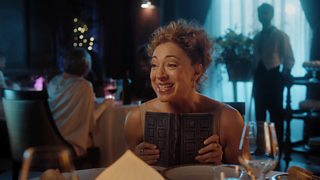 River and her diary
The adventure opens with a shot of two full moons – appropriate as 25 December, 2015 is the first Christmas Day to have a full moon since 1977. The next festive full moon will be in 2034!
Hydroflax is also known as 'the Butcher of the Bone Meadows' and if that sounds familiar it's because in The Time of Angels, River asks the Doctor, 'Have we done the Bone Meadows?'
The Doctor claims people don't use the expression 'off-world' but to be fair to Ramone, it's a description we've heard many people use, including Daisy in The Happiness Patrol, Adelaide in The Waters of Mars and Ryder in Planet of the Ood.
'It's my diary… One should always have something sensational to read on a spaceship!' River is misquoting Oscar Wilde's The Importance of Being Earnest. In that play, Gwendolyn Fairfax declares, 'I never travel without my diary. One should always have something sensational to read on a train.'
The Doctor gives River her diary in Let's Kill Hitler… Find out more about Doctor Song!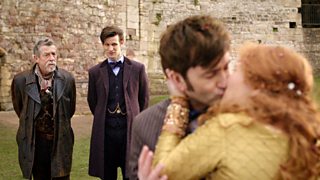 The Tenth Doctor with Elizabeth I in The Day of the Doctor
Scratch is played by Robert Curtis and although this is his Doctor Who debut, he appeared in Prisoner of the Judoon, a story from the 2009 season of The Sarah Jane Adventures.
The first Christmas Special - an episode of The Daleks' Master Plan - aired on December 25, 1965. The second was The Christmas Invasion in 2005 and since then we've had a seasonal special every year!
River mentions several of the Doctor's previous relationships… Elizabeth I (whom he apparently marries in The Day of the Doctor), Marilyn Monroe (the Eleventh Doctor's off-screen relationship with her is mentioned in A Christmas Carol) and Cleopatra. Again, we never saw the Doctor with 'the Queen of the Nile' but in School Reunion it's revealed he knew her well enough to call her Cleo!
The Singing Towers of Darillium were first mentioned by River in Forest of the Dead. She told the Doctor, 'You took me to Darillium to see the Singing Towers. Oh, what a night that was! The towers sang and you cried. You wouldn't tell me why, but I suppose you knew it was time…' She even mentioned his new suit and haircut in the same scene!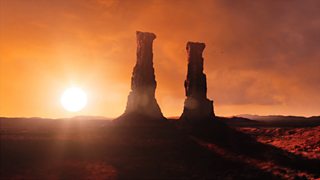 The Singing Towers of Darillium
When the Doctor reminds River that, 'Every night is the last night for something… Every Christmas is last Christmas…' he's echoing the words 'Dream Danny' speaks in Last Christmas: 'Every Christmas is last Christmas, and this is ours…'
The adventure's final spoken words are River saying, 'I hate you!' and the Doctor replying, 'No, you don't.' Variations of this exchange have featured in previous episodes including Flesh and Stone, The Impossible Astronaut and Forest of the Dead, although in the latter, when River fumes, 'I hate you sometimes!' the Doctor comes back with, 'Oh, I know!'