Main content
Adam Simmonds - Starter
What inspired your menu?
The D-Day banquet is something I feel so honoured to be a part of.

Adam Simmonds
The many different people who were involved in the D-Day landings and sacrificed so much for our country in some way. From the people that were left at home while their loved ones went to war to the Prime Minster who had to make the call to go to war. And of course the allies played a massive part too. Nobody should be forgotten.
What research did you do?
The subject was so vast and interesting you could have gone down so many avenues. To find out about D-Day I looked at books and the internet, then it was a matter of finding the right way to go about it. And I had to research the props to make sure I nailed that!
How did it feel to win a place in the national finals?
To win a place at the national finals was outstanding. Going up against the other regional winners - who all deserved to be there - and impress the regular judges and the guest judges was a true challenge. But I was one step closer to the banquet!
How tough has the competition been?
Very tough in a lot of ways. As a returning competitor there was a lot of pressure as I was against two new guys. Also as I failed to understand the brief last year I had to come back all guns blazing! Plus there's the enormous amount of time spent practicing the dishes as you really needed to do the guys proud that you were honouring.
What was it like learning your dish would be served at the D-Day banquet?
For me to actually be told that I was going to be doing the starter at the banquet was a real, real honour. I kept thinking 'I'm going to be kicking off the banquet for the veterans of D-Day at St Paul's Cathedral!' I felt a huge amount of responsibility to make sure that I set it off to a flyer.
What did it mean to cook for the war veterans in St Paul's?
It really was a true honour and a privilege to give something back to these guys and in some small way, say a big, big thank you for what they did so many years ago. There was no more fitting place to do this than St Paul's Cathedral. These guys were truly remarkable and it's something I feel so honoured to be a part of.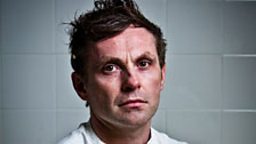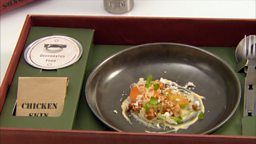 "Your Share" - Chicken consommé with celeriac