Main content
Meet Sindhu Vee
The Vee stands for Venkatanarayanan. That's six A's. Count them.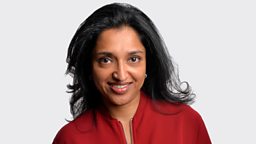 I grew up in the Philippines, Lucknow and Delhi, my dad is Tamil, my mum is from Uttar Pradesh, I studied in Delhi, Oxford, Montreal and Chicago, my husband is Danish, I live in London, and I can probably do your accent.
Fun facts
I told my first joke at age four – I had a terrible stutter so it took a Very. Long. Time.
I used to be a banker – Calm down.
I have three children – They tell me they're laughing with me, not at me. *eyeroll*
I once modeled for Yves Saint Laurent. (This is genuinely true)
I'm the tallest Indian woman you'll ever meet. (5"10')
Watch Sindhu Vee's BBC New Comedy Award set from the 2016 final