Main content
6 Music Recommends Albums Of The Year 2019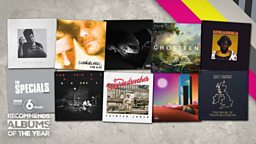 From ground-breaking debuts to surprise curveballs from veteran artists, 2019 has been a feast for music lovers.
Picking just 10 top releases from 2019 is quite the task, but here are the 6 Music Recommends Albums Of The Year. We asked our presenters to pick their favourite album, tallied their votes, and below is the top 10 list. Also, you can find out who made our DJs' lists of personal faves:
A huge playlist of songs from 6 Music presenters' favourite records of the year.
10. Nick Cave and the Bad Seeds – Ghosteen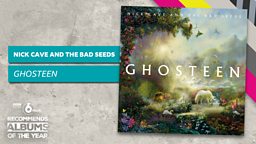 In the past year, Nick Cave has been interacting with his fans on a direct, one-to-one basis via his website The Red Hand Files. He gives vivid, forthcoming answers to questions such as: 'Who are your favourite guitarists?', 'What is shyness?' and 'Do you have any spare lyrics I can have?'. One particular question in September 2019 asked: 'When can we expect a new album?' To which Cave revealed the mythological cover for 'Ghosteen'.
Cave's increasing ease with allowing fans to peer behind the curtain is in keeping with 'Ghosteen' itself; a remarkably open, dazzlingly beautiful work that keeps nothing guarded. It is widely considered to address the death of Cave's 15-year-old son Arthur in 2015. The same was said about 'Skeleton Tree', but the majority of songs were written prior to Arthur's death.
But 'Ghosteen' isn't a heavy, desolate discourse on grief and trauma. Nor is it specific to one person or event. It is a wide-spanning, unburdened, gorgeously constructed work, from a one-of-a-kind songwriter who continues to evolve, 17 albums in.
Mary Anne Hobbs: "This masterful new album of 2019, 'Ghosteen', is Nick Cave's beautifully bound expression of loss. As fans, it brings us a clarity in understanding where he resides emotionally in this moment, as a beloved artist and a human being. A testimony too, to his extraordinary creative relationship with Warren Ellis, which continues to bloom on the most challenging terrain."
9. The Specials - Encore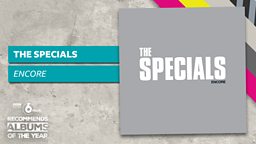 The Specials' 'Encore' is a defiant affirmation that regardless of the band's make-up – several members have quit since they reformed in 2009, and drummer John Bradbury passed away in 2015 – they continue to be a politicised, purposeful force for good.
40 years strong, the Two-Tone legends subtly reinvent themselves with disco-nodding funk ('B.L.M'), string-backed dub ('10 Commandments', which features activist Saffiyah Khan), while the snarling 'Vote For Me' maintains their distrust of authority. The Specials have lost none of their lust for making a big statement.
Don Letts: "40 years on from their brilliant debut, the basic elements we loved The Specials for in the first place are still right there on 'Encore' - even though many of the original band members are not. Political and deeply personal at the same time, Terry's vocal delivery, combined with bass heavy grooves, provide the perfect soundtrack for the times in which this record was made."
The Specials: "It has been a real buzz to get our album 'Encore' included in the 6 Music Top 10 Best Albums of 2019. In fact, all of 2019 has been a real buzz; the first Specials album after 40 years to get to number one, 80 concerts all across the world and throughout the year, which all kicked off with 6 Music's and Steve Lamacq's seamless broadcast from London's 100 Club. The Specials are still relevant, challenging & eminently danceable! Thank you 6 Music - you have great taste."
8. Brittany Howard - Jaime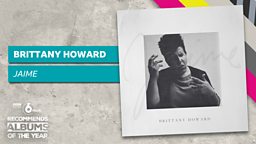 After turning heads and winning Grammys with 2015 Alabama Shakes album 'Sound & Color', Brittany Howard's next move is a triumphant search for self-identity; a touching, personal and constantly inventive solo debut.
'Jaime' is named after and dedicated to Howard's sister, who died in 13 after being diagnosed with retinoblastoma. The resulting record arrives on the tail of a road trip Howard took with her wife, in which she realised she couldn't yet make another Shakes record, but still felt inspired to tap into her biggest strength: writing songs. The album touches on aspects of the singer-songwriter's childhood in the American south, merging socio-political commentary with boundary-pushing instrumentation. "It feels like I opened a door," she told Vice of the record. "It's a new beginning. It's an introduction, showing everything I can do, and trying to figure out what's next."
Guy Garvey: "Brittany Howard's first solo album is not just a masterclass in song writing, and a real soulful and personal and beautiful piece, but she's produced it as well, and it can't be overstated how amazing it is on that front. It makes her the most exciting person in music at the moment, working across all the different fundamental elements of making a record. It sounds absolutely current while retaining a huge heart and a real sense of heritage. It's a brilliant tour de force; a wonderful record."
Brittany Howard: "Many thanks to BBC 6 Music for all their support over the years and especially this year by picking 'Jaime' as one of their albums of the year!"
7. Kate Tempest - The Book of Traps and Lessons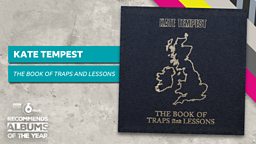 Kate Tempest's stark spoken word has always held a mirror up to the times, but on the Rick Rubin-produced 'The Book of Traps and Lessons' she takes a closer, microscopic look at the world she inhabits.
It features some of her finest lyrical work to date. On touching standout track 'Firesmoke', she captures the feeling of reading doomsday news headlines and witnessing things crumbling from the outside, while still trying to maintain a sense of self. "Well, here we are, dancing in the rumbling dark," she declares… "There is so much peace to be found in people's faces." On 'Hold Your Own', meanwhile, she delivers a stunning line on dealing with inner demons: "Know the wolves that hunt you / In time, they will be the dogs that bring your slippers." Hope lines every seam of 'The Book of…', even if Tempest thrives when taking on difficult subjects.
Stuart Maconie: "Kate Tempest's voice is authentic and contemporary. She addresses the personal and the social in her work and unites the fields of poetry and music without compromising either."
Kate Tempest: "6 Music has been a great supporter of my work over the years and I'm thankful for their openness to and enthusiasm about what I do. Dead chuffed to be included in their Albums of the Year. Thanks 6 Music, you big bunch of legends."
6. Warmduscher - Tainted Lunch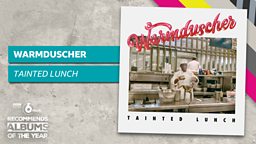 Sleazy, garish, tongue-in-cheek post-punk from musicians calling themselves "Mr. Salt Fingers Lovecraft" and "The Witherer aka Little Whiskers". What's not to love about Warmduscher?
Following the departure of Fat White Family's Saul Adamczewski, on 'Tainted Love', they bring Iggy Pop on board for opener 'Rules of the Game' and cult rapper Kool Keith for 'Burner'. Amongst this, they embark on a strange, unpredictable, unhinged trip of dub-fused psychedelia, mind-bending basslines, jaw-clenching krautrock and stop-start industrial noise. It is, by all standards, completely off the wall.
Marc Riley: "Warmduscher have succeeded where many others have tried and failed, and that is in getting me to dance frantically whilst battling against my better judgement. This album is riddled with mischief and a wicked, dark sense of humour. Stylistically it's all over the place... and I mean that in the best possible way. They are probably the best night out in Britain at the moment and this Dan Carey produced album captures them in all their glory. I'm HOOKED."
Warmduscher's "biographer" Dr. Alan Goldfarb: "Those good people at BBC 6 Music have christened Tainted Lunch '6th best album of the year'. Now is the moment, gentle labour, kisses, delights. Keep feeling, keep pushing, Warmduscher por vida."
5. Little Simz - GREY Area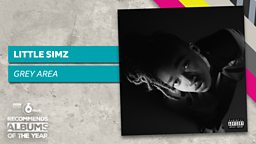 If 2017's 'Stillness in Wonderland' was a Lewis Carroll-inspired journey of self-discovery, follow up 'GREY Area' is the sound of Little Simz well and truly discovering what she stands for. She deviates from previous LP's' concepts and grand constructs to produce a work that is distinctly personal and fearless, an ethos neatly summed up on opener 'Offence' when she declares: "I said it with my chest and I don't care who I offend, uh-huh!"
'GREY Area' is a rich and musically diverse work, throwing back to the rapper and multi-instrumentalist's upbringing (the pirate radio blast of '101 FM' is a giddy highlight) and documenting the present day, where she navigates her '20s ('Flowers'). It feels like the record a young, self-starting Little Simz always wanted to make.
Lauren Laverne: "It's a huge breakthrough for her, partly because three albums in you can just tell this is an artist that absolutely knows what she's doing. It's so confident and self-assured, but also, it's this incredibly rich sound-world that she's been developing record to record. I wonder about the title 'GREY Area'… that seems to me to be an acknowledgement of complexity. We live in a very binary world, polarised world, and the fact that Simz is deliberately exploring the margins of that and the dualities and the cross-overs… that's exactly what great artists should be doing. And to hear her doing that in such an exciting, powerful, beautiful way on this record: that's why it's my Album of the Year."
Little Simz: "When I was making this album, I had no intention of being part of these best album conversations or lists, so I'm eternally grateful to be included. The love I have received, especially from 6 Music, has been phenomenal, and I'm so happy 'GREY Area' has been received and embraced so well because it comes from a pure place."
4. The Comet Is Coming - Trust in the Lifeforce of the Deep Mystery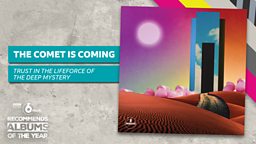 If it feels like saxophone pioneer Shabaka Hutchings is in several places at once – as ringleader of The Comet Is Coming and Sons of Kemet and a fixture of London's ever-fledging jazz scene – 'Trust in the Lifeforce of the Deep Mystery' is the closest he's ever come to actual chronoclasm.
It travels to the furthest depths Hutchings has yet reached; a cosmic, exploratory juggernaut that cements the trio as jazz's leading boundary pushers.
Tom Ravenscroft:"My favourite album from 2019 is The Comet Is Coming's 'Trust In The Lifeforce Of The Deep Mystery'. It is also my album title of 2019. This album is a journey: a fabulous cosmic trip into the future led by Shabaka, Danalogue and Betamax Killer. Nothing else, I think, sounds like this record. It has this kind of other worldly quality to it – total escapism. Songs like 'Birth Of Creation' brings so much calm, and then 'Summon The Fire' tearing black holes in absolutely everything… Finally the universe wakes up and we are all reborn at the end of the album. It has an amazing kind of meditative quality which I know I need in my life. I think everybody else should listen to this on a regular, regular occasion. The three of them are so flipping talented it's outrageous. More power to them: they build worlds that I want to live in."
The Comet is Coming: "'We Trust in the Lifeforce of the Deep Mystery,' and also trust in the exquisite musical taste of our esteemed selectors at BBC 6 Music! Profound gratitudes from the bottom of our hearts and big shout out to the universe."
3. Michael Kiwanuka - KIWANUKA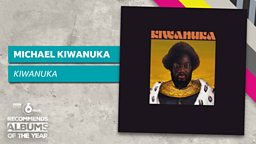 If a musician makes their third album self-titled and all caps, it's bound to be assured. But few could have prepared for the strides Michael Kiwanuka has taken with the follow-up to 2016's 'Love & Hate'.
Recorded between London, Los Angeles and New York, and incorporating '70s throwbacks and lush contemporary soul, its starting point is the doubt and anxiety that used to stalk Kiwanuka. 'You Ain't the Problem' is a reminder of his own self-worth, while 'Hero' grapples with his status at the top. It without a doubt cements him as one of the UK's finest singer-songwriters, at the peak of his powers.
Mark Radcliffe: "When Michael first emerged with 'Home Again' in 2012, I really liked him but considered him an accomplished singer-songwriter; no mean feat, but not someone who was breaking new ground. His 'Love and Hate' album of 2016 was a revelation, and 'KIWANUKA' continues that expansive sweep of his work. He has incorporated classic soul, funk, gospel, film soundtrack, psychedelia and an adventurous use of audio clips and samples to create another compellingly fine work. He was pretty good to begin with. He's even better now."
Michael Kiwanuka: "I've been incredibly excited and overwhelmed to have put this album out there to the world, and for 6 Music to have been so supportive of it and me has been humbling.
6 Music have been there from the very start of my career, playing my first EP, which feels like such a long time ago now, and for this album-loving station to have voted it as one of their best of the year is a real honour and a privilege. Thank you."
2. Sleaford Mods - Eton Alive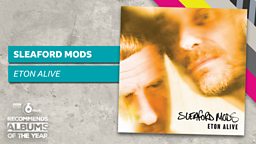 There isn't another double act remotely like mouthy, hilarious frontman Jason Williamson and berserk beatmaker Andrew Fearn, and so we should be forever grateful for Sleaford Mods' existence. Their observational poetry and irate, witty social commentary is as vital as it ever was, and it's no wonder the great Iggy Pop paid tribute to them in his recent Maida Vale performance for 6 Music.
The first Mods record to be released on their own label, 'Eton Alive' is a distinctly fun continuation of the pair's trademarks. Williamson's detail-stuffed poetry is full of ire while Fearn's playful soundscapes are more dynamic than ever. They remain pop's defiant outliers, impossible to imitate.
Tom Robinson: "Early in the year, Sleaford Mods returned with not only a vengeance, but with their strongest record to date. In the 10 years I've known the band, their music has always been funny and truthful, if somewhat uneasy listening. But with Andrew taking a quantum leap on the production front, and Jason ever more poetic and personal in his lyrics, 'Eton Alive' now sounds like the 21st Century lovechild of Underworld and John Cooper Clarke, as one YouTube comment put it. The trademark driving beats and savage humour are augmented by marimba samples, actual singing and even a rogue kazoo. Despite its superficially topical title, 'Eton Alive' offers a nuanced exploration of a world going noisily mad – a world every one of us can recognise as we hide behind our firewalls and hope for the best."
Sleaford Mods: "6 Music have always been good to us but number 2?! We honestly can't believe it. We're really proud of this album but we're also aware that it personifies a country very much divided, brainwashed and destroyed. It's not easy listening but that's the point because these times call for more than entertainment in music. Thank you so much! Elvis."
1. Fontaines D.C. - Dogrel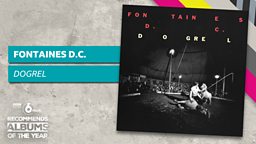 Truly iconic debut albums bolt out from the starting block and stop listeners in their tracks, and Fontaines D.C.'s 'Dogrel' does just that. It is a truly worthy winner of 6 Music Recommends Albums Of The Year 2019.
Unlike most iconic debuts, however, 'Dogrel' is also remarkably timeless-sounding and full of depth. The strung out 'Roy's Tune' is a sentimental anthem nodding to 'The Bends'-era Radiohead, going way beyond the brattish post-punk Grian Chatten and co. first emerged with, while closer 'Dublin City Sky' drunkenly staggers into the night like a raging bull finally simmering down. In between, there are instantly gratifying headrushes like 'Too Real' and 'Hurricane Laughter', songs full of the kind of resolute anger only young, daisy-fresh bands can have.
It's the kind of record you can imagine having on repeat in 20 years, a timestamp of five fire-fuelled Dublin lads realising their potential.
Steve Lamacq: "One of the things I like about 'Dogrel' is that it opens up a door to another world. It's like what a good book achieves: when you read a decent novel and it takes you to another town or another time, and you feel at home in this sort of foreign world. It's a bit C. S. Lewis to me: like you've fallen through the back of a wardrobe and found yourself in this city which has been sketched in charcoal, or illustrated by a selection of slightly bent Polaroids or old sepia photographs, and I think it's terrific. And a lot of it is just about the everyday and the everyday people: some of whom are sharks and winners, and some of them are misfits, and some of them are simply ordinary folk trying to make a go of life, often railing against the odds… But these stories and the people in them, they're just told in such an understanding, almost conversational way that I think is really impressive. It's like poetry that's been hewn from the cut and thrust of a pub conversation, or observed on the bar stool or on the top deck of a bus, and I think this might be one of the album's greatest achievements: turning the mundane into the magical. But musically, it understands tension, and melody, and how you can invoke different sorts of moods. There's the sort of raggedy jubilation of 'Liberty Belle'; there's that night of biting your nails which is 'Too Real'; or there's that claustrophobic, deep down aching sadness and frustration of 'Roy's Tune'. It's like they've created a tribute to the part of a city that we never see, but it's the part of the city which really provides that city's soul."
Fontaines D.C.: "We're delighted that 6 Music have chosen 'Dogrel' as their Album of the Year. Most of the album is about our experiences in Dublin – and the songs can sort of be divided between the hopeless and the hopeful – but it's essentially about the weight of the world that's pressing against you, and struggling to find a balance, an equilibrium. It would mean a lot to win this title any year really, but this year in particular there have been a lot of really great, substantial bodies of work, and so for that reason we're particularly chuffed. So thank you 6 Music for all the support."
Each 6 Music presenter will share an album they loved from 2019 daily between Fri 29 November and Fri 20 December, with a different DJ taking over the Album Of The Day slot each day with their personal favourite record of the year.
Here's the full list of what each our presenters chose, and the dates each record will be Album of the Day:
| Date | Presenter | Pick |
| --- | --- | --- |
| Friday 29 Nov | Steve Lamacq | Fontaines D.C. - Dogrel |
| Saturday 30 Nov | Chris Hawkins | Sam Fender - Hypersonic Missiles |
| Sunday 1 Dec | Don Letts | The Specials – Encore |
| Monday 2 Dec | Lauren Laverne | Little Simz - GREY Area |
| Tuesday 3 Dec | Mark Radcliffe | Bruce Springsteen - Western Stars |
| Wednesday 4 Dec | Huey Morgan | Roberto Fonseca – Yesun |
| Thursday 5 Dec | Iggy Pop | Our Native Daughters – Songs Of Our Native Daughters |
| Fri 6 Dec | Cerys Matthews | Ashley Henry - Beautiful Vinyl Hunter |
| Sat 7 Dec | Shaun Keaveny | black midi – Schlagenheim |
| Sun 8 Dec | Gideon Coe | Bill Callahan – Shepherd In A Sheepskin Vest |
| Mon 9 Dec | Amy Lamé | Warmduscher - Tainted Lunch |
| Tues 10 Dec | Stuart Maconie | Lost Crowns – Every Night Something Happens |
| Weds 11 Dec | Gilles Peterson | SAULT - 5 |
| Thurs 12 Dec | Guy Garvey | Shannon Lay – August |
| Fri 13 Dec | Nemone | Girls Of The Internet – SYRUP |
| Sat 14 Dec | Marc Riley | Richard Dawson – 2020 |
| Sun 15 Dec | Tom Robinson | Sleaford Mods – Eton Alive |
| Mon 16 Dec | Craig Charles | The Teskey Brothers – Run Home Slow |
| Tues 17 Dec | Liz Kershaw | LIFE – A Picture Of Good Health |
| Weds 18 Dec | Cillian Murphy | Thom Yorke – ANIMA |
| Thurs 19 Dec | Mary Anne Hobbs | Holly Herndon – PROTO |
| Fri 20 Dec | Tom Ravenscroft | The Comet Is Coming – Trust In The Lifeforce Of The Deep Mystery |