Main content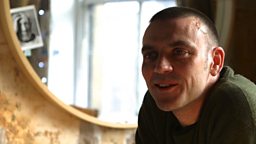 Frank Quitely is the alter ego of Glaswegian comic-book artist Vincent Deighan.
As one of a group of British writers and artists who have reinvented the superhero genre, Frank's depictions of iconic characters like Superman, Batman and the X-Men have provided inspiration for some of Hollywood's biggest movie franchises.
In this film, we follow Frank over the course of a day and night as he works on a single page from his latest work, the epic superhero saga Jupiter's Legacy.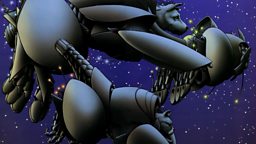 We3 by Frank Quitely
Extra Features
Interview feature with Frank Quitely, the award-winning artist who has drawn X-Men, Batman and Superman.
What Do Artists Do All Day?
Intimate, observational portraits of leading artists: BBC Arts has released selected films available on BBC iPlayer for an extended period
Art and Artists: Highlights
Edinburgh's Dovecot Gallery is hosting two major exhibitions as part of the 2015 Edinburgh Art Festival

An astounding photographic collection by 'Speedy George' Douglas

A sculptural mystery tour which takes in several of Britain's finest galleries

Just who was the man behind some of the most memorable artworks of the last century?

The extraordinary work of award-winning American photojournalist Steve McCurry

A major Tate retrospective of the British sculptor, and the dedicated museums in Yorkshire and Cornwall