Main content
EastEnders: Make a wedding video
What we need you to do...
Can you Adam and Eve it, Keegan and Tiffany have got hitched! Now, this is your chance to showcase your digital creativity. Using the clips and music that we're supplying, you can create a video to celebrate Keegan and Tiffany's big day. And we'll showcase some of them on the official EastEnders social media channels.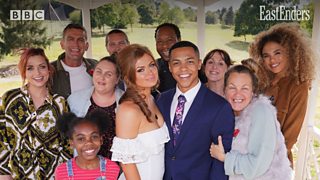 Watch the video below to hear all about the project from Zack and Maisie, and make sure you read the terms and conditions! What are you waiting for? It's time to get creative.
Fill in the form and send us you videos! We can't wait to see them.