Main content
The real-life 'bromance' behind Guilt began in high school
Actors Mark Bonnar and Jamie Sives star as mismatched brothers Max and Jake in new black comedy drama, GUILT but the secret ingredient to their chemistry is a real life friendship forged aged eleven.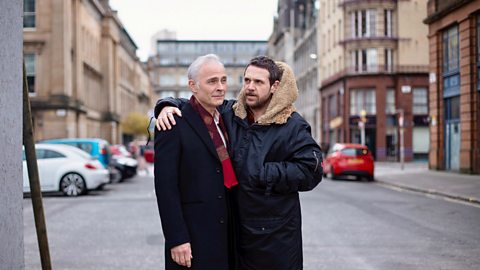 The actors have never worked together but both attended Leith Academy.
On the set of GUILT, according to fellow cast members, Mark and Jamie sometimes acted like a couple of schoolboys together. This might be for the simple reason that they were a couple of schoolboys together!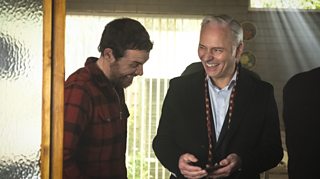 Mark: "There was nobody else in my mind to play my brother"
"We went to Leith Academy together", says Mark in an interview about the new four-part drama from BBC Scotland.
The two actor friends have certainly gained individual kudos recently with successful TV dramas such as Line of Duty and Chernobyl, but have never worked together.
"As soon as Guilt came along, there was nobody else in my mind to play my brother", says Mark.
"It was kind of a match made in heaven; we have a lovely relationship, he's a wonderful human being and a great actor."
Jamie echoes the sentiment, "It was a no brainer actually."
"I got offered the chance to be in Guilt and I didn't have to wrestle with the decision - great script, Mark was on board and Neil Forsyth [the writer] is someone I know and admire. It kind of all fell into place and I didn't have to think twice about it."
School days
"We met in first year at high school when Mark had just moved into the area. Although we had different groups of friends, we'd sometimes walk to and from school together because we lived nearby."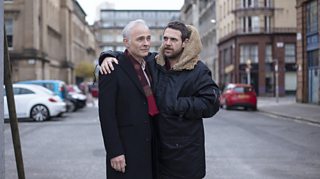 "Even at that age Mark was very sartorial and very into his music and stuff so I kind of gravitated towards him when the time was right", says Jamie.
Mark confesses: "Jamie was very much cooler than me and I think I gravitated towards him because I wanted to be cool by association and I did manage it now and again."
"Twenty years later, when I discovered he was an actor, we started to bump into one another and would go to see each other's shows and kept in touch."
"I skived off a school trip with him in Stirling Castle [turns to Jamie] You were walking away and I went 'I'm going to go with Jamie' and he [gesturing to Jamie] said 'I didn't think you'd be mental enough to skive off' and I was like 'I am'... I was terrified though, terrified."
Jamie: "I knew then he was destined for greatness."
Chemistry
Another pair of ex-school chums are the show's writer, Neil Forsyth and director, Robert 'Robbie' McKillop who attended the same secondary school in Dundee.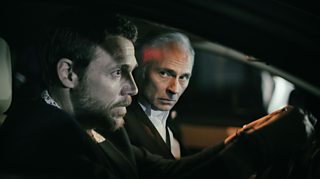 Jamie on Mark's acting: 'I've had to raise my game I'll tell you!'
Both agree that Mark and Jamie's genuine friendship has contributed hugely to the show with McKillop describing it as a "gift to the story".
"It's one of those things when you're casting, if you can cast people who are really good friends to play brothers or good friends then they bring something, they bring something extra to the part.
"They just know how to talk to each other in a really interesting way. They're like electricity together."
"Right from when I first met them I thought, 'this is gold' and that informed a kind of shooting style for me."
As well as enjoying an undeniable repartee, the friends hold deep admiration for one another's acting abilities.
Mark says, "I still find myself admiring his work when I'm supposed to be acting with him."
Jamie says, "I can't speak highly enough about Mark – he's quite good at this acting malarkey. I've had to raise my game I'll tell you!"
Watch GUILT on Thursday 24th October on BBC Scotland repeated on BBC Two on Wednesday 30th October or on BBC iPlayer.
Latest features from BBC Scotland