Main content
Make a Difference Superstars
Entries are now closed
Join us for a celebration of everyone who has been going above and beyond during the coronavirus pandemic in the South and South West of England.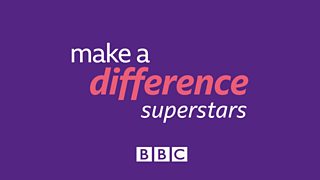 Since the start of the pandemic, local BBC radio stations have been highlighting stories of people making a difference in our special Make a Difference broadcasts. Now it's your chance to recognise and reward the superstars up your street and in your neighbourhood.
It could be someone who has been looking after their parents or neighbours; a budding cook who has been baking for the community; a key worker who has been a special help to your family. We want to hear about them all – their big efforts and their small contributions.
Tell us a story of someone who has made a difference to you, your friends, family or community.
We could be rewarding them by recognising their hard work and sacrifice in a special radio programme plus GWR Trains have agreed to rename some of their high speed trains across the South of England after some of our Make a Difference Superstars.
What happens next?
A panel from your local BBC radio station and at least one independent representative will judge your entry. If chosen you may be called to tell your story for our special awards show on Friday 11 September. We would also like to talk to the person you nominated and others connected to the story.
Two people per radio station will be selected to have a train named after them as per the Terms and Conditions. During the awards show we will share details of the Make a Difference Superstars who will be named on GWR trains and they will be recognised at a special ceremony where we will unveil their name on the a train in front of their friends and family and those that they have helped.
You do not have to have been featured already on the BBC Make a Difference campaign to enter.
If you do not hear back from us then unfortunately you have not been selected. We are sorry but due to reduced staffing we do not have time to individually reply or give feedback.
Find your local BBC radio station