Main content
Dazzling on the Mersey: Peter Blake's ferry transformation
8 April 2015
In a dazzling homage to the camouflage of World War One, Pop Art pioneer Sir Peter Blake has given a Liverpool ferry a colourful makeover. Famous for designing the Sgt. Peppers album cover, Sir Peter's links to the city go way beyond the Beatles. WILLIAM COOK joined him on a ferry across the Mersey to discover the latest addition to Liverpool's buoyant arts scene.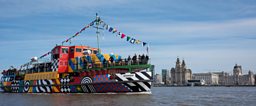 Since becoming European Capital of Culture in 2008, Liverpool has enjoyed a visual arts renaissance (Photo: Mark McNulty)
Talk about surreal. It's like a scene from a Beatles film, or a particularly strange and potent dream. I'm sitting on a Mersey Ferry with Sir Peter Blake, arguably Britain's greatest living artist.
Everybody Razzle Dazzle by Bill Haley is blaring out across the PA. As we chug across the Mersey, with the Liver Building silhouetted behind us, Sir Peter is telling me how he came to repaint this ferry as a Dazzle Ship to commemorate the centenary of the Great War.
Like a lot of Blake's work, it's oddly reminiscent of an old-fashioned fairground ride
In case you didn't know (and I didn't either, until yesterday) Dazzle Ships were one of the weirdest manifestations of the First World War. Before radar, German submarines identified Allied ships by shape and size. At first, British ships used conventional camouflage to guard against these U-Boats, but then a British artist (and Naval reservist) called Norman Wilkinson came up with a more unusual and audacious plan.
If ships were painted in a kaleidoscope of chaotic patterns and bright colours, U-Boats would struggle to identify them. From a distance, even their direction and speed of travel would become unclear.
It sounds completely crazy, but the Admiralty were persuaded: 400 Royal Navy ships and 4000 Merchant ships were 'Dazzled' to confuse the enemy. Did it work? No one really knows - the U-Boat menace receded, but there were other factors.
Yet Dazzle Ships survived until the Second World War, and last year 14-18 NOW (who do all the official cultural stuff for the First World War centenary) hired two contemporary artists, Tobias Rehberger and Carlos Cruz-Diez, to 'Dazzle' two old ships, to mark to this bizarre episode in naval history. Rehberger's HMS President is moored in London, on the Thames. Cruz-Diez's Edmund Gardner is here in Liverpool, in dry dock, right beside Blake's boat.
Everybody Razzle Dazzle is the only new Dazzle Ship you can actually travel on and the military connection isn't as tenuous as you might suppose. Mersey Ferries were used as troop ships during the First World War. Yet though it's a fitting memorial, Everybody Razzle Dazzle isn't remotely solemn. Like a lot of Blake's work, it's oddly reminiscent of an old-fashioned fairground ride. 'The initial design very much tied in with the proper Dazzle Ships, but it's moved on from that to be much more colourful,' explains Sir Peter, as we sail away.
It is just the latest addition to Liverpool's thriving arts scene. Since its year as European Capital of Culture in 2008, the city has enjoyed a dramatic renaissance, especially in the visual arts. The Liverpool Biennial has become an important focus for contemporary art, and the city's galleries are punching way above their weight.
Tate Liverpool showcases modern art in a nautical setting in Liverpool's revamped Albert Dock. The Walker Art Gallery boasts a collection worthy of any European capital. Its treasures range from Rembrandt to Paul Nash and Henry Moore.
The Museum of Liverpool celebrates the city's rich literary heritage, from Merseybeat poets like Brian Patten and Roger McGough to Liverpudlian playwrights like Willy Russell and Alan Beasdale. The Merseyside Maritime Museum is a reminder that this has always been a seafaring city, looking out across the water towards Dublin and even New York, rather than inland to London. Its Irish heritage is central to its identity as an international, cosmopolitan port. Liverpool was always a creative city, but its year as Cultural Capital has given it a new confidence, and a new audience. This used to be a place you had to leave to make a future. Today it's a tourist destination.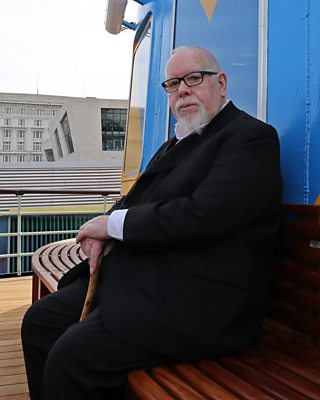 Peter Blake is revered by fans in Liverpool (Photo: Gareth Jones)
'Liverpudlians are ready to embrace really innovative and difficult projects,' says Francesco Manacorda, Artistic Director of Tate Liverpool. 'People stop you in the street and they tell you what they think.' 'The people are great,' concurs Peter Blake. 'It's quite eccentric. It's very friendly.'
One time, Blake arrived at Liverpool's Lime Street Station and got into a waiting cab. The cab driver had his nose in a book. 'Do you mind if I just finish my chapter?' asked the cabbie. 'We sat there and waited while he finished the chapter of his book! That's Liverpool!'
Peter Blake's most famous link with Liverpool is the Sgt. Pepper album cover he designed for the Beatles, but his Scouse connections go way back. He sailed between Liverpool and Belfast while doing his National Service in the RAF, and in 1961 he got a big break when his Self Portrait With Badges won the junior section of the John Moores Prize, established by the local founder of Littlewoods Pools. He gave the £250 prize money (no mean sum in 1961) to his dad.
The John Moores Prize is still going strong (it's now linked to Liverpool Biennial). A room in the Walker tells the story of this prize, which doubles as a potted history of British modern art. Past winners includes Patrick Heron, Richard Hamilton and David Hockney, represented here by his most iconic painting, Peter Getting Out of Nick's Pool. 'Like the long range weather forecast, Mr Moore's exhibitions invariably predict what we shall be talking about for the coming year,' observed the Sunday Telegraph in 1965. That was true in 1965. It's still true today.
The ferry docks at Pier Head. As we get off the boat, Sir Peter is surrounded by liggers and well-wishers - reporters, photographers, autograph-hunters… I had no idea he was so revered.
As he stops to sign a Sergeant Pepper sleeve, his Razzle Dazzle boat becomes a multi-coloured backdrop to this event, and, for an instant – just an instant - this crowd becomes the crowd on the cover of Sergeant Pepper's Lonely Hearts Club Band. All that's missing is the Beatles. You see, I told you it was surreal.
Everybody Razzle Dazzle is co-commissioned by Liverpool Biennial, 14-18 NOW WW1 Centenary Art Commissions, and Tate Liverpool in partnership with Merseytravel and National Museums Liverpool (Merseyside Maritime Museum).
Time to dazzle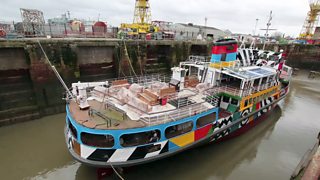 Timelapse footage shows the ferry Snowdrop transformed into Peter Blake's 'dazzle' colours.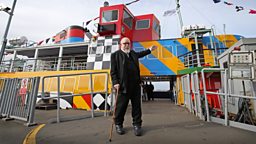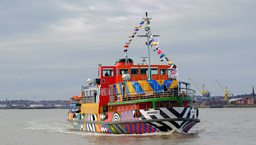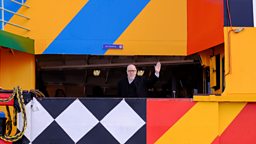 From Warhol and the Silver Factory to pop art pioneer Allen Jones via the colours of German Pop
Art and Artists: Highlights
Edinburgh's Dovecot Gallery is hosting two major exhibitions as part of the 2015 Edinburgh Art Festival

An astounding photographic collection by 'Speedy George' Douglas

A sculptural mystery tour which takes in several of Britain's finest galleries

Just who was the man behind some of the most memorable artworks of the last century?

The extraordinary work of award-winning American photojournalist Steve McCurry

A major Tate retrospective of the British sculptor, and the dedicated museums in Yorkshire and Cornwall