Main content
The Witterlist - 22nd January 2021
In this week's programme, Mark and Simon talked to the director of one of the most wide-reaching and ambitious film projects of the last decade, and it's sequel, which premieres this month. And of course, Mark gave us his thoughts on the latest films that you can watch this week.
The Interview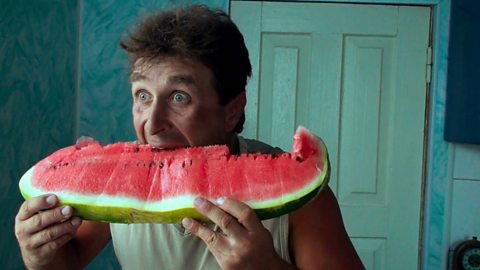 Mark Kermode and Simon Mayo talk to director Kevin MacDonald.
Director Kevin MacDonald talked to Mark and Simon about Life in a Day 2020, his follow up to the 2011 film that used footage submitted by people all over the world to show what happened around the globe during one 24 hour period.
Kevin told us about the influence of Michael Apted's Up Series on his films, finding the miraculous in the commonplace and showing how many more things connect us than divide us.
Adapted from Aravind Adiga's 2008 novel of the same name, The White Tiger tells the story of a poor Indian man who attempts to work his way up the social ladder and become a successful entrepreneur. Directed by Ramin Bahrani (99 Homes) and starring Adarsh Gourav, the film is a stylish, darkly satirical fable that explores the causes and functions of inequality in a brilliantly performed and entertaining way.
We had a technical glitch in our recording of Mark's review of Baby Done, which meant we just lost him introducting the film's plot and teeing up a clip, but you'll still get to hear all of his thoughts on the film itself. Starring comedian Rose Matafeo and Matthew Lewis (forever Neville Longbottom to Harry Potter fans), the film follows a long-term couple who find their lives and relationship thrown into disarray by an unexpected pregnancy. While there are some things that work - particularly Rose Matafeo's performance - there are odd gags and tonal issues that meant it lacked the laughs and heart to really win Mark over.
Documentary 76 Days is an arrestingly detailed account of the Wuhan medical centre dealing with the outbreak of the COVID-19 pandemic. The unbelievable reality of the events that unfolded is often harrowing, but the astounding efforts of the medical workers on the front line, dealing with the virus were what moved Mark the most and what lingered with him when the film had finished.
Directed by Vadim Perelman (House of Sand and Fog), Persian Lessons follows Gilles, a young Jewish man in 1942 who escapes execution in a concentration camp by pretending to be Persian. His plan backfires when he is tasked with teaching one of the Nazi officers how to speak Farsi. To stay alive, he invents his own language to pass as Farsi for the lessons. Essentially a two-hander between leads Nahuel Pérez Biscayart and Lars Eidinger, Mark thought the theatrical contrivances of the story were mostly successful because of smart, nuanced performances that lend weight and emotion to the story.
Mark Kermode joins Simon Mayo to give his verdict on the week's movies