Main content
Vegetarian Samosas
Romy Gill's recipe for Vegetarian Samosas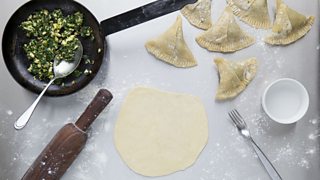 Makes 10-12 samosas
For the pastry
plain flour 150g, plus more for dusting
salt ½ tsp
sunflower oil 6 tsp
water 80-100ml
For the filling
150 gram paneer grated potatoes,
potato 1 large, peeled and grated (squeeze water out)
sunflower oil 4 tsp, plus extra for deep frying
50g fresh spinach washed and chopped
ginger 1tsp, grated
green chillies 1-2, chopped finely
mango powder 1tsp
coriander powder 1 tsp
½ tsp ground turmeric
salt 1 tsp
For the samosa pastry, sieve the flour into a bowl. Add the salt and oil. Rub the oil into the flour with your hands until it looks like breadcrumbs, then slowly add the water as needed and bring the dough together. Knead the dough briefly until it forms a ball – it should be smooth and soft. Cover the bowl with cloth and leave the dough to rest at room temperature for half an hour to an hour.
Heat the 4 teaspoons of sunflower oil in a frying pan, add the chopped spinach and cook for few minutes. Add grated potatoes and grated paneer and cook further for 3 minutes on medium, make sure to stir the potatoes otherwise it will stick to the pan.
Add the ginger, chilli and all the spices, salt and cook for 1 minute tossing through the spices in the pan. The ingredients should be well coated with spices. Check the seasoning. Remove from heat and cool.
Heat a frying pan on a very low heat. Divide the rested pastry into equal-sized balls. Roll each ball into a circle on a lightly floured work surface to approximately 15cm diameter. Cook a piece of rolled dough till warm on both sides then removed from the pan and cut in half.
Brush the edges with water. Bring the straight edges together to make a cone and add the filling. Pinch and seal the open edge and then crimp the edge with a fork. Repeat with remaining dough and potato filling.
Half-fill a deep heavy-based pan with oil and heat to 180C. (Alternatively, heat until a cube of bread dropped in, bubbles and rises and turns golden brown.) Deep-fry the samosas, two at a time, for 4-5 minutes until light brown and crisp. Drain excess oil on kitchen roll.
More Food on the BBC
Browse our selection of recipes from top chefs, cooks and food writers who have joined us on Woman's Hour...

Download this interview, or subscribe to the Cook the Perfect...downloads