Main content
Producing a podcast during a pandemic
On the first day of an orchestral recording session the musicians don't know any of the music, and you don't know exactly what you'll hear as they play the first notes on the pages in front of them. Excited, you sit in the control room looking out of the huge glass window, waiting for the conductor to give the go ahead. After a year locked inside, imagine this feeling, surrounded by real musicians again. Imagine the goosebumps as the first notes began to ring around the iconic Abbey Road Studio One.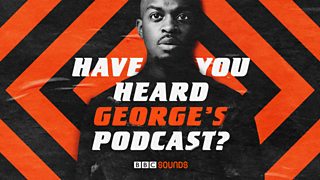 Let me rewind for a second: At the end of November 2019 George the Poet and I submitted the final episodes of Have You Heard George's Podcast? We knew we'd be ending the season with the news that George turned down an MBE and we worked right down to the wire the night before to make the episode perfect. Once submitted, we had one work commitment left - guest editing a Christmas special of the long running Radio 4 Today programme from Uganda.
So after nine months working in London, we were in Kampala in the East African sunshine. Surrounded by great music, great food, and great people; we speculated on what our next season might look like - George wanted to talk about Jamaican dancehall, and we talked about a trip to Jamaica - we had no idea that the next Chapter would be created entirely in lockdown.
The Start of Lockdown
At the beginning of lockdown, with no idea how long it would last, I started categorising sounds on my computer to make it easier to come up with interesting musical ideas when we'd eventually start working again. I began accumulating folders full of ideas which I'd send over to George, and whilst he was locked down he'd imagine stories and scenarios, using my demos to soundtrack them.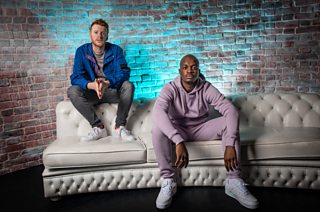 "For any creatives - practicing your craft is always such a good use of time."
We were in contact throughout, and it was during this period that we received the news that our second chapter had become the first podcast outside of North America to win the prestigious Peabody Award. That call brought a boost of morale while trying to collaborate over the internet amidst the crazy uncertainty.
Those ideas sent back and forth became the basis for a lot of the music in the chapter. Looking back, it reaffirms to me that for any creatives - practicing your craft is always such a good use of time. That time spent on admin, spent preparing, and coming up with basic ideas were the same ideas we'd later turn into movements to be recorded by the orchestra.
Recording an orchestra in partial lockdown
Collaborating over the internet was one thing, but the recording sessions in Abbey Road took a whole other level of preparation which I didn't quite appreciate until speaking to Alex Walden, the orchestra manager and Covid lead for our sessions. Amongst everything else they had even calculated the fresh air rate (571 litres per second for the room) to ensure the safety of each player.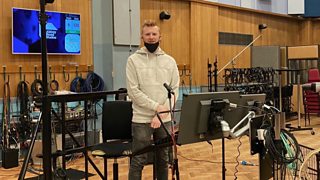 Their guidance also called for musicians to be separated by 2.5 metres from the next person which certainly had implications on the sound we'd capture, and the way that the players might perform.
Being further apart is an unfamiliar scenario for the player, but our recording engineer Adam Miller did a fantastic job, telling me after "with some modifications to the usual mic placements it was possible to get a really good sounding close perspective on each instrument without as much bleed as you'd get in a normal orchestral layout."
The sheet music that our musicians were reading was also printed 72 hours in advance, sealed in individual plastic folders, and placed on individual sanitised music stands. Each player took a lateral flow test 12 hours before recording to give enough time to find replacements in case of a positive result.
It speaks to the fantastic staff of the BBC Concert Orchestra that we got everything recorded in the time permitted. And all those Covid tests came back negative too!
Post Lockdown
Given the complexity of what we are creating; getting back into our own studio to go through all the orchestral recordings and start putting everything together couldn't come quickly enough, especially as there is so much experimentation and work needed to bring our podcast to life.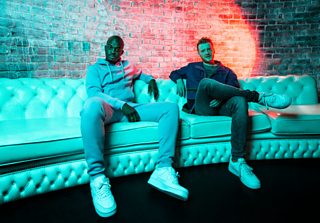 We try to make the audio intricate and entertaining so you don't switch off."
We try to make the audio intricate and entertaining so you don't switch off - as George says in the first episode of the new chapter, "If my podcast sounds normal, then I'm not giving you enough reason to listen. And I really need you to listen".
George and I were incredibly lucky to have continued creating through the pandemic, and I know that not everyone in the music industry has had a similar experience.
I believe these recording sessions at Abbey Road represent not only a huge step up for our podcast, but for podcasting more generally. We want to encourage others to push boundaries and share their artistic long-form content like we've been able to do with Have You Heard George's Podcast?
Watch behind the scenes footage of their recording with the BBC Concert Orchestra at Abbey Road Studios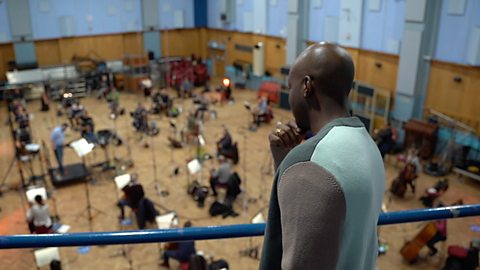 George The Poet and Benbrick on recording the score to Chapter 3 at Abbey Road Studios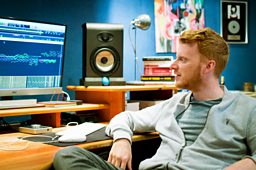 For more 'Have You Heard George's Podcast?'