Main content
The Spring Of Kasper Meier by Ben Fergusson
About the Book
The war is over, but Berlin is a desolate sea of rubble. There is a shortage of everything: food, clothes, tobacco. The local population is scrabbling to get by. Kasper Meier is one of these Germans, and his solution is to trade on the Black Market to feed himself and his elderly father. He can find anything that people need - for the right price. Even other people.
When a young woman, Eva, arrives at Kasper's door seeking the whereabouts of a British pilot, he feels a reluctant sympathy for her but won't interfere in military affairs. But Eva is prepared for this. Kasper has secrets, she knows them and she'll use them to get what she wants. As the threats against him mount, Kasper is drawn into a world of intrigue he could never have anticipated.
"The stream of rubble rose up, the white-grey of ashes, having poured from the buildings onto the pavement, spilling over the lip to the street's broken cobbles - bricks covered in rough mortar and oblong stones that burst out of the dust and spilled down its sides. He found himself trying to imagine what life Eva might have led had there been no war, or if this was 1920 or 1930 and she was just a bright, friendly girl, fighting that curling mass of hair into a boyish bob instead of a headscarf; worrying about the softness of her hands, rather than chewing them away; buying things, learning things, reading books. Perhaps she would be just the same - a girl getting herself into trouble. Perhaps she'd still be under someone's thrall, running jobs for some faceless criminal."
Meet the Author: Ben Fergusson
Ben Fergusson is a writer, editor and translator. Born in Southampton in 1980, he studied English Literature at Warwick University and Modern Languages at Bristol University, and has worked for ten years as an editor and publisher in the art world. The Spring Of Kasper Meier is his first novel.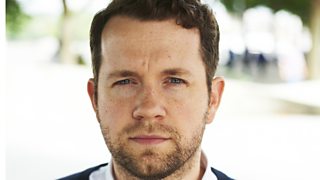 When I write, I like to…
...sit in silence with the internet blocked off. I use a computer programme to cut the internet off for specific amounts of time, so that I can't check email etc while I'm writing, otherwise the computer is impossibly distracting.
My favourite film / band / artist is…
I watch a lot of films. I rewatched Lantana recently, which I think is an amazing movie and all of Ray Lawrence's films are amazing too.
The book that inspired me to write is…
Hard to pick one book. I read Roald Dahl books over and over again, when I was a child, and that was the time I knew I wanted to be a writer. My favourite was Matilda, so I should perhaps go for that. It's also about reading!
The thing I love most about words is…
I love that words can create a complete world for a reader – scare them, make them laugh or cry just through what you typed out on your computer. And I love that words can literally change the way you think.
Listen to Dermot O'Leary's review