Main content
Horn of plenty: Kamasi Washington's epic approach to jazz
17 November 2015
The hottest ticket at this year's EFG London Jazz Festival was Gilles Peterson's New Jazz, New Dance event at the Barbican. Brit trio GoGo Penguin opened for Kamasi Washington, who showcased his acclaimed debut album The Epic with an eight-strong band that he's been playing with since his teens. TOM CHURCHILL caught up with the saxophonist backstage to discover more about the Los Angeles scene that spawned this unique group of players.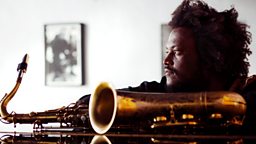 Musical baptisms don't get much more fiery than giving your first public jazz solo in front of 18,000 people just a year after taking up the saxophone.
But it was that performance at LA's Playboy Jazz Festival as ninth-grader that started Kamasi Washington on the journey to his current position as the hottest name in contemporary jazz.
For this tour I wanted to offer an intimate view of each of the band members
"I didn't sound the way I wanted to sound, that's for sure," laughs Washington. "So I started practising like crazy.
"You're just playing and playing and playing, and when you get to a certain level you start to be able to express yourself with the instrument. That's when I started believing I was going to be a musician."
Those endless hours of practice eventually led to Washington, still only 34, playing with everyone from rappers Kendrick Lamar and Snoop Dogg to jazz titans like Herbie Hancock and Wayne Shorter, before earlier this year unleashing his aptly-named debut album The Epic, which runs to 173 minutes, featuring two drummers, a 32-piece orchestra and 20-piece choir.
The Barbican show tones down some of these excesses – it's a 90-minute set with a mere eight musicians on stage (although two of them are drummers) – and Washington says: "With a big group it's a little harder to move. For this tour I wanted to offer an intimate view of each of the band members – you get a good glimpse of each individual."
As they power through blistering versions of album favourites like Change of the Guard and Re Run, each player indeed gets a chance to shine – from Miles Mosley's virtuosic, effect-laden bass workouts and Brandon Coleman's dazzling piano and keyboard skills to a breathtaking drum solo duel from Tony Austin and Ronald Bruner Jr.
The band have been playing together since their teens, part of a tight-knit group of Los Angeles-based jazz talent that passed through the Academy of Music at Hamilton High, and the Multi School Jazz Band, with whom Washington played that fateful solo in the ninth grade.
"I think the sheer number of us was unique," says Washington. "And we all knew each other before music. There's definitely a lot of talent in LA still, and there are all kinds of people making music that's amazing, but I'm not sure if they grew up together quite like we did. So my focus now is this window of opportunity for the band of musicians I grew up with."
My focus is this window of opportunity for the musicians I grew up with
Washington's work frequently evokes John Coltrane – "definitely my favourite of all time" – and the spiritual intensity of Pharoah Sanders, but his influences range far and wide, from hip hop to classical.
He says: "Stravinsky's Symphony of Psalms is where I got the idea for the choir on the album, and Ravel was a huge influence on me – I did an arrangement of Pavane. I love Prokofiev, Khachaturian, Mahler… I did study that style of playing, too, but really I focused more on classical composition than performance."
Washington also played a major part in the most critically acclaimed hip hop album of the year, Kendrick Lamar's To Pimp a Butterfly - a role that went well beyond simple session playing.
He says: "When you're making music for someone else, you're realising their vision. But you can add to it, maybe add something they haven't thought of. That's how Kendrick approaches his music - when he asks you to come along, he wants you to add to it, not just fill a role.
"Everyone who worked on that album had something special to give. It was him, Terrace Martin, Thundercat, Soundwave… that combination of people who really had a vision. I knew all of them so it was like working with kindred spirits."
Another kindred spirit is Flying Lotus, the electronic hip hop visionary and founder of LA's cult Brainfeeder label, which released The Epic. Washington says: "When they asked me to make a record they said, 'Do what you want to do' – I had total freedom, no restrictions or parameters.
"And the audience they've cultivated is very open-minded – I'd be free to do what I wanted to do, and they had the people who'd be down to listen to it. There's a particular sound that we have, and we hadn't really had the chance to get it out there until now."
The EFG London Jazz Festival runs from 13-22 November 2015 at various venues. The Epic is out now on Brainfeeder.
More on the EFG London Jazz Festival 2015
Brian Morton reflects on how the music of America absorbed sounds from other cultures as it spread around the world.

Ron McCurdy on performing with Ice-T and interpreting Langston Hughes' epic poem Ask Your Mama: 12 Moods for Jazz.

BBC Music launches pop-up digital radio station in collaboration with Jazz FM and the EFG London Jazz Festival. On air from 12-15 November.
More on Kamasi Washington
Gilles Peterson presents Kamasi Washington and GoGo Penguin live from the EFG London Jazz Festival.

Gilles is joined in the studio by LA-based saxophonist Kamasi Washington and pianist Ben Sidran.

Bridging the new-jazz of Kendrick Lamar, Flying Lotus and Kamasi Washington with past luminaries such as Miles Davis and John Coltrane.
Arts highlights on BBC iPlayer
Watch 12 mesmerising performances from Dancing Nation, a sampler of UK dance in all its forms.

Chizzy Akudolu presents a new collection of dramatic short films.

The Oscar-nominated actress gives a singing masterclass.