Main content
Dave Pearce's top 10 Chicago house tracks
Dave Pearce is a club DJ, broadcaster and record producer who, on his late night BBC Radio London show, was one of the first DJs to play Chicago House music on UK radio in the 1980s. He presents The House of the Windy City - Dance Music's Forgotten Heroes on Radio 4 and picks his top 10 Chicago house tracks for us here.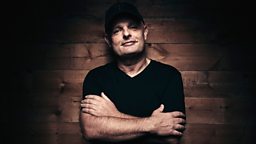 A timeless exquisite record that goes deep and touches the soul, combining a killer arpeggiated synth with a glorious fat bassline. This record from Frankie Knuckles (aka 'The Godfather Of House') became a much loved anthem in Britain's 1988-1989 second summer of love/acid house party era. If it sounds familiar, it was later used on You Got the Love by both The Source feat. Candi Staton and by Florence + the Machine.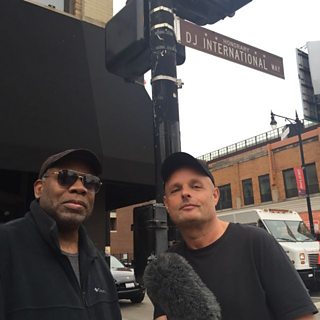 Dave Pearce with Joe Smooth on DJ International Way in Chicago
For me, this record epitomises the sense of togetherness that fuelled the emerging UK house music scene in the late 1980s, with a powerful call for unity. Combining a spiritual vocal with an empowering message: "As we walk hand in hand / Sisters, brothers we'll make it to the promised land". Smooth told me recently he had wanted to spread a positive vibe like the Motown he had grown up listening to, in some ways he delivered to dancefloors a little touch of Marvin Gaye's What's Going On. This record was covered the same year by Paul Weller and The Style Council.
Thankfully, while working at Chicago Postal Service, Marshall Jefferson took a gamble and invested in a keyboard; he went on to become one of house music's most influencial producers. The first house record to feature piano, this catchy tune featuring the anthemic line "Got to have house music all night long" ignited dancefloors and still stands up today.
A firm favourite for me, this straight-out-of-church style 1987 masterpiece combined a powerful, uplifting message set to the backdrop of (and explicitly mentioning) apartheid in South Africa, the narrative that everything is going to work out OK. The Pet Shop Boys heard the track on a Chicago house music compilation and scored a UK top 10 hit with their 1988 cover version, It's Alright.
The landmark first number one house record in the UK charts in 1987. This was one of a number of tracks that mentioned the 'jacking' style of dancing, popular in Chicago house music parties at that time. A completely stripped down track with percussion high in the mix. Its success influenced many subsequent producers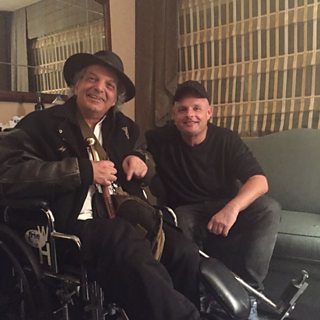 Dave with DJ International founder Rocky Jones
Widely regarded as one of the first acid house records, this masterpiece was almost made by accident. Phuture's DJ Pierre was playing around with a second hand $40 Roland TB303 unaware how to programme it, he began randomly tweaking knobs and creating these exciting weird new sounds. The result - a record that became a cult track in the UK acid house scene. Sadly in the pre-internet age Pierre had no idea his record was on fire in the UK.
An important milestone in the global impact of Chicago house music, this record was the first track to impact the UK charts featuring the rasping powerful vocals of Darryl Pandy who was known and loved for his high energy performances.
We're getting into the deeper side of things with this Larry Heard produced emotive instrumental featuring a powerful ethereal synth. This journey record just locks you into a trance-like groove. Some DJs used to mix Martin Luther King's I Have A Dream speech over the instrumental.
Kenny 'Jammin' Jason was one of the five DJs on the now defunct Chicago radio station WBMX known as the Hot Mix 5. They were hugely influential in playing all the hot new tracks to the masses on FM radio, and highly sought after cassette tape recordings of their mix radio shows would change hands across the world. This energy fuelled track was a firm favourite in my DJ sets and on my radio shows.
Not one of the most well-known Chicago records but one of my favourites, this Marshall Jefferson-produced trippy spaced out record became known to thousands of late night Londoners as the opening theme tune to my Thursday night late night dance show on BBC Radio London in 1986.


Listen to Dave Pearce present The House of the Windy City - Dance Music's Forgotten Heroes online now.
More from Seriously...
The band member recalls the anarchistic joy of a truly unique group.

The team of recovering addicts who made their mark on cinematic history.

David Aaronovitch on how an Eastern political tract became a Western icon.

David Bowie's interviews reveal his humour, passion and determination to succeed.

Did Nazi leader Hermann Goering have a brother who saved innocent lives from the Holocaust?

A selection of great female authors who have radically altered the genre.

Mat Fraser meets the former striptease stars back on the stage in their 70s and 80s.

The legendary radio maker recommends seven great documentaries for Seriously...

A poetic retelling of the Orpheus myth, from the celebrated writer Neil Gaiman.

An aspiring singer-songwriter meets the man who predicted the demise of the music industry decades ago.

What have you learned from our documentaries? Try our fiendishly difficult quiz...

Kellie Redmond explores Disney's fascinating contribution to the war effort.

The Simpsons star, satirist and actor reflects on the flood that devastated his home town of New Orleans.

Seven reasons to love the modern melodic drum that creates a haunting tone.

The award-winning writer on porpoise dissections, stranded whales and beached dolphins.