Main content
Poetic portraits of migration: Karen McCarthy Woolf and Sophie Herxheimer
28 July 2016
In her latest collection, Voyage, poet Karen McCarthy Woolf takes a wryly humorous look at migration, a topic that continues to dominate the political and cultural landscape. Giving voice to stories and experiences that are rarely heard in the mainstream media, she offers a witty and nuanced take on a complex subject. Her poems are interleaved with illustrations by Sophie Herxheimer, who has collected 'migration stories' from visitors to the National Maritime Museum in Greenwich. BIDISHA meets both to learn more about their work.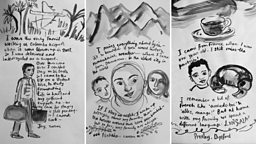 Sophie Herxheimer's 'story drawings' from the Voyage pamphlet
It takes a provocative soul to cast hipsters as economic migrants desperately roaming the urban landscape indulging in strange practices like drinking "boutique coffee out of jam jars" and setting up posh food delis just to survive.
But this is just what Forward Prize-nominated poet Karen McCarthy Woolf has done in her latest project, a pamphlet called Voyage, which is the result of a recent residency at the National Maritime Museum in Greenwich.
With a remit to explore migration in all its forms, at a time when issues of emigration, multiculturalism, refuge and asylum are at the forefront of current debate, McCarthy Woolf has produced a clutch of new work which overturns traditional rhetoric and uses both humour and poignancy to present a more nuanced take on origins, identity and movement.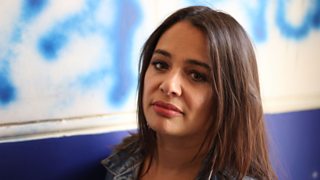 Karen McCarthy Woolf
As Woolf writes in an essay in the pamphlet, London boasts "delegates from every nation under the sun" and is a place where "multi-heritage backgrounds are the norm".
A winner of the Glenna Luschei Prize and the Kate Betts Memorial Prize, McCarthy Woolf came to prominence with her debut collection An Aviary of Small Birds, which charted the aftermath of the stillbirth of her son, Otto, with a striking combination of delicacy and directness.
She brings the same skills to Voyage, along with a journalist's clear eye for detail and a new wit and lightness. There are crisply literal poems like To Dover From Calais, where "sniffer dogs inhale the articulated lorry" and neo-classical "ferrymen" sneer at the risks refugees take, while The Neighbourhood is a lament for the city's residents who are priced out of their streets and told by rich architects that "not everyone gets to have a view".
McCarthy Woolf has collaborated on the pamphlet with poet and artist Sophie Herxheimer, who was also in residence at the museum and whose fluid black ink "story drawings" illustrate the migratory testimonies of visitors to the museum, as well as those of refugees she met through the South London Refugee Association.
What emerges through the combination of McCarthy Woolf's poetry and Herxheimer's illustrations is a portrait of London as a repository of extraordinary individuals with dramatic migratory stories, many of which go unheard and unheralded.
Herxheimer is a prolific, multi-disciplinary artist whose own poetry is fiercely energetic, erudite and punchy. Her illustration work on Voyage combines her lush, apparently boundless artistic style with a personal gentleness and generosity in hearing and giving form to stories of people who moved from Mumbai to New Cross or from Russia to the UK via Germany, to people who fled the Syrian war and to the relatively few remaining Afghan Jews.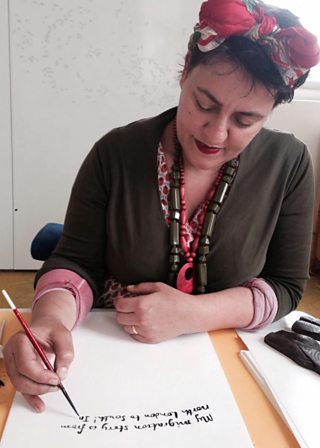 Sophie Herxheimer
Some stories are more complex than others, like that of the soldier who fled Ethiopia for Eritrea, then Italy, then Britain; the Pakistani women's rights activists who had to endure daily threats in her home country; the Sri Lankan Tamil airport worker who was detained as a terrorist suspect; or the refugee-camp-born descendant of Polish prisoners of war in Siberia who travelled to Persia and then to Palestine, fought for the British Army and left for England in 1948 following the establishment of Israel.
When I speak to her, Herxheimer tells me that we are all "mobile creatures" and that even "if we don't go far in the physical world then at least we are all migrants of time and the imagination. I say this as someone who still lives within two miles of where I was born. I'm the child of a refugee, I stay put. This might also explain my anxiously well stocked larder," she jokes.
Herxheimer and McCarthy Woolf are both fascinated by the language commonly used to describe refugees: in McCarthy's words, "swarms and floods" who "congregate"; "a nuisance and an inconvenience at best."
In the most delightful short poem in the pamphlet, Tatler's People Who Really Matter, McCarthy Woolf lifts the breathlessly worshipful language of a glossy magazine's real-life society power list and applies it to immigrants: "Imagine how super-clever and super-connected / and affable one must be to have got this far"; rather than hordes of threatening marauders, they are "relentlessly upbeat and frighteningly talented".
Elsewhere, the poems are thoughtful, timeless and resonant, such as Kingfisher, which plaits together themes of migration, motherhood and classical tragedy in the legend of a grief-stricken goddess transformed into a bird whose chicks "are always swept ashore".
In the pamphlet's stunningly sophisticated and subtle title poem, Voyage, McCarthy Woolf links together the story of the ship The Irpinia, on which her Jamaican father arrived in Britain and whose logbook, listing his name, she found in the museum's archives; the historic southern Italian region the ship was named after; the significance of water, rivers and seas in myths and testimonies of migration; and the fact that The Irpinia was used in Italian director Luchino Visconti's film Voyage of the Damned, which told the true story of Jewish refugees who fled Germany in 1939 for Cuba but were turned away and returned to Europe, eventually being accepted on a quota basis by Britain, The Netherlands and France.
Humans and animals have moved around the planet for millennia in search of more hospitable habitats and new experiences

Karen McCarthy Woolf
The issues McCarthy Woolf and Herxheimer explore in Voyage have been pertinent for as long as we've been here – and will always be. McCarthy Woolf reminds me: "Humans and animals have moved around the planet for millennia in search of more hospitable habitats and new experiences."
From her father she learned that "Britain has had African people in its cultural makeup since Roman times. You only have to watch TV programmes like Who Do You Think You Are? to be reminded that people have always moved around and mixed it up along the way."
During her time at the National Maritime Museum, she learned that in the hundred years between 1816 and 1916, between 16 and 20 million Britons moved overseas. She states: "Migration has long been a two-way street." Not only that but "in an era characterised by climate change, resource-based wars and ideologically-justified violence, we are likely to see far more of it."
I wonder what role poetry could play in healing some of the prejudice and calming some of the fear and vilification which are sometimes seen in debates around migration. McCarthy Woolf points out that poets from all over the world use "migrant" poetic forms, from well-known ones such as the sonnet (originally Italian but "now thought of as quintessentially English") to the landay, an Afghan form "used mainly by women who have been prohibited from accessing literature and education".
She cautions, however, that "poetry is not journalism, philosophy or activism in itself – for me it must also be an activism of the heart as well as the mind, where we connect to and express forces of love. Joy and pain are brother and sister in this endeavour."
A start, she suggests, could be to cross cultural borders by celebrating literature in translation: "What better way could there be to join an international conversation and understand a culture than through its poets and its poetry?"
Voyage by Karen McCarthy Woolf and Sophie Herxheimer is published by the National Maritime Museum. Bidisha has created a series of events about the refugee crisis for the Edinburgh International Book Festival, from 18-21 August. Click here for full details.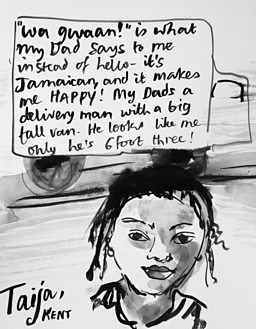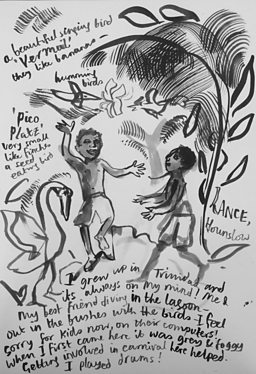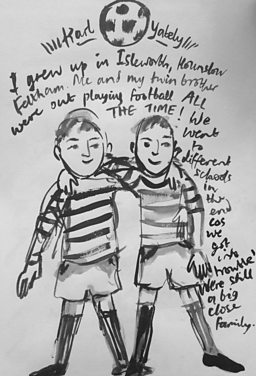 Sophie Herxheimer in action
Warning: Third party content may contain adverts.
Arts highlights on BBC iPlayer
Exploring the work of the first black female film director to direct a $100-million film

Highlighting the work of artists with disabilities to mark the signing of the Disabilities Discrimination Act

The Oscar-nominated actress gives a singing masterclass