Main content
"When a big robot blows up, it's terrifying!" — when Robot Wars presenter Angela Scanlon got more than she bargained for

By Angela Scanlon, Robot Wars presenter
Dara Ó Briain and I watch the battles from the second control booth, so we're as close to the action as we can safely get. Standing behind two layers of thick bulletproof glass, it's still incredibly loud. I thought the bulletproof glass was a dramatic addition, but when you've got lumps of shrapnel hurtling towards your head you're very thankful they're there!
Even with all the safety measures, when a big robot blows up, it's terrifying.
This series, Apex came into the arena boasting about having the biggest bar spinner ever on Robot Wars, but as soon as it started up we could see it was in trouble. The motor couldn't cope with the force of the spinning bar on top.
I have never seen or heard anything like it. It literally blew apart: the whole machine seemed to disintegrate in front of our eyes.

Angela Scanlon
Everyone screamed, Dara jumped about a foot in the air, squealing like a baby!
I could see the judges on the other side of the arena from us, ducking as parts of Apex, smashed through the internal bulletproof glass, destroying parts of the arena.
We've never seen an explosion like it, and after Aftershock's destruction last series, that's saying something.
But we love being so close to the action — even if sometimes we do genuinely fear for our lives!
Well you don't see that everyday! A robot pulls itself apart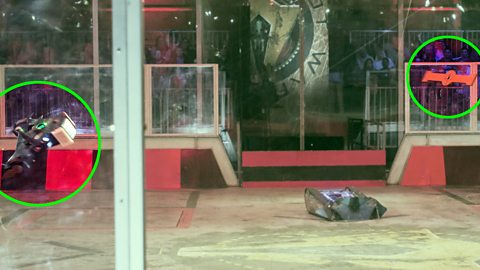 Well you don't see that everyday! A robot pulls itself apart.
Questions to – and answer's from – the programme's hosts.