Main content
Archive Unlocked: Two Decades of Private Passions
Michael Berkeley writes:
As a composer I've always been intrigued by the way people who are not professional musicians talk about music and how they tend to reveal things about themselves when they do. And so, 20 years ago, when Radio 3 was looking for a new programme in which a huge variety of people talked about their passion for music, I felt very excited about the possibilities. We called the programme 'Private Passions' because we've largely avoided professional musicians – whose musical passions are public.
Music seems to connect us with what really matters.
Music seems to connect us with what really matters, beyond the daily busyness of our lives, so when we talk about it we soon come to love and death. Over the years, acts of seduction, weddings and funerals have all loomed large; nonetheless,I can honestly say I haven't regretted any of my guests. I enjoy the way they confound all the established musical categories, mixing up classical and jazz and rock music. Indeed they have sometimes made me overcome my own prejudices.
Michael's Private Passions
After 20 years of asking others to choose, the presenter has chosen his own:
Conlon Nancarrow: Study for Player-Piano No.21
Igor Stravinsky, The Rite of Spring
J S Bach, St John Passion
Benjamin Britten, Billy Budd
Blood, Sweat and Tears, Lucretia Macevil
Listen to Michael's choices on the 20 years of Private Passions Playlist from BBC Music
To mark the 20th anniversary, extracts of interviews with guests from the last two decades have been drawn together to form a special edition of the programme broadcast at 12.00 on Sunday 19 April.
Many of the complete interviews are available to listen to here and through the Private Passions podcast.
David Hockney, 30 September 1995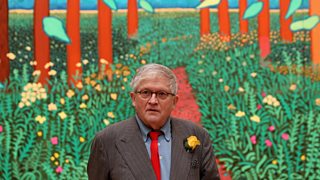 Colour and music, to me, are a wonderful combination

David Hockney
Recognised as one of the most distinguished painters and opera designers of recent times, David Hockney talked to Michael Berkeley about life, art and his unique relationship with the theatre, drawing on music by Wagner, Bartok, Mozart, Ravel and Strauss.
Listen to David Hockney's choices on the 20 years of Private Passions Playlist from BBC Music
Sir Isaiah Berlin, 3 February 1996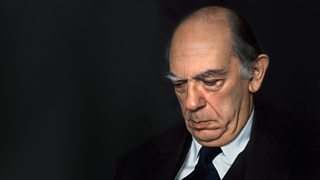 Bach… he's like daily bread, one doesn't really tire of it

Sir Isaiah Berlin
Philosopher Isaiah Berlin was once described as 'the leading candidate for the title of Greatest Living Englishman'.
During his interview with Michael for Private Passions he disclosed an astonishing childhood memory of actually watching the Russian Revolution, at the age of eight, from a balcony in St Petersburg.
Listen to Isaiah Berlin's choices on the 20 years of Private Passions Playlist from BBC Music
John Peel, 16 March 1996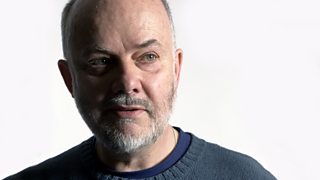 I like startling things... things which make you stop and think goodness me, what is that?

John Peel
The famous broadcaster's appearance on Private Passions prompted Michael Berkeley to wonder if his guest's taste for the unusual would extend to the classics. But he was surprised to discover that Peel preferred 'soft-bellied' music which 'tended towards romantic sentiment' and the 'rhythmically driven'.
Yet the ever-adventurous Peel was the only guest who asked Michael to surprise him by choosing a piece he should know. Michael's choice, Conlan Nancarrow's piano rolls, so gripped him, he took it and played it on Radio 1.
Listen to John Peel's choices on the 20 years of Private Passions Playlist from BBC Music
Oliver Sacks, 16 November 1996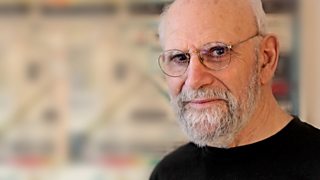 The gloomier is made glorious by art. When I am in a depressive mood I need something intensely sad, like Winterreise. I can't be jollied up.

Oliver Sacks
The then clinical professor of neurology at the Albert Einstein College of Medicine in New York, Oliver Sacks has been described as 'a doyen of science with a human face', and his bestselling books include Awakenings, A Leg to Stand On, The Man Who Mistook His Wife for a Hat, Seeing Voices and An Anthropologist on Mars.
In Penny Marshall's 1990 film based on Awakenings, Dr Sacks was played by Robin Williams.
Listen to Oliver Sack's choices on the 20 years of Private Passions Playlist from BBC Music
Dame Edna Everage, 28 December 1996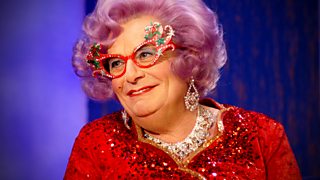 I am an essentially passionate person, Michael Berkeley, and it's very astute of you to recognise that.

Dame Edna Everage
In an extended Christmas edition, Dame Edna Everage, altar ego of comedian and actor Barry Humphries, revealed to Michael Berkeley her musical private passions. Among them are Bless This House sung by John McCormack, Rutland Boughton's Faery Song, Khachaturian's Sabre Dance, and the 'classic' of her native Australia, John Antill 's Rain.
The great prima donna herself contributed a rousing number from her Last Night of the Poms.
Listen to Dame Edna Everage's choices on the 20 years of Private Passions Playlist from BBC Music
George Steiner, 29 June 2002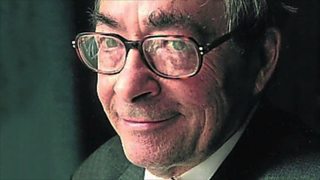 …music does do certain things, which even the greatest literature may not…

George Steiner
In 1992 Michael Berkeley met eminent scholar George Steiner, formerly Professor of Comparative Literature at St Anne's College, Oxford, and sometime Fellow of Churchill College, Cambridge.
Professor Steiner talked about a wide spectrum of music, from 17th-century Italian Salamone da Rossi and a madrigal by Gesualdo to songs by Schubert and Poulenc, as well as tracks by Edith Piaf and Dizzy Gillespie.
Listen to George Steiner's choices on the 20 years of Private Passions Playlist from BBC Music
Sam Taylor-Johnson, 13 December 2009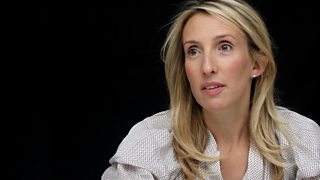 I grew up with music, our house was filled with music but always very different – anything from Elvis to Wagner to Rod Stewart…

Sam Taylor-Johnson
Turner Prize-nominated conceptual artist and director of the film Nowhere Boy, which documents the early life of John Lennon, Sam Taylor-Johnson (Taylor-Wood as she was then known) explained in her interview that much of her work has been inspired by music, from opera to Bach.
Her most recent film, is 50 Shades of Grey.
Listen to Sam Taylor-Johnson's choices on the 20 years of Private Passions Playlist from BBC Music
Marina Lewycka, 17 October 2010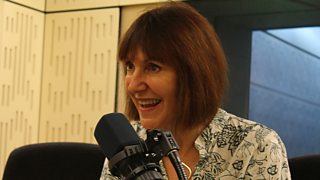 I don't know how it is that music can work directly on the emotions, without the intermediary of words and story - it seems like a miracle.

Marina Lewycka
A post-war baby born to Ukrainian parents in a German refugee camp, Marina Lewycka has lived in England since she was one. She read English and Philosophy at Keele University, enrolled for a PhD at Kings College, London, and then spent many years as an unpublished writer, before finally achieving huge success, at the age of 58, with the novel A Short History of Tractors in Ukrainian.
Her subsequent novels, Two Caravans and We Are All Made of Glue, also deal with aspects of immigrant life.
Listen to Marina Lewycka's choices on the 20 years of Private Passions Playlist from BBC Music
Anoushka Shankar, 6 November 2011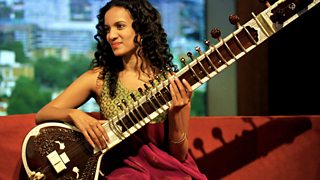 We drew up boundaries: in the music room, Ravi Shankar was my guru; in the dining room he was my father.
Composer and sitar player, Anoushka Shankar shared a common bond with Michael Berkeley ‒ they are both the offspring of composers.
She described her motivation to take up the instrument which had made her father Ravi world-famous, and the tensions it brought at home while she grew up - it was made clear that, though she would never be coerced, her commitment to the sitar had to be total.
Listen to Anoushka Shankar's choices on the 20 years of Private Passions Playlist from BBC Music
Carol Ann Duffy, 3 June, 2012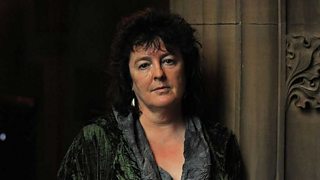 I'm not generally a fan of poetry being set to music. Poetry is different from the words of a song - it carries music within it.

Carol Ann Duffy
The first woman, the first Scot, and the first openly gay person to hold the post of Poet Laureate, Carol Ann Duffy was appointed in 2009, having won many awards for her poetry collections since taking first prize in the National Poetry Competition in 1983.
A keen music-lover, Carol Ann Duffy remembered the unexpected arrival at home of a piano, when she was a child. Her choices include Chopin's E major Etude Op.10 No.3, which her mother loved to hear her play. In her fifties and in the peak of health when she took part in the programme, Carol Ann Duffy insisted on choosing her funeral music to end the programme ‒ it was no ordinary choice ...
Listen to Carol Ann Duffy's choices on the 20 years of Private Passions Playlist from BBC Music
Maggi Hambling, 24 November 2013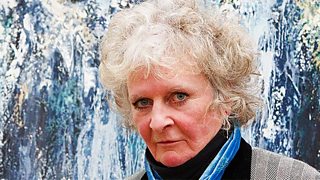 In a spookily old-fashioned way, I believe in drawing - it's the basis of everything I do - like a pianist doing the scales.

Maggi Hambling
As part of Radio 3's Benjamin Britten Centenary weekend in 2013, Michael Berkeley travelled to Aldeburgh beach in Suffolk to meet the artist Maggi Hambling at her memorial to Britten: two giant interlocking scallop shells.
Michael also visited her nearby studio to see paintings inspired by the Suffolk sea and to talk about the effect of Britten's music on her painting and sculpture.
Listen to Maggi Hambling's choices on the 20 years of Private Passions Playlist from BBC Music
Joan Armatrading, 16 February 2014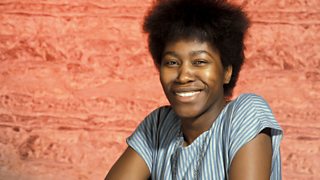 You could dust a piano and make music, whatever you do seems to sound nice

Joan Armatrading
When Joan Armatrading's mother bought a piano 'as a piece of furniture', little did she know what she was starting. The 14 year-old Joan taught herself to play it, then to play the guitar too and 12 years later she had a hit song Love and Affection.
In a career spanning 40 years, she has amassed three Grammy and two Brit Award nominations, won the Ivor Novello Award, became the first female UK artist ever to debut at No.1 in the American Billboard Blues chart, and was awarded the MBE.
Listen to Joan Armatrading's choices on the 20 years of Private Passions Playlist from BBC Music