Main content
Gary Lineker's tips for making the most of your talent
On Don't Tell Me the Score Simon Mundie sits down with one of England's greatest ever footballers, Gary Lineker, to talk about getting the most out of your talent. From winning the Golden Boot at the 1986 World Cup, to landing the top presenting job on Match of the Day, Gary knows a thing or two about how to excel. But he insists his achievements in sport and television are not down to outrageous talent, but finding ways to maximise the talent he has.
From relishing moments of pressure to getting out of your comfort zone, here are Gary's tips for making it to the top.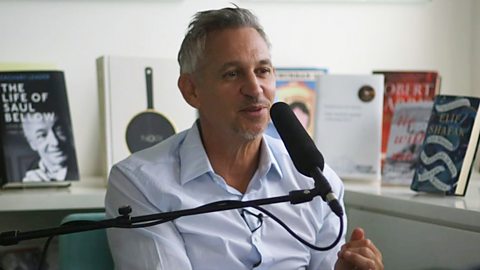 The former England captain with some strong opinions on footballing parents.
1. Avoid people who put unnecessary pressure on you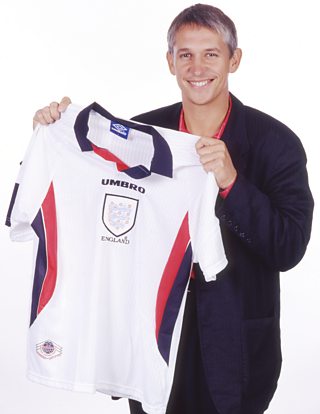 Lineker in 1998
Gary praises his parents for never putting pressure on him as a young footballer. "There's a calmness in my upbringing which I think has given me a calmness in my adult life," he says. His parents would watch him play, and support him, but "they just kept out of it." (With one exception: when a young Gary lost his temper with the ref his dad marched on to the pitch and dragged him off by the scruff of the neck – something he attributes his flawless footballing disciplinary record to!)
He says parents who get carried away shouting from the side lines will often do more harm than good. "Ninety-nine point nine percent of what they say is wrong. Ninety-nine point nine percent of what they say is damaging their children. It's instilling fear into them," says Gary. "If you play football or any sport with fear, you will perform less well." Parents should applaud their child's efforts but, most importantly, "just let them play."
2. Don't specialise too early
Gary wasn't necessarily destined to be a professional footballer. As a teenager he was also a passionate cricketer and actually believed he was better with the bat than with the football. But it was the latter that presented the first major opportunity in the form of an apprenticeship at Leicester City.
"There's so many things that need to come together to make it to the very, very top," says Gary, which means keeping your options open is important. "Try all sorts of different things," says the ex-footballer. And that includes working hard at school. "My advice to all kids, which I didn't take at all myself, is to cover all bases."
3. Step out of your comfort zone
As a young player, Gary strove to stretch himself. From Leicester City he joined Everton who were a trophy-winning side at the time. Everton were a brilliant team in the 1980s, he says, and he relished playing with better players and the quality that Everton had in abundance. "You've got to push yourself, certainly in sport," says the ex-footballer. "Relish it. It's an opportunity."
4. Reframe high-pressure moments as opportunities to shine rather than chances to fail
"Nerves are not a thing I feel," says the ex-footballer. "The bigger the game, the more excited I was and the bigger the opportunity." For him, it was about viewing high-pressure moments as an opportunity to shine, rather than a chance to fail.
If you're happy off the pitch and you can have a laugh with your teammates then things are going to go better for you.

Gary Lineker
Even penalty kicks were something the striker relished: although they instilled fear in many of his peers, for him they were simply a chance to show off. He just used to think, "Most human beings will never have this opportunity in life to show what they're made of."
5. Model yourself on those who have succeeded previously
In 1986, Gary was signed by Barcelona. He'd seen that other players who'd had fruitful careers abroad had made an effort to learn the language and so he viewed that as a model for success and made the decision to do the same. "I had noticed that the players who had not done very well abroad were the ones that missed their fish and chips and tomato sauce and who wanted to get over, earn a few quid, come back in a year or two," says Gary. "The ones who did well embraced the culture, learned the language." He doesn't think that's a coincidence: "If you're happy off the pitch and you can have a laugh with your teammates then things are going to go better for you." So he went to school three times a week for two years – and by the time he left Spain he was even thinking in Spanish.
6. Find a niche for yourself
When his career as a player was up, Gary knew he was never going to be a coach or a manager. But he recognised there was a gap in the market for an ex-pro footballer TV presenter. He looked at David Gower presenting the cricket and Sue Barker presenting the tennis and questioned why it wasn't the same in football. "I just thought, as a player who's played right at the top, if I could crack presenting it would give me a niche. It would give me an advantage over all the others," says Gary.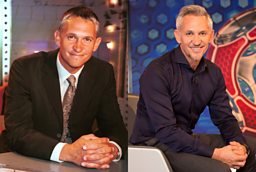 Presenting Match of The Day: 2000 and 2019
7. Work really hard and go the extra yard
"I wasn't obviously outstanding as a young player," says Gary. "There were so many kids that were much better than me… I wasn't even the best in my own Sunday league team." But he was dedicated and he worked hard. Like learning Spanish when he moved to Barcelona, he says, "you've got to commit the whole way."
He took the same approach to broadcasting. At first he wasn't sure he was good enough to present a programme and wondered whether he should just stick to punditry. "I was born to be in the box not on the box – it's a different skill set entirely," he states. But he adopted a growth mindset. Although he admits he was "pretty awful" when he started out, after two or three years of hard graft it started to click into place.
8. Don't take criticism personally
Gary explains how important resilience is as a footballer and as a public figure. "If you're going to go right to the top in football, you're going to have to be damn resilient," says Gary. Not just in terms of taking grief from a manager, or on the field, but also because of the role social media now plays. "You've got to be able to take criticism to be a footballer," he says. "You've got to be really, really tough."
And this background has set him up well for being a presenter. In recent years he's faced many a backlash to comments he's made on social media, but he doesn't let it faze him. Largely because any criticism he gets for his opinions "doesn't compare" to what he faced as a player!"
More from Don't Tell Me The Score