Main content
Where We Belong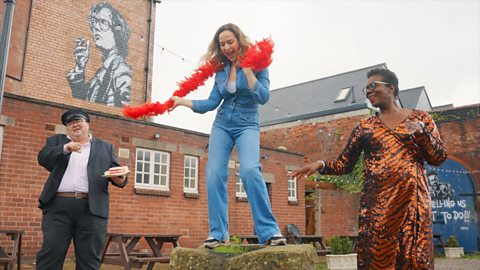 BBC Radio Sheffield and listeners lip-sync in the "places where we belong".
BBC Radio Sheffield shines a spotlight on "a place where you belong" across South Yorkshire and North Derbyshire.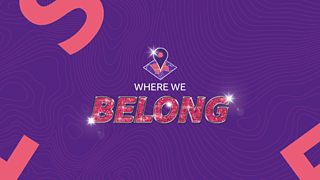 Taken from Sheffield musical Everybody's Talking About Jamie, the song "Out Of The Darkness (A Place Where We Belong)" is a celebration of community, freedom of expression and belonging.
Videos have been sent in from all over South Yorkshire including colleges, choirs, dance groups, schools and small businesses.
Everybody's Talking About Jamie is a musical based on the story of Jamie Campbell – a school boy who caused a stir when he wanted to become a drag queen, and attend his school prom in a dress.
The footage sent in by listeners was mixed with film recorded with the presenters at BBC Radio Sheffield who spent a couple of days driving round iconic places the area in a stretch limousine. Our weekday Breakfast presenter Toby Foster plays chauffeur to Mid-Morning's Paulette Edwards. The Radio Sheffield team were delighted when Jamie himself agreed to a cameo performance in their lip sync film.
"It was such a joyful couple of days, driving round all the bits of our patch, from the Crooked Spire of Chesterfield to the Dome in Doncaster," says Paulette.
"We had such fun in the limo picking up our other presenters and meeting listeners as we drove around. After such a difficult couple of years for everyone it's been so great to do something so full of joy."
Katrina Bunker, BBC Radio Sheffield Editor, says it was the global release of the film that prompted the team to do something so special,
"Everybody's Talking About Jamie has been such a success story for Sheffield, from the writing and premiere of the hit West End musical to the fact the brilliant film was all shot and produced in Sheffield.
"It's really put us on the map this year and we wanted to celebrate that. The final song in the movie is so upbeat, so celebratory and has such a strong message about finding the place you belong it seemed to lend itself perfectly to bringing local communities together to do something fun.
"BBC Radio Sheffield has stood shoulder to shoulder with local communities through Covid19 and will continue to do so through the years to come. This lip-sync film shows we're not just here for the bad times, we're also about fun and connecting with our communities in a positive and joyful way."
Singalong
We'll be playing the song "Out Of The Darkness (A Place Where We Belong)" on BBC Radio Sheffield over the next few weeks. If you want to practice your singalong, here are the lyrics:
Well you've come pretty far
But you know where you are
You're home
And the friends that you choose
Wanna walk in your shoes
You're home

Any day you feel your sky is falling
Look above see a bright silver lining
Listen up there's a new freedom calling
Calling you to a place where you're shining

Out of the darkness
Into the spotlight
There is a new star
Shining so bright

Out of the darkness
Into the spotlight
There is a new star
Shining so bright

In this place where we belong
In this place where we belong

So get up when you're down
'Cause this homecoming crown has come home
I was lost, I was found
Took the long way around
But I'm home

You and me got a song that we're singing
You and me got a drum that we're drumming
Listen up to the changes we're ringing
Nothing's going to stop us from coming

Out of the darkness
Into the spotlight
There is a new star
Shining so bright

Every day's a chance
Every day's a choice
Even losers sometimes end up winning
So go and find your dance
Go and find your voice
'Cause the party's only just beginning

There's a place where we belong
There's a place where we belong
And you'll hear us sing our song
In this place where we belong

Into the spotlight
There is a new star
Shining so bright

Out of the darkness
Into the spotlight
Found your freedom
It's gonna be alright

In this place where we belong
In this place where we belong
In this place where we belong
In this place where we belong
In this place where we belong
In this place where we belong
And you'll hear us sing our song
In this place where we belong