Main content
A Harsh Introduction to Childbirth
A devastating experience of childbirth in a barren hospital ward greeted producer Alicia Arce, as she visited Liberia to research the episode on midwifery.
I don't know what I expected when I first arrived at Redemption Hospital in Monrovia, on a recce for my programme taking a midwife to work in a maternity unit in Liberia. I knew the country had one of the worst records for infant and maternal death in the world. I didn't expect to come up against it in such a sudden and brutal fashion.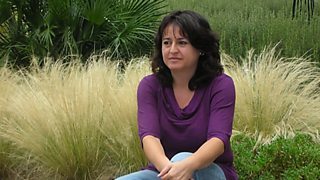 Redemption Hospital is the only free hospital in Monrovia, and literally fronts straight onto the street in one of its poorest neighbourhoods. As I arrived outside the entrance, an emergency began to unfold in front of me. A big wooden gate swung open, and within minutes, a taxi slid inside. There was just enough room for it to enter the narrow courtyard.
Rushed away
Immediately, a host of white-coated professionals appeared around it, but, as I watched from a distance, the pregnant woman on the back seat did not emerge. I heard shouts for assistance as two doctors battled to help her give birth in the car. Ten long minutes later, I glimpsed the baby being handed out of the car. It was a boy. He was rushed away by waiting midwives. His mother was helped out of the taxi onto a gurney and disappeared down a tunnel.
I waited outside, and in due course I was greeted by Redemption's head midwife, Roseline Broh, whom I'd come to meet. She explained that most women give birth at home without a qualified midwife, but in this case there had been problems, an obstructed labour. She took me to the maternity unit where, to my surprise, the emergency was still going on.
Bare iron bed
The woman was lying on a bare, iron bed as midwives and nurses tried to get blood and fluids into her. I was forgotten in the struggle to save this new mother from dying. As I watched, I was struck by the bareness of the scene, the complete lack of equipment to help the midwives in their battle. Other patients watched too, from beds just a few feet away.
Eventually, the woman was taken away to theatre, the staff fell back into their routines and there was a sense that the battle had been won. I breathed a sigh of relief myself. I had wondered how I might deal with death so close up.
A terrible thing
My visit continued, and eventually the woman reappeared on the post-natal ward. Once again, I was struck by the lack of technology to monitor her condition. We've all watched Casualty and ER and we're used to seeing people with wires attached to them, machines making beeping noises. Here, nothing. Not even bed linen.
And then, a terrible thing happened. A nurse went to check her and called for help. People rushed to her bed but there was little they could do, and right before my very eyes, the woman's life slipped away from her. It was devastating in its simplicity.
I was taken to the baby care unit where her newborn son still clung to life. A nurse was manually giving him oxygen. By the time I returned the following day, he had given up his fight for life too.
It was hard to take in what I had witnessed. Bad enough that a woman and baby should die in the simple act of childbirth, but worse still that the difference between life and death can rest on as little as the country you happen to be born into.
Meet this episode's two participants