Main content
10 things we learned from Helen McCrory's Desert Island Discs
Award-winning actor Helen McCrory has played Narcissa Malfoy in the final three Harry Potter films, Cherie Blair in both The Queen and The Special Relationship, Polly Gray in Peaky Blinders as well as being directed by Martin Scorsese in Hugo and appearing in the James Bond film Skyfall. Her stage successes include Uncle Vanya, Medea and As You Like It.
So what did we find out from Helen McCrory's Desert Island Discs?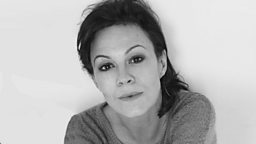 1. She had to research her own career to remind herself of the many parts she's played
Helen isn't normally one to talk much about her life and career but made an exception for Desert Island Discs. Lauren asks her where this reluctance comes from: "I'm a bit of a goldfish" says Helen. "I don't really reflect. When I was asked to look at different bits of my life for this programme I had to look on the internet to see what I'd done. I've lived life at 150 miles an hour. I just think that is the truth of it and I've never really stopped, and that is a by-product."
My dressing room was the loo right next to the stage, so basically I sat on the loo to do my make-up
2. She tells a hilarious story about a back-stage encounter with Lauren Bacall
While working in Sam Mendes' productions of Twelfth Night and Uncle Vanya she went to New York. "My dressing room was the loo right next to the stage, so basically I sat on the loo to do my make-up."
"One night [after the show] the dressing room door goes and in walks Lauren Bacall. I looked at her and she looked at me and she went: 'I loved it, I loved you, I just thought you were fabulous,' and I said 'Well, thank you.' 'No really,' she said. 'I've always been a fan of your work!'
And now I'm beginning to panic as this is my seventh job. There's no way she's been a fan of my work because I don't think she saw my Gwendolen [from The Importance of Being Earnest - Helen's first stage role] in Harrogate. And I said: 'Oh, I'm terribly sorry, that's Emily [Watson], I'm Helen, I play Yelena!' And she was like, 'Oh, my god, that is so embarrassing and after me making such a big thing to come and visit you.'
And I said: 'That's all right, Miss Hepburn, ever since Philadelphia Story I've been an enormous fan of yours! It's an honour to meet you.' And she just laughed: 'You're a dame! And we're going to go out!' And we did!"
3. Her first choice is a Bob Dylan track she heard at the age of five when her parents played it for her
"It's remarkable that [Bob] knew what he'd want to say to me if he had ever met me," says Helen. "And," she reveals "I've got carte-blanche from my husband that if I ever meet Bob Dylan I'm allowed to run away with him." The track is To Be Alone with You by Bob Dylan.
4. Her mother took a degree in politics later in life so that she could argue with Helen's father
"Mum studied politics because she was so annoyed with my father," Helen recalls. Her father's long career in the Foreign Office allowed him to say things like 'Well, I should know, I was there, I signed the treaty!' "So [my mum] went off and basically studied for quite a long time before she went 'What you didn't know is three years later they overturned that treaty, Ian!' They're very alive, my parents, let's put it that way! I'm very, very lucky; they're still my best friends."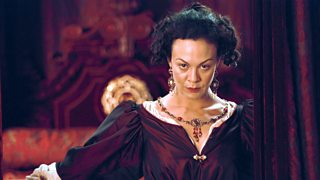 Helen as Barbara Villiers in BBC One's The Power and the Passion, a drama about the life of Charles II
5. Performing at the Royal Albert Hall with the school choir had a profound formative influence on her
"That night I'll never forget walking in and standing on that stage having been not that interested up until then. It's hard to get that excited about Mozart's Requiem when it's you and eleven other spotty plump teenagers singing, but suddenly the orchestra started up and I sang so loudly, and I couldn't hear my voice, and my whole body vibrated but it was the most extraordinary thing I'd ever been part of. A piece of music I'd never be capable of writing - I realised from a very young age that I would never be original, that I would never be a great artist but what I could do is I could be part of another great artist's work. I could be an interpreter and it felt so good, not being me."
6. She's played Cherie Blair twice
"When I played her first [Tony Blair] was still at Number 10 so she was mute basically," says Helen. "I studied her like Attenborough would study an ape - from the outside. And I just watched and I noticed that when she was just about to say something, she'd just smile and put her head back, and you'd realise why she smiles like that - because she was about to say something and then she realises they're not asking for her opinion."
"When I played her the second time it was a bit more difficult. He was out of Number 10 and she was on Radio 4 every morning on Woman's Hour... the game was up, people went: 'She's nothing like Cherie Blair!' Then I stopped playing her - it became far too complicated!"
7. One of Helen's choices links her childhood in Tanzania with her later years in Paris
The song Un Homme et Une Femme, performed by Nicole Croisille and Pierre Barouh, brings back memories of roller-skating with her friend Nicky as a child in Tanzania. This was their soundtrack. Helen relates how they used to collapse on the gravel as a way of stopping as their skates didn't have any stoppers on them. As an adult Helen lived in Paris for six years. Listening to it then she realised: "I'm never going to be a Parisian woman however hard I try because basically I'm just roller skating to it and falling in the mud."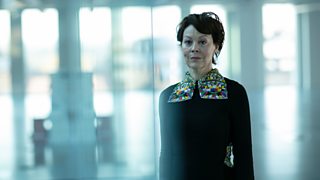 Helen as Kathryn in the thriller MotherFatherSon on BBC Two
8. She met her husband Damian Lewis when they appeared in the same play
The play was called Five Gold Rings. It was 2003. "Damian's naughty and he made me laugh straight away. He never lets me get away with anything and that makes me laugh even more. We hit if off pretty quickly and we had a bumpy courtship - I think we'll leave it at that. We are completely different as people but we're very similar in our values... I don't want to say too many nice things because he's going to be roaring with laughter at the radio and tease me!" They haven't performed together since then but they'd both like to.
9. One of her happiest moments is dancing with her husband
She loves dancing and she says Damian is a great dancer. "If ever I want him at a party and I can't see where he is - and it won't surprise you to hear that's quite often - I will go to the DJ and say put this song on. And I know that [even] if I'm in another building he will find me and we will dance to this." The song is Pull Up to the Bumper by Grace Jones.
10. She's not the first castaway to pick her unusual luxury item
Helen asks if she can take the Victoria and Albert Museum in London as her luxury item. Lauren reveals that there is a precedent for the choice: poet Imtiaz Dharker was permitted to take the V&A as her luxury in July 2015. "I shall wear all the jewels, all the costumes; I shall take out the samurai swords - some of the greatest swords ever made to make my hut. I shall enjoy myself on my desert island."