Main content
Paul Mason and the kids who decide what all the other kids talk about
For a Radio 4 documentary, journalist Paul Mason has been investigating a new trend in viral marketing on social media. Here he writes about what he has learned.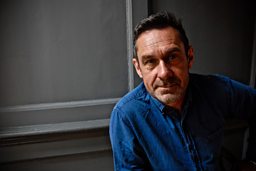 Walk into a room full of pensioners, academics or economists and - if you're a TV journalist – you get flickers, nods and even sometimes words of recognition. Walk into a room full of sixth formers and it is refreshingly different: they have never heard of me. Nor do any of them follow me on Twitter.
But when I tell them how many followers I have their eyes go wide. It's in the hundreds of thousands – which adds seriously to my credibility among these young south Londoners.
And that's the problem. Young people don't just get most of their information from social media – they live their lives there. All those intent faces lit up blue or green as their dinner goes cold, those angled heads as they walk along bumping into things, the unique kind of gaze that happens as you swipe left or right – it's the kind of attention advertisers could only dream of in the golden age of television.
And that's what has driven phenomena like the company Social Chain. It's a business that uses social media accounts to advertise products aimed at young people. Accounts like Medieval Reactions.
I started following Medieval Reactions long before I'd heard of Social Chain, because it is funny. It takes medieval images and juxtaposes them with captions, usually epithets, that summarise the dilemmas of life for young people and the ironies of world events.
My favourite this last was: "When you're the saviour of mankind and you pop in to check how it's going and you see america," juxtaposed with the agonised face of Jesus Christ.
The account was launched by Cathal Berragan two years ago. But it's owned by Social Chain and Cathal works for the company; and, alongside the jokes, there's now advertising. Same kind of pictures, same kind of words, but occasionally selling a product. So, alongside a picture of some medieval soldiers, it says: "When you're playing Call Of Duty and find out hungryhouse have 10% off with the code 'SaveMe' #ad"
The last hashtag "#ad" is important – because it is the only thing signifying this Tweet is an advertisement. This new method of selling stuff is totally legal and regulated, and it's success has driven some of the biggest brands in the world to spend money with Social Chain.
But the problems are obvious. When the adverts come on during Coronation Street, we don't mistake them for the next scene in the soap opera. We're attuned to the convention of the ad break. Likewise on a web page, when those highly targeted adverts come up in your sidebar, it is still the sidebar.
With Social Chain's method, the advert and the content look and sound the same – it's a level of similarity that advertisers have been dreaming of for years.
"Whoa," say the sixth-formers, once they realise this is a thing. And "whoa" is what I think the second time I visit Social Chain's offices in Manchester, because in three months they seem to have doubled in size.
And the thing is, our social media usage is only going to get more pervasive and complex. For middle aged men like me, Twitter and Facebook are the key tools. Young people have migrated to Instagram, Snapchat and the messaging group apps like WhatsApp.
Once virtual reality kicks in – and it's probably less than 18 months until we get "mixed reality" on our cellphones (think Pokémon GO but not a game) – a whole host of new apps are likely to follow.
Then you might get things like your favourite label suddenly flashes up on the water bottle you're drinking out of, or you point the headset at your training shoes and they change into the latest model.
And following Social Chain's logic, instead of Nike or McDonalds advertising to you, I could advertise to you personally on their behalf, amid whatever content I am creating when the brave new world begins.
Social Chain says it does not accept political advertising. It's a good job because they claim to be able to make any topic trend globally within an hour.
We've handed huge communications power to each other in the social media revolution and the story of Social Chain reads to me bitter-sweet. It's brilliant to see young people making entrepreneurial plays into a space dominated by big firms.
But if I could ban ads from Twitter, and turn it into a public service like the BBC, I would.
Paul Mason presents The Kids Who Decide What All the Other Kids Talk About on Radio 4 on Friday at 11am and then online.
More from Seriously...
An insight into the world of fictional characters brought to life by devoted fans.

Phyllis Bottome is little known today, but did she inspire Ian Fleming?

DJ and presenter Bobby Friction on how to escape the online echo chamber.

A travel guide like no other, for black motorists in the mid-20th Century it was a catalogue of refuge.

Bridgitte Tetteh explores attitudes to female bodies in the black community.

Art critic Martin Gayford learns what it's like to be painted by a modern master.

The Sex Pistols visited Yorkshire twice, but what impression did they leave?

Ian McMillan watches from the side lines in South London

Jolyon Jenkins investigates whether meditation can do you more harm than good.

The band member recalls the anarchistic joy of a truly unique group.

The team of recovering addicts who made their mark on cinematic history.

David Aaronovitch on how an Eastern political tract became a Western icon.

David Bowie's interviews reveal his humour, passion and determination to succeed.

Did Nazi leader Hermann Goering have a brother who saved innocent lives from the Holocaust?

Mat Fraser meets the former striptease stars back on the stage in their 70s and 80s.

A poetic retelling of the Orpheus myth, from the celebrated writer Neil Gaiman.

Kellie Redmond explores Disney's fascinating contribution to the war effort.

The Simpsons star, satirist and actor reflects on the flood that devastated his home town of New Orleans.

The award-winning writer on porpoise dissections, stranded whales and beached dolphins.