Main content
Eight classical pieces to make you smile
A big old messy cry might be good for the soul, but there are times when all you want is to hear something that sparks pure happiness. We get that. So here are eight feel-good classical bangers from this year's BBC Proms that are guaranteed to raise a smile.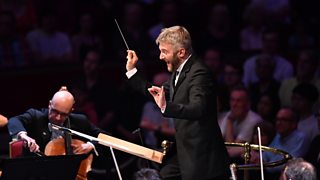 Don't forget – you can listen to every Prom live on BBC Radio 3 and on BBC Sounds – and watch the Proms on BBC iPlayer.
1. Jupiter from Holst's The Planets
It's not for nothing that Jupiter from Holst's The Planets Suite is subtitled "Bringer of Jollity". You might know its big tune from the hymn version (I Vow To Thee, My Country) or maybe as the theme tune for the Rugby World Cup.
The composer's daughter, Imogen Holst, wrote about "charwomen dancing in the aisles" at an early performance. So tie a bow in your pinny and get involved.
Hear it performed by the Bournemouth Symphony Orchestra at Prom 4 on 21 July.
2. Elgar's Nimrod
The exquisite Nimrod, from Edward Elgar's Enigma Variations, is one of the British composer's most popular and well-known works. Its noble, stirring tune was inspired by Elgar's long-term publisher and friend, Augustus Jaeger, who had brought Elgar back from the brink of a creative crisis with words of encouragement some years beforehand.
Quietly confident from the off, and building to an effortless climax, it's music that will leave you clear-headed, with a serene smile.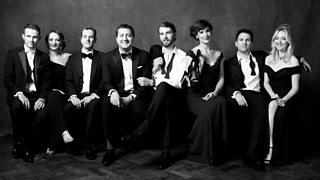 Hear it at Prom 35 on Tuesday 13 August, performed by the BBC Scottish Symphony Orchestra.
3. Sing joyfully by William Byrd
This anthem by the Renaissance English composer, William Byrd, is hugely popular with choristers and audiences alike. The text, from Psalm 81 of the Bible, is bounced around the six vocal parts like an inflatable beach ball.
It's an absolute zinger of a piece that that fizzes with fun and – well, joy. Hear Voces8 perform it at Proms at… Cadogan Hall 1 on 22 July.
4. The final movement of Sibelius's Fifth Symphony
Look down. Are you wearing socks? Well, prepare for them to be knocked clean off by the majestic horn theme in this, the final movement of Sibelius's Fifth Symphony. This, truly, is music to climb mountains and ford fjords to.
Hear the BBC Scottish Symphony Orchestra perform it at Prom 20 on Saturday 3 August. Here's a sneak preview from the Proms in 2014.
5. Sanctus from Mozart's Requiem
You don't have to be religious to enjoy this devastatingly lovely bit of Mozart's Requiem, with a big, brassy, stately opening that dissolves into a fugue of glittering delight.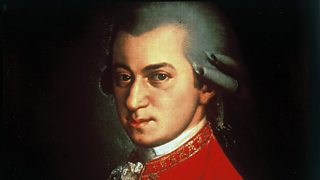 This is the kind of music that tugs at your heartstrings while simultaneously spurring you on to greater things. It's music that makes you want to call your mother. They should play this to world leaders before they make big decisions about armaments.
Hear it performed by the BBC National Orchestra and Chorus of Wales in Prom 26 on Wednesday 7 August.
6. The arrival of the Queen of Sheba by Handel
For lots of people, this vivacious piece conjures up thoughts of marriage, as it's often played as the bride enters or as the happy couple depart a church wedding. For some, Handel's music will be synonymous with the second wedding scene in Four Weddings and a Funeral, where it is heard playing on the organ as the bride bears down on Rowan Atkinson's hapless trainee priest...
Hear the Chineke! orchestra perform it for an Albert Hall full of delighted little ones at the CBeebies Prom on Sunday 21 July: A Musical Trip to the Moon.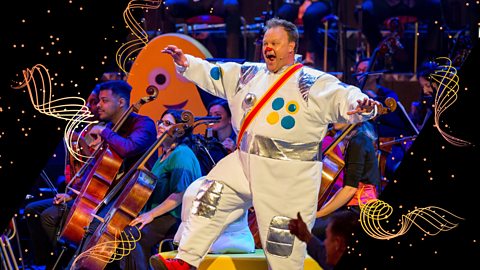 A short excerpt from Handel's much-loved piece, performed by Chineke! at the BBC Proms.
7. Till Eulenspiegels lustige Streiche, by Strauss
This ebullient, mood-enhancing tone poem by Richard Strauss illustrates the mischevious escapades of Till Eulenspiegel – a cheeky scamp from German folklore who mocks, flirts and plays "merry pranks" of a particularly revolting kind on those around him.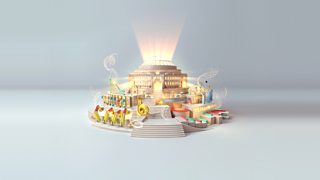 But don't worry if you don't know the first thing about Till's exploits – or if you have a terrible imagination. This may raise a complicit smile: the work's opening horn solo has some unofficial lyrics that some members of the orchestra sing in their heads…
This French horn player,
This French horn player,
This French horn player will be lucky if (s)he doesn't mess – this – up!
Sing along (in your head) with the BBC National Orchestra of Wales at Prom 9 on Thursday 25 July.
8. The finale of Beethoven's Fifth Symphony
The opening of Beethoven's Fifth Symphony is one of the most recognisable moments in classical music: a solemn, minor-key "Da-da-da-DUM" motif which returns, in various guises, throughout the symphony. But the symphony's final movement has a different feel; running straight in from the third movement in a resounding blaze of sunny, happy C major. Beethoven himself wrote of this unusual choice: "Many assert that every minor piece must end in the minor… Nego! Joy follows sorrow, sunshine – rain."
In fact, the movement ends with an unbelievable 29-bar run of pure, joyful C major, as we'll hear in Prom 74 ("Beethoven Night") on Friday 13 September. If you need further convincing, look no further than the utterly ecstatic reaction of three-year-old wannabe conductor Jonathan Okseniuk.
If there was one final addition to our list, it would be another famous piece of music by Beethoven: the Ode to Joy from Symphony No 9 (AKA The Choral Symphony), which also featured in our round-up of 8 pieces to make you cry.
Incredibly, Beethoven 9 has been performed in nearly every Proms season since 1897! You'll see plenty of smiles in the the audience during Prom 43 on Monday 19 August, especially during the symphony's final movement, with its uplifting Ode to Joy theme.