Main content
Prizes
The amazing prizes for 2019 will be announced when the competition launches in January.
2018 Prizes
There are two age groups in the 500 Words competition - one for children aged 5-9, and another for children aged 10-13.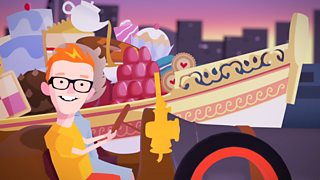 There are Gold, Silver and Bronze prizes up for grabs in each age group!
1st Prize - Chris Evans' height in books!
The Gold winners in each age group will win a pile of books as tall as Chris - that's 1.88 metres! - and 500 books for their school library.
2nd Prize - HRH's height in books!
The Silver winners will be awarded a stack of books as tall as our Honorary Judge, Her Royal Highness The Duchess of Cornwall!
3rd Prize - Your own height in books!
Our Bronze winners will walk away with their own height in books!
More amazing prizes!
This year's prizes are bigger and better than ever! In addition to the above, 500 Words 2018's winners will also get to ride in THE Chitty Chitty Bang Bang before taking tea on the Thames aboard HM The Queen's rowbarge - Gloriana!
The Top 50 shortlisted entrants will receive a pair of tickets to the final (for the entrant and a parent or guardian). All entrants of the competition will be asked if they wish to be entered into a random ballot to receive a pair of tickets to the Final. (Terms and Conditions apply)
All teachers and librarians taking part in the judging will automatically be entered into a draw, the winners of which will be randomly selected, to receive a pair of tickets to attend the broadcast of The Chris Evans Breakfast Show on Friday 8th June 2018. (Terms and Conditions apply)