Main content
Festival Diary / Friday 11. April
11:00 - 18:00 | CCA | N/C 12+
Classic BBC documentaries showing daily at CCA Glasgow. Friday's highlights include Graham Greene on the Orient Express and a legendary 1966 interview with artist Francis Bacon: Fragments of a Portrait.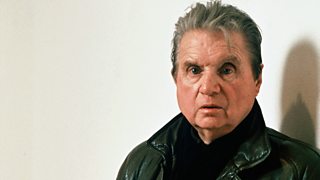 Bacon memorably describes his work as 'one continuous accident'
Also showing are an Omnibus on The Wonderful World of Louis Armstrong, an Arena special on the song My Way and a profile of groundbreaking Scottish animator Norman McLaren, showing here to mark the centenary of his birth.
Festival Diary /
A busy Friday programme includes a special Q&A with Jarvis Cocker and Martin Wallace
11:00 - 12:30 | CCA Theatre
In this panel discussion, chaired by broadcaster Kirsty Wark and featuring: artist Jeremy Deller; award-winning film makers Iain Forsyth & Jane Pollard; and broadcasters and art critics Tim Marlow and Andrew Graham-Dixon, discussed the role of arts documentaries in capturing the lives and work of artists throughout history.
We asked if the arts documentary can ever really capture an artist's practice; examined the genre's relevance in today's multi-platform world and asked the ultimate question: what is the Art of the Arts documentary?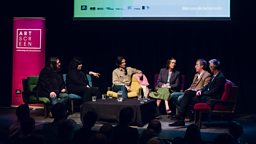 14:00 | CCA Theatre
Documentary-fiction hybrid 20,000 Days on Earth premiered at this year's Sundance Film Festival, winning two prestigious awards for best directing and editing in the World Cinema Documentary Category. 20,000 Days on Earth weaves drama and reality in a fictitious day in the life of musician Nick Cave.
In this Art Screen Masterclass the British film making duo behind the success, Iain Forsyth & Jane Pollard, shared their insights into film making and creating feature documentary for the big screen, revealing how they turned the music documentary on its head.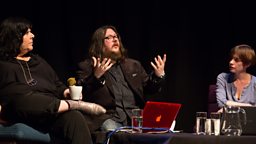 Jane Pollard & Iain Forsyth with Hannah McGill
Artists And Archive: Artists' Moving Image At The BBC
16:00 | CCA Theatre
BBC ARTS and LUX are currently running a residency, supported by Creative Scotland's Creative Futures programme, which offers six artists unprecedented access to the BBC Archives.
In this panel three of the participating artists, Torsten Lauschmann, Kathryn Elkin and Stephen Sutcliffe were in discussion with Benjamin Cook, Director of LUX, to reflect on their experiences so far and show a personal selection of rare material they have found in the archives.
16:00 | GFT | N/C 12+
Miss Hill: Making Dance Matter tells the inspiring and largely unknown story of a pioneering woman whose life was defined by her love for dance.
Martha Hill emerges as dance's secret weapon, someone who fought against great odds to establish dance as a legitimate artistic movement in America.
18:30 | GFT | N/C 18+
Over the past four decades, the artist Bruce Lacey has been oddball comedian, actor, painter and sculptor, inventor of robots and automata, post-hippy shaman and guru to bands of new age travellers.
In this fascinating documentary, Turner Prize winning artist Jeremy Deller and filmmaker Nick Abrahams reveal Bruce Lacey and his work in all its uplifting and inspiring glory.
Jeremy Deller and Nick Abrahams took part in a special Q&A after the screening, hosted by Francine Stock, presenter of Radio 4's The Film Programme.
21:00 | GFT | PG
Commissioned to celebrate 100 Years of Stainless Steel, The Big Melt is a unique tribute to the thousands of men and women who toiled in Britain's steelworks, to steel itself and to the city of Sheffield.
Directors Martin Wallace and Jarvis Cocker mix a treasure trove of footage from the BFI archives with a phenomenal score which was recorded live in Sheffield in 2013.
Jarvis Cocker and Martin Wallace took part in a special Q&A after the screening, hosted by Paul Morley, critic and author.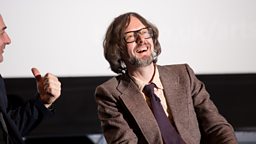 Art Screen at Night
22:30 - Late | CCA Saramago Cafe Bar
3 Nights of exclusive music and performance including:
Friday: Jarvis Cocker (DJ set), The Sons of the Stage (Jeremy Deller + Rory Crichton)
Saturday: Jarvis Cocker (DJ set), Durch / Dirt, Jonnie Wilkes (music), Torsten Lauschmann (video)
Sunday: music from special Art Screen guests
Admission is Free. For full details please check: www.cca-glasgow.com