Main content
The Roundhouse at 50: From gin joint to cultural tonic
21 October 2016
The Roundhouse venue in Camden, London, was at the centre of the British counterculture from its beginning. The opening concert was the All Night Rave in October 1966, featuring 'the Pink Floyd'; and many other celebrated rock acts like The Doors and The Stones subsequently played there. The Roundhouse was also spiritual home to revolutionary theatre, hosted poetry readings and jazz, and later tapped into punk as well as avant-garde classical music. As a new Arena documentary, The Roundhouse - The People's Palace, comes to BBC Four, BRIAN MORTON traces its illustrious half-century.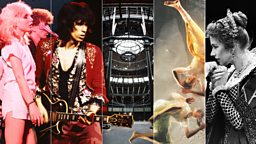 Music & Theatre at The Roundhouse: Blondie, 1977 / Redferns/Getty | Keith Richards, 1971 / Redferns/Getty | Fuerzabruta, De La Guarda, 2013, courtesy Roundhouse | Helen Mirren in The Duchess of Malfi, 1981 / Getty Images
Railways and gin loom large in Britain's mercantile history. The transport network laid down in the last half of the 19th century wrought the biggest infrastructural change in the country since the Enclosures, while gin, which had been around longer, became the soma of a new industrial workforce. What better place to plot or celebrate the destruction of capitalism than a building that had, successively, been consecrated to both.
The religious / sacrilegious element didn't go unnoticed by those who performed at the Roundhouse in its radical heyday. Radical psychiatrist R. D. Laing referred to it as a "ruined temple", and it reminded his fellow Scot Jack Bruce of some of the hollowed-out churches that had been left in his native Glasgow at the end of the war.
Radical psychiatrist R. D. Laing referred to The Roundhouse as a 'ruined temple'
Both were members of what might be called supergroups, a term that was first widely used of rock's greatest power trio Cream, who played the Roundhouse in 1968, but which might just as well apply to a line-up which included Laing, Beat poet Allen Ginsberg and Black Power spokesman Stokely Carmichael at the Dialectics of Liberation Conference which had been held at the Roundhouse the previous year.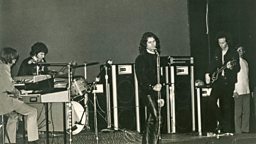 The Doors at the Roundhouse, 1968 | Photo: Alamy
It was, before the fact, the New Left's Woodstock, complete with chaotic entry policy and sloshing toilets. LPs of the event change hands for prices greater than rock bootlegs generally command. It was, along with the launch event for radical newspaper International Times and what singer Jim Morrison considered to be one of The Doors' best live events, a Zeitgeist moment in a building that reeked, sometimes literally, of Zeitgeist.
It had been built, at almost exactly mid-19th century, as a repair shed for locomotives, but only lasted a decade in that role. It was taken over as a warehouse for Gilbey's gin before sinking into desuetude, occupying a distinct but enigmatic space in the landscape of London's Chalk Farm.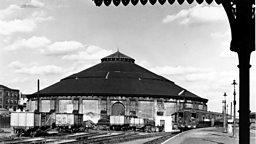 The Roundhouse, devised by Robert Stephenson and designed by R. B. Dockray, was built in 1847 to turn steam engines around for the London and Birmingham Railway | 1950 Photo by Edwin Smith / RIBA Collections
Roundhouse as Gilbey's Gin warehouse | Image courtesy Thomas Gilbey

Roundhouse exterior, 2006 | Panoramic photograph by Will Pearson
It fell into the hands of businessman Louis Mintz, who generously allowed the building to be used as the base for playwright Arnold Wesker's Centre 42, a utopian venture intended to strengthen connections between the trade union movement and the creative arts but one which failed to notice that in 1960 the average shop steward was a Mrs Grundy, if not a Mary Whitehouse when it came to the avant-garde.
Wesker's original vision gave way to a more haphazard and ad hoc use of the Roundhouse, mostly for rock concerts, but also for theatrical experiments in line with the new vogue for Poor Theatre and non-proscenium staging. Theatre directors Peter Brook, and, from New York, the Living Theatre's Judith Malina and Julian Beck were drawn to trashed industrial spaces that seemed actively to deny the usual conventions of foyer, crush bar, raked seating, privileged boxes, curtain and flies.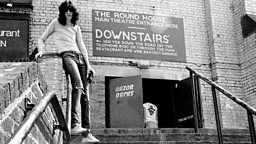 Joey Ramone outside The Roundhouse in 1976 | Photo by Danny Fields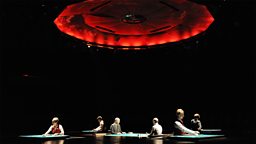 Robert Lepage, Playing Cards 1, Spades | Photo by Erick Labbe
The Roundhouse was the predecessor to such innovative spaces as the Tramway in Glasgow, Tate Modern in London and Bates Mill in Huddersfield, but it was followed by a pattern of secularised re-use of war-damaged buildings across Europe.
Jonathan Miller memorably likened The Roundhouse to a 'slowly subsiding Albert Hall'
It owes much of its high standing in the history of the radical arts in Britain to its memorable architecture, which theatre director Jonathan Miller memorably likened to a "slowly subsiding Albert Hall", a phrase which perfectly captures the Roundhouse's resonance.
An event there was a kind of anti-Prom, its anthem not Elgar, not even the London-based Jimi Hendrix mangling The Queen or the Star Spangled Banner but Cream's We're Going Wrong.
On TV: Arena
Arena tells the tragicomic rollercoaster story of a unique venue, Sunday 22:00, BBC Four and on BBC iPlayer.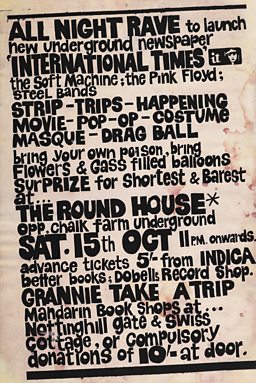 The poster for the opening night at the Roundhouse, the All Night Rave to launch International Times on 15 October 1966 | Courtesy The Roundhouse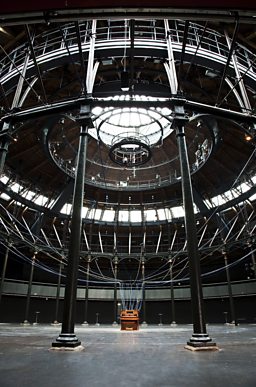 David Byrne, Playing the Building installation, 2009 | Photo by Jonathan Birch
Performance poetry: Neruda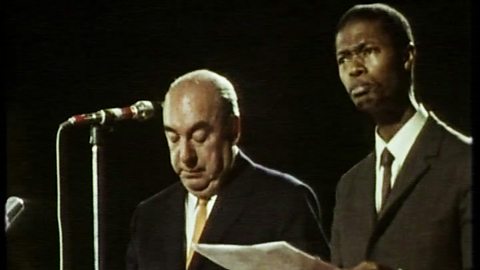 The Chilean Nobel Prize-winning poet, with Cosmo Peters reading the English translation
Ligeti: Voices & plate smashing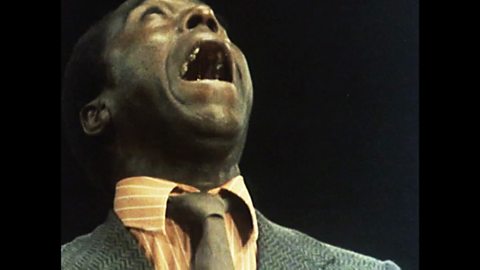 From the 1976 award-winning Omnibus film on avant-garde Hungarian composer György Ligeti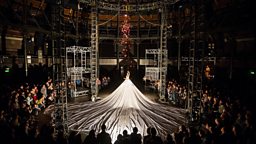 NoFit State, Bianco, 2013 | Photo by David Levene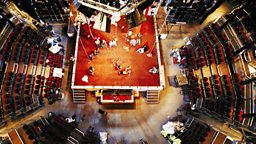 Seven languages were used in Tim Supple's Indian-Sri Lankan version of A Midsummer Nights Dream, 2007. The acclaimed production was the first play performed at the Roundhouse following its 2006 redevelopment | Photo by David Levene
A colourful history: Pink Floyd & the International Times All Night Rave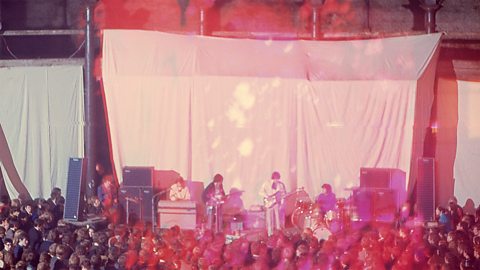 International Times co-founder Miles with Roundhouse Artistic Director Davey
Photograph of Pink Floyd playing at The Roundhouse opening concert, 15 October 1966 by Adam Ritchie / Getty Images.
An air of apocalypse is hard to sustain, though. Perhaps the venue's true high water mark came in 1972 with American renegade Harvey Matusow's International Carnival of Experimental Sound. Known as ICES, it brought together John Cage, British improvisers AMM, cellist and provocateur Charlotte Moorman, Penny Rimbaud, later of Crass and other ragged ensembles lost to history. The shift of emphasis from apocalypse to carnival is quietly telling.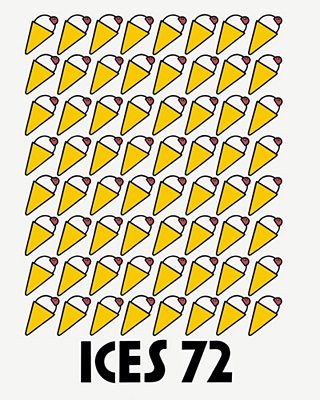 ICES 72 poster
You reach a point where you can't smash things down any more. You have to go on, grow up, and build

Jack Bruce
Once it was clear that civilisation wasn't quite on the edge of collapse or collective Laingian madness or an Armageddon of black v white, someone had to find a way to keep things going meaningfully.
The Roundhouse more than once in its subsequent history seemed fated for the wrecking ball and it took the efforts of later directors such as George Hoskins (an early partner of Arnold Wesker) and the estimable Thelma Holt to keep the dream alive.
Hindsight might not always be 20:20, but nostalgia has usually lost all sense of smell. Those who profess to prefer the old Roundhouse to the new, professional venue it has become, clearly don't remember having to tap-dance over planks in order to pee, and maybe they prefer not to acknowledge that joining the mainline, rather than settling for an isolated branch, or the spurious excitement of a train-wreck, isn't a betrayal.
In 2000, 15 years before his memorial concert was held there, Jack Bruce said "You reach a point where you can't smash things down any more. You have to go on, grow up, and build. But you need somewhere to be young along the way. That was the Roundhouse." Still is.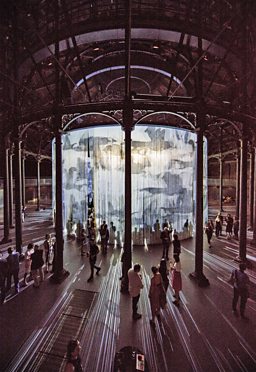 Ron Arad's immersive installation Curtain Call, with projection by Babis Alexiadis, 2011 | Photo by David Levene

Edwyn Collins, In the Round at The Roundhouse, January 2016 | Photo by John Williams