Main content
Ten Pieces Champions Blog
Keep up to date with what Champions are up to around the UK.
Read through blog posts written by BBC Ten Pieces Champions about how they are supporting the project. Many Champions host a variety of exciting activities and events in their areas throughout the year. Don't forget you can get in touch with your local Champion if you want to find out more about what's going on in your area.
National Centre for Early Music
Henry Purcell, the English composer who wrote over 300 songs in his short 30+ years, was the 'film score' musician of his era. He created numerous works as a backdrop to theatre, with scene changes and mood enhancers, and his Rondeau from Abdelazer is the piece from which we have created Purcell's Twist – a modern twist on his work.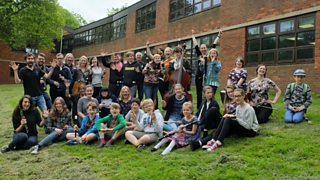 Working with this piece of music has been ideal for our chosen project, which this year brings together young people from different backgrounds, different towns and with different musical abilities. And what a project it is turning out to be.
With the main focus of Ten Pieces to make early music and musical instruments accessible, our project focuses on the recorder. The recorder is inexpensive to buy, and is also quick to learn, with the simplest of tunes possible after only a few sessions. It's an instrument that has been widely played across history and en masse, it can sound incredible.
The two groups include Castaway Musical Theatre East Yorkshire, a charity that regularly trains and performs with its group of young people, who have learning and physical disabilities and autism spectrum conditions.
To date, recorder specialist Kathy Dew has performed to over 300 school children in one day in the local area, to inspire interest in the recorder, and invite young people to take part in the project. The Minster Minstrels, York's own youth recorder group, have then visited Goole to perform short pieces and continue sharing an enthusiasm for the instrument.
A two-day Easter project focused on the Castaway group learning the Purcell Rondeau and adding in their own creative composition element.
Emily Crossland, education lead for the NCEM, said "I have been so impressed by the dedication and commitment of the groups taking part. During the two-day Castaway session, there was such a dramatic improvement by the second day, they picked up the instrument so naturally and we all felt the positive feeling that these sessions have generated."
At the end of the three months, there will be a big community concert, held at Toll Gavel United Church, 1pm on Saturday 26th May, as part of the Beverley & East Riding Early Music Festival. Young people from this project will join forces with professional recorder virtuoso Piers Adams and participants from the Festival's Revolutionary Recorder workshop, closing the show with a massed-recorder finale in Beverley Minster!
Opening early music up to young people in the East Riding of Yorkshire is an ongoing project and has been a key part of the annual Beverley & East Riding Early Music Festival throughout its thirty year history.
Purcell's Twist is made possible thanks to the support of Youth Music (as part of the Music4U programme), the East Riding of Yorkshire Music Education Hub and the Mayfield Valley Arts Trust. The Minster Minstrels are generously supported by York Music Hub.
The Ensemble Reza Community Orchestra
16/03/18 - By Hannah Carter, Ensemble Reza
The Ensemble Reza Community Orchestra was set-up in 2015. It aims to bring musicians of all ages and abilities together and often uses the multi-ability Ten Pieces arrangements to perform together. In total there are currently over 90 musicians, the youngest is 4 and the oldest is 81.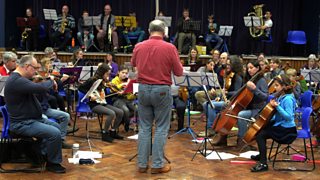 The orchestra is having an impact educationally and socially on our local community. Members of the orchestra are able to rehearse and perform alongside professional musicians not only helping to develop specific technical skills as musicians but also a wider knowledge of classical music. Many adults are returning to music making and literally dusting off instruments to play alongside friends and family.
The inter-generational aspect of this project is very exciting, bringing people of all ages and abilities together. Currently there are 22 families involved including 3 generations from the same family! In some cases children as young as nine are showing adults how to technically approach a piece of music. A sense of trust and respect is required as the different ages perform together and independence for younger participants.
Socially this project has also been very important, helping people to take time out of hectic lives, to make new friends and develop confidence and self-esteem performing and playing at a new level. Performing publicly for some requires an amount of risk taking and as we have found some people suffer from anxiety. Being part of an orchestra has helped to build camaraderie and many have overcome these fears performing in a safe and friendly environment.
Side by side with NMPAT and City of London Sinfonia
16/02/18 - By Sarah Turnock, Centre Head, Towcester - Northamptonshire Music and Performing Arts Trust
All of us who play an instrument remember that very special moment when we played with a really large ensemble for the first time... Three of the Regional Centres from the Northamptonshire Music and Performing Arts Trust (NMPAT) have been working with the City of London Sinfonia to bring the incredible experience of playing in a 100+ piece orchestra to our Regional Centre instrumentalists.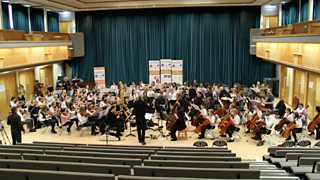 Funding from Orchestras Live and South Northants Council enabled us to work with John K Miles (composer) to create a piece especially for the combined orchestra based on student ideas and to take part in a concert featuring all the students and 13 members of the City of London Sinfonia playing the Ten Pieces arrangements of Trepak and Waltz of the Flowers. The concert included the members of the CLS playing another four of the Ten Pieces and talking to the students and audience about playing their instruments and what it is like to be an orchestral musician.
There was an incredible buzz about the event as it was the first time for most, if not all, of our students playing in an orchestra that big. There was also an opportunity to watch the CLS rehearsal and to sit in close proximity with the professional players.
The feedback from the students and parents alike has been extremely positive and we shall definitely be making use of the BBC resources again and very much hope to work with CLS again.
DYSO meets BBC SO for an amazing day
11/12/17 - By Paul Painter, Conductor – Devon Youth Symphony and Concert Orchestras
On Saturday 2 December the Devon Youth Symphony Orchestra were invited to play alongside the iconic BBC Symphony Orchestra at their Maida Vale Studios as part of the excellent BBC Ten Pieces Coaching Scheme. As one of the first orchestras to be involved we've been lucky to have visits from some inspiring BBC players over the past 2 years and this was the icing on the cake.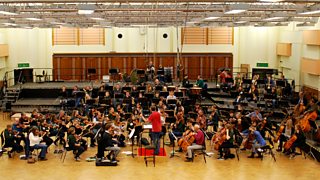 All our players were very impressed by how encouraging and patient the BBC SO players were and, importantly, commented on just how 'cool' it now is to be an orchestral musician amongst school-friends. The dynamic conductor, Rumon Gamba, treated the youth orchestra as professionals and they rose to the occasion with some outstanding results. The ultimate quote from one player was that it was "the best thing in [her] life to date". After a five hour coach journey each way that's quite a result!
Since the Ten Pieces project began we've used many of the arrangements for our performances, workshops and outreach tours, and for the more advanced players, as an introduction to the original works. We're playing three of the pieces along with members of the Bournemouth Symphony Orchestra on 9 March in Exeter University Great Hall as part of the final performance of an orchestral project involving a huge number of young players from Devon schools and area ensembles.
With my Devon Music Education Hub hat on, I'm also presenting a session on the BBC Ten Pieces at the South West Peninsular Music Conference in February so I'll make sure that everyone hears just how important it is to keep this work going.
Bradford Music Hub's Ten Pieces Festival Preparations
23/11/17 - By Felicity French, Bradford Music Hub
Bradford's got an exciting year ahead of it, as we're well underway with the preparations for our BBC Ten Pieces Festival that the Bradford Music & Arts Service, Lead Partner for the Bradford Music Education Hub, is holding on 23 and 24 March 2018. We've already got lots of schools signed up raring to go.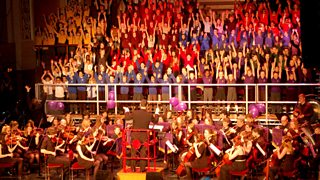 It's going to be a big affair! On the Friday evening we are hoping to have a performance by The Symphonic Brass of London who we are planning to work with for a project in a primary school. The Saturday is very full - there will be 3 or 4 performance spaces, an art gallery including digital art, and art work around the performance areas.
When walking into the school, the audience will be surrounded by the sound and vision of the BBC Ten Pieces. All the Music Service ensembles will be performing, as well as some of our Hub partners. We're hoping to have workshops for the teachers in Bradford to inspire them with all the opportunities, not just with music, but also art, literacy, and whatever else comes up!
In addition to this, following on from our BBC Music Day last year, we have plans for another big outdoor performance in the summer of some of the Ten Pieces, including Carmina Burana and Zadok the Priest, featuring the Bradford Youth Orchestra supplemented by additional players, and local choirs and school choirs. We'll need a lot of space.
Schools across the district are also doing their own Ten Pieces things so we expect some of them will showcase their endeavors at this occasion. We're expecting in excess of 1000 pupils again to come along and join in the activities and watch the performances. Roll on 2018!