Main content
Terms and Conditions
IN THE INTEREST OF SAFETY AND IN COMPLIANCE WITH THE LICENCE CONDITIONS PLEASE DO NOT BRING IN ANY GLASS ITEMS TO THIS EVENT. THE ONLY EXCEPTION IS 750ML MAXIMUM UNOPENED BOTTLES OF SPARKLING WINE (WHICH INCLUDES CHAMPAGNE, PROSECCO AND CAVA)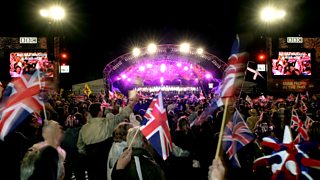 METAL AND CERAMIC KNIVES CANNOT BE BROUGHT INTO THE EVENT. THEY WILL BE CONFISCATED AT THE GATES AND DISPOSED OF.
You may wish to check your picnics and baskets for any cutlery that includes metal knives to avoid losing part of a set. Plastic and wooden cutlery is allowed.
TABLES ARE NOT PERMITTED. UMBRELLAS MORE THAN 1 METRE ARE NOT PERMITTED.

Tickets are issued on behalf of the organisers responsible for the event meaning the BBC and Festival Republic (jointly called "the Organisers"), working in partnership with The Royal Parks. They are subject to the terms and conditions indicated here or displayed on the premises. The use of the ticket signifies agreement to the following conditions:
1. The ticket is subject to the rules and regulations of the Organisers which may be changed at their sole discretion.
2. Tickets are security printed and individually barcoded. If a ticket is resold for commercial profit or gain the ticket will be void.
3. The special circumstances of this event allow beverages to be brought onto site in limited quantities. These quantities are per person.
a. Up to one litre of wine (in unopened plastic or cardboard containers) We will accept standard boxes of wine if shared between groups and the limit of one litre per person is not exceeded
b. Or one unopened glass bottle (maximum 750ml) sparkling wine (which includes Champagne, Prosecco and Cava)
c. Or 4 cans of beer / cider
d. Or 1 litre sealed plastic bottle or carton of water or soft drink or juice
Bag searches will be in operation at the entrance gates and any amounts of alcohol per person above these will be confiscated.
4. Alcohol will be on sale in the event arena. No alcohol may be purchased or consumed by those under the age of 18. Proof of age will be requested from anyone who looks under 25 years of age. The only accepted forms of ID will be a photo card driving licence, passport, or a proof or age card bearing the PASS hologram e.g. Citizen card or Validate card. No photocopies of any of the listed forms of ID will be permitted. Security patrols will also be in operation to prevent anybody under the age of 18 attempting to consume alcohol.
5. Picnics are permitted in the arena however size restrictions apply. All bags including hampers and cool boxes are restricted to no bigger than 20 inches x 13 inches x 8 inches. For safety reasons and to ensure the comfort of those attending the event the management reserves the right to reduce the overall footprint of your chosen picnic or seating area. Please note that tables are not permitted.
6. Folding chairs and shooting sticks are permitted on site and are limited to one per person.
7. The following articles ARE permitted on site: umbrellas and flag poles up to 1m long, flags, plastic or wooden knives, empty water bottle (not glass) up to one litre per person, cigarettes for personal consumption.
8. The following articles are NOT permitted on site: Glass bottles, glass vessels or any form of Glassware including perfume bottles and glass bottles containing sparkling wine (over 750ml), metal or ceramic knives or cutlery, cork screws, cheese & bread knives (unless wooden or plastic cutlery), barbeques (including disposable barbeques and camping stoves), flag poles or umbrellas measuring more than 1 metre long, selfie sticks, flaming torches, candles or naked flames, flares, Chinese lanterns, fireworks, kites, gazebos, tents or shelters, tables, bicycles, generators, spray cans, unmanned aerial vehicles/devices (drones), smoke or gas canisters/cylinders (including aerosols and nitrous oxide), no items associated with taking NOS (canister, balloons, cartridges ) no gas devices or smoking devices, megaphones, air-horns, aerosols, backpack hydration packs, sound systems, weapons, dangerous or hazardous items, laser devices, zoom lenses, cinematographic equipment, audio visual equipment, unidentifiable substances, illegal substances, unauthorised items for trading, including any goods using unauthorised event logos or unofficial tabards, unofficial reflective jackets, no medication unless recognisable or accompanied by a doctor's note/prescription, and any article that might be used as a weapon and / or compromise public safety. Confiscated items cannot be returned upon exiting the festival site.
9. The use of drones/similar is prohibited on or near the event.
10 Fires are not permitted anywhere on site. Anyone involved with starting a fire or throwing anything onto a fire will be evicted from site. No candles or naked flames will be permitted.
11. Do not bring drugs including former legal highs to the event (this includes nitrous oxide). You may be rejected/ejected from the event and handed over to the police if found in possession. Sniffer dogs may be in operation.
12. Unauthorised professional photography or use of professional recording equipment is prohibited and zoom lenses, audio visual or cinematographic devices will not be permitted on site.
13. No animals will be permitted, other than guide dogs for blind and/or deaf attendees.
14. The Organisers reserve the right to cancel this event at any stage, if deemed necessary in their opinion, or if circumstances arise outside their control. They also reserve the right to alter or change the programme and line-up without prior notification.
15. Should the event be cancelled or the line-up changed, the Organisers will not be liable for the payment of any compensation or for any loss of money and/or expenses incurred. In the event of cancellation of the entire event only the face value of the ticket will be refunded. Applications for refunds should be obtained via the point of purchase, and requested no later than 3 months after the event.
16. With the exception of children aged 2 years and under all those attending the event will need a valid ticket. PLEASE NOTE: anybody under 18 MUST be accompanied by a responsible adult aged 18 or over. Proof of age may be requested upon entry.Tickets should be retained at all times during the event.
17. There is no re-admission once you have left the site.
18. The Organisers reserve the right to refuse anyone entry to the site at their discretion and any person who fails to comply with instructions from a steward or other person acting on behalf of the Organisers may be ejected without a refund. In addition anyone found to be causing damage to the site, the site infrastructure, causing harm to any other person on site, behaving in an illegal, anti-social or aggressive manner, appearing to be under the influence of drugs or in breach of these conditions will be ejected without a refund and may be reported to the police.
19. The Organisers will use their right to search all persons and personal property via bag searches and potentially via the use of full body metal detectors or wands. They will refuse admission to, or eject from site, any person who refuses to be searched by a steward or other person acting on their behalf.
20. The Organisers shall not be liable for any loss, damage, cost or expense, except in the case of death or personal injury if due to any negligent act or omission on their part.
21. BBC Proms in the Park will be filmed for live and recorded transmission on any BBC network, including internet streaming. Ticket holders give their express consent to the use of their actual or simulated likeness in connection with the production, exhibition, advertising or exploitation of any film, video and/or audio recording of this event and/or any element thereof in any/all media throughout the world. They also agree to being filmed by police or security staff for the purposes of helping ensure the security of customers and preventing crime.
22. Please use the bins and recycling points provided on and off site.
23. If before or during the event you have a complaint in relation to the event (including without limitation in relation to your ability to view the event) please contact a steward since complaints are very difficult to deal with after the event.
24. The event is outdoors. You are strongly advised to bring appropriate clothing and footwear to protect against potentially inclement weather.
25. WARNINGS - Prolonged exposure to loud noise may cause damage to your hearing. Smoke effects, strobe lighting, lasers, pyrotechnics and loud noises may be used at this event. 27. Your rights as a consumer are not affected by these terms and conditions.
26. Your rights as a consumer are not affected by these terms and conditions.
Proms in the Park 2019, London