Main content
Take Five: A young artist takeover of Radio 3
What's the world of classical music like for its youngest performers? This week on Radio 3, we're experiencing life through the eyes and ears of five artists aged 30 and under.
Every day this week, a different young artist will come to the Radio 3 studios to share their passions and experiences. They'll start off by meeting Petroc Trelawny for Breakfast, before sharing their cultural inspirations on Essential Classics with Suzy Klein. On Afternoon Concert, each of our artists has the opportunity to interview one of their musical heroes – and on In Tune, we'll get the chance to hear them perform. Finally, we've asked each of our young artists to curate a special edition of the In Tune Mixtape.
Let's meet them.
Mark Simpson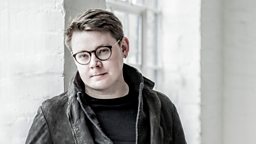 Mark Simpson is one of the most exciting young musicians working in the UK today. A former BBC Radio 3 New Generation Artist, he first hit the headlines back in 2006 when he won two major competitions while still a teenager (BBC Young Musician AND BBC Proms/Guardian Young Composer of the Year). Needless to say, he was the first person ever to have bagged both prizes… not least in the same year.
Now 30, Mark is sought after as a clarinet soloist, performing all over the world. He is also a prodigiously talented and thrilling composer whose works include The Immortal – a hugely exciting large-scale work for orchestra and choir based on the life of a Victorian psychic – and Pleasure, a chamber opera set in the toilets of a gay club.
Being a composer means that as a performer, Mark has a particular commitment to new music. Last year he was the soloist in Magnus Lindberg's Clarinet Concerto at the BBC Proms – a concert he describes as "the best performance I've ever given on the clarinet".
Mark will be in the Radio 3 studio all day on Monday 10 June. You can hear him interview Sir Simon Rattle during Afternoon Concert, starting at 2pm.
Mark on...
His lightbulb moment: "I remember going to orchestral concerts when I was 12 and sitting there idolising the wind players and thinking, 'Oh my God, I want to be one of them'..."
The loneliness of composing: "One of the worst things is the lonely hours of work that you have to do, the incredible sense of self-criticism and self-doubt that you have, the psychological battles that you have to go through... and the fact that you're always on show! Always having to put yourself out there, knowing that you're going to be critiqued. That's scary. You have to find a way to have a network around you that is both there and not there; that's supportive, but lets you do your own thing."
Explaining the job: "I live with my best friend, who works in banking. Although he's known me for years, the concept of conjuring up music from thin air to earn money is still weird to him. And at parties, people are like: "So, do you, like, know how to play all the instruments then?"

Peter Moore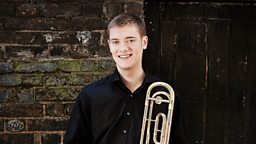 Peter Moore is also another former BBC Young Musician – the youngest on record, in fact (he won in 2008, aged just 12). Belfast-born and Manchester-raised, he's a spectacular advert for the trombone, an instrument he thinks we should all be taking more seriously.
Peter is co-principal trombonist of the London Symphony Orchestra, their youngest-ever hire. He started at just 18, forgoing university or music college to dive straight into the world of work.
Now 23, he's also building a career as a soloist and has earned glowing reviews for his concerts – imbuing the trombone (as one stunned critic put it) with "the eloquence and nobility that one might have thought impossible except by the human voice."
Peter will be setting up camp in the Radio 3 studios all day on Tuesday 11 June, joining Petroc Trelawny for Breakfast.
Peter on…
His dream collaboration: "I'd love to work with Yo-Yo Ma, who's been this legend and icon of classical music for years. For him to endorse the trombone would be amazing."
Confounding expectations: "People think that trombonists are in the pub all the time and that we just make loud noises at the back of the orchestra. So the best thing that anyone can ever say to me after a gig is: 'I'd no idea the trombone could sound like that.'"
Rebranding: "I would love it if, one day, we used the words 'classical music' less. Just call it music! There's something about that phrase that suggests you have to have a certain level of intellect to understand it. That's complete rubbish."
Saying goodbye to childhood dreams: "I was really into my sport when I was younger and dreamed of being a Premier League footballer! Unfortunately, I think it might be too late for me now..."

Isata Kanneh-Mason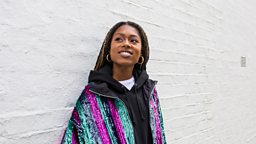 Image © Robin Clewley
At 23, Isata Kanneh-Mason is the eldest of the Kanneh-Mason dynasty, a family of seven intensely musical siblings from Nottingham.
Her little brother Sheku may have had the lion's share of the headlines so far (playing cello at the 2018 Royal Wedding and subsequently shooting to the top of the classical charts), but Isata is making serious waves as a pianist. This year, she signed to Decca Classics to release an album of piano music by Clara Schumann.
Although she still performs a lot with her siblings (in The Kanneh-Mason Trio, with brothers Sheku and Braimah), Isata is in increasing demand as a soloist and performs all over the UK and abroad. She's fast becoming an influential ambassador for classical music and a role model for aspiring young musos – all while still a student at The Royal Academy of Music.
Isata stages her takeover of Radio 3 on Wednesday 12 June, starting at around 8am on Breakfast.
Isata on…
Adjusting to a career in music: "I'm having to train myself to see music as a job, because I've always done it. The word 'job' comes with a sense of obligation and work, and I don't feel that."
Travel's unglamorous side: "I love travelling, but I also love being around my family and friends. I haven't got to the point where I'm away for weeks at a time yet. Usually it's only a few days, but already I find it can be quite lonely."
What keeps her practising: "The feeling of walking into a concert knowing that you haven't given enough to the preparation is just. So. Horrible. The fear of that feeling gets me through my lazy days."
Her dream collaboration: "It would have to be Beyoncé. Her energy is just so incredible! Being around that would be so inspiring. She's not a classical musician and I don't play pop music, but I'd love to meet her. Beyoncé sings Schubert lieder? I think she's too busy…"

Soraya Mafi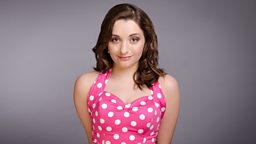 The 30-year-old Lancashire-born operatic soprano Soraya Mafi is making a name for herself as one of the most outstanding young voices of her generation. She originally trained as a dancer, until a back injury at 15 made her consider a switch to singing. Lucky for us that she did...
Soraya has a rare voice that sounds as at home in Mozart as it is in Sondheim, Janacek, Monteverdi, Poulenc, Handel, Fauré and Britten – all very different composers whose music she has sung to rave reviews. A Harewood Artist of The English National Opera, Soraya has also been awarded the prestigious Susan Chilcott award and Maggie Teyte Prize.
Her Radio 3 takeover starts during Breakfast on Thursday 13 June.
Soraya on...
Starting early: "I always knew I wanted to be in the performing arts. I went to dancing lessons from the age of two. Back then we weren't supposed to sing, only mime (although obviously, four-year-old me asked if I could sing…)."
Having freedom to play: "The best thing about being a singer is getting to play in rehearsal – not just playing parts, but experimenting with the body, with the storylines, with other people. I love it."
The downsides of professional singing: "I'm constantly worrying about getting sick and having to cancel work and disappointing people."

Stephanie Childress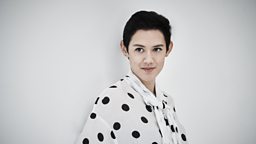 There aren't many performers who can say they had both completed a university degree and started work by the age of 20. Stephanie Childress can, though – and is already establishing herself as a solo violinist, chamber musician and conductor.
Perhaps it helps that she started so early. Stephanie led the National Youth Orchestra in 2015 and rocketed to fame the following year when, as a violinist, she wowed judges of the Young Musician of the Year competition. At the time, she was in her first year studying music at Cambridge University (where she enrolled at 16, having dropped out of school at 15 to complete her A-levels in one year).
Stephanie made her conducting and soloist debut with the Southbank Sinfonia in April 2018 and in May this year conducted her own ensemble, Orchestra Rheia, in their inaugural performance of Brahms and Bach.
Stephanie will be in the Radio 3 studios all day on Friday 14 June, meeting Petroc Trelawny for Breakfast at just after 8am.
Stephanie on...
Her first inspiration: "My first *moment* with the violin was when I heard Nigel Kennedy play The Four Seasons live. I was about four years old, sitting on my dad's lap. He says I was completely transfixed."
Her dream collaboration: "It would SO be Tina Turner. Her music has been with me forever. She's the kind of lady who knows exactly what she wants – she could teach me a lot about life and how to stay strong."
Having non-muso mates: "Some of my closest friends are practically tone-deaf and I have to drag them to my concerts. But it helps me stay grounded. Sometimes you need someone to point out that there are bigger problems in the world than figuring out what this particular chord means..."
The worst thing about being a musician: "One word: admin. It's the bane of my life. There's just so much of it."