Main content
What does it takes to be a Team GB athlete?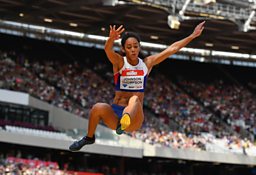 Katarina Johnson-Thompson Credit: Getty Images
You may think that if you've got the ability then you're sorted, but there's a heckuva lot more to athletics than simply being capable. It's explored in-depth in 'Inside Team GB', but here are just a few key pointers to consider...
1. Building on your demanding career
Sure, you need to be able to do your job, everyone who wants to be successful at their profession does, but the extent of being THIS in-shape is unlike any of us 'normies' will ever know.
"I know more than anyone anything can happen….In 2012 I was only 19, to get to the Olympics was a huge achievement for me. Four years on I want a medal, I want a gold medal."

Katarina Johnson-Thompson
"Heptathlon is very demanding on my time and body," says Katarina Johnson-Thompson.
2. Mental health is imperative
Being mentally prepared isn't the same as being mentally healthy. Anxiety and depression can affect anyone at any time, as sprinter and hurdles specialist Jack Green knows only too well.
"I have to live with this other side to me now in terms of depression… I have to be off my meds so that I can compete. So it's finding that balance between life and running, I have the odd off week but hopefully that doesn't come in Rio."
Jack Green Credit: Getty Images
3. Tweaking those skills to maximise performance
Andrew Pozzi, 110m hurdles runner, reminds us how important it is to get the most out of the months and years of preparation.
"Now it's all about fine tuning, we've worked really hard all season, now it's about getting the right training done and not going mad."
4. Remain grounded at all times
There's nothing wrong with a bit of confidence - just look at the likes of Usain Bolt, for example.
"I'm gonna go home and eat my Nan's food, then finish off that Uni assignment."

Matthew Hudson-Smith
But there comes a point where you can't let success and talent go to your head and get in the way of your actual life, as Matthew Hudson-Smith so humbly puts it.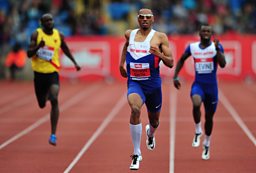 Matthew Hudson-Smith Credit: Getty Images
5. Childhood determination
The key to becoming an accomplished athlete isn't an idea that comes to you overnight; it's something many of Team GB have been practicing and thinking about since they were tiny.
"I've always wanted to be an Olympian since I was 8 years old. It's taken 12 years of hard work and not giving up," shares sprinter Dina Asher-Smith. So don't be under any illusions that anyone can one day click their fingers and decide to just 'do' athletics.
6. Accepting advice from your peers
Anyone in the public eye is prone to criticism, it's part of the business, and athletes are no different. That's why it's good to be able to accept both criticism and constructive advice, especially when it's from Usain flippin' Bolt.
"He told me to just enjoy it and have fun…that as you get older it gets more serious and competitive, but not to lose that, to keep enjoying it, that's why I always go out there and smile," Adam Gemili says, as he recalls a memorable exchange with the fastest man on the planet.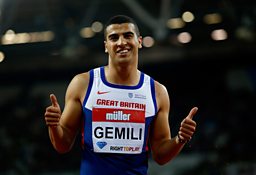 Adam Gemili Credit: Getty Images
7. Preparing for the inevitable pain
This applies to both the anguish of losing or underperforming as well as the physically painful side of the intense sport.
800 metre runner Michael Rimmer, who finished 3rd in the Olympic Trials before eventually making the team, knows all too well how important it is to pick yourself back up again after disappointment.

"It happens, it's tough to take… today is one of those down days but I'll be back."
And 400 metre runner Hudson-Smith plainly summarises the nature of the sport's demands: "Pain, pain, lactic and more pain."
Bugzy Malone is in Rio ahead of the Olympics looking into the country's gritty side of Hip-Hop and culture.