Main content
Daily Dal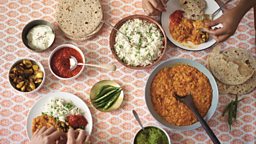 Masoor dal
SERVES 4
INGREDIENTS:
225g red lentils
2 tablespoons rapeseed oil
optional: 12 peppercorns
optional: 4 cloves
1 onion, thinly sliced
4 cloves of garlic, crushed
6cm ginger, peeled and finely grated
½ teaspoon chilli powder
½ teaspoon ground coriander
½ teaspoon ground turmeric
1 teaspoon salt
300g tinned plum tomatoes
PREPARATION METHOD:
In a sieve, rinse the lentils until the water runs clear, then drain and put into a deep, lidded saucepan.
Add 600ml of cold water, bring to the boil over a medium to high heat, then cover with the lid and simmer gently for 10 to 15 minutes without stirring, until thoroughly cooked. Like pasta, cooked lentils will be tender when cooked.
Meanwhile, put the oil into another deep, lidded saucepan on a medium heat. When it's hot, add the peppercorns and cloves if you're using them.
Stir-fry for around a minute, or until you can smellthem, then add the onion. Cook for 8 to 10 minutes, until golden.
Add the garlic and ginger and stir-fry for a further 4 minutes before adding the chilli powder, coriander, turmeric and salt.
Stir well, then add the tinned tomatoes. If they're whole, pour themout with one hand and crush them with your other hand to break them up before they hit the pan.
Cover, turn the heat down and simmer for around 8 minutes.
The tomatoes should be looking darker and more paste-like now, with little tomato juice running from them.
Add the lentils using a straining spoon, then pour in any remaining water they were boiling in, a little at a time, until you get a good consistency. For me, this is a fairly thick dal, thick enough to be eaten from a plate with bread, but you may prefer yours to be more soupy.
Finally, cover the pan with the lid again and cook on a low heat for a further 10 minutes.
Taste and adjust the salt, chilli or consistency as you see fit, and serve with chapattis, home-made yoghurt and some garlic pickle or fire-bellied garlic and chilli chutney.
Remember to watch out for the cloves and peppercorns.
Browse our selection of recipes from top chefs, cooks and food writers who have joined us on Woman's Hour.