Main content
BBC Arabic Festival Winners 2017
BBC Arabic Young Journalist Award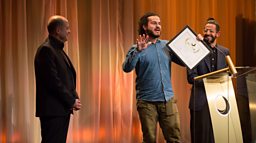 Winner of the 2017 BBC Arabic Young Journalist Award, Mohamed Jabaly. He received equipment and mentoring towards his next project, a feature documentary entitled Stateless. It will be ready in the spring of 2019. Mohamed won for his feature documentary, Ambulance.
To learn more about Mohamed and his new film, click here.
The BBC Arabic Young Journalist Award offers bespoke support to a promising young filmmaker under 30 years old. The winner of the 2015 award, Jordanian filmmaker Jumana Saadeh, returned in 2017 to present her film: No Kids Land.
Q&A Sessions
BBC Arabic producers Eli Malki and Christine Garabedian discuss "Death in Mecca", a documentary five years in the making, with BBC Producer, Brigitte Scheffer.

Festival Director, Sheyma Buali, speaks with four filmmakers whose films made up the session of short films entitled, 'Stories from a Changing Arab World': Kadar Fayyad, Rana Kazkaz, Anas Khalaf and Mohamed Hisham.

BBC Arabic presenter, Tony ElKhoury, hosts a one-on-one Q&A with filmmaker and journalist, Salim Abu Jabal about his feature documentary, Roshmia.