Main content
Rice Balls
Antonio Carluccio demonstrates how to make the perfect arancini or rice balls.
Rice Balls
This is a Sicilian speciality, which is offered in bars and cafes as a small meal or snack. This can be made with leftover risotto and makes ideal party finger food.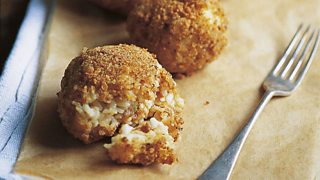 Sign up to the Cook the Perfect newsletter, or subscribe to our free download, to be kept up to date with all cookery items.
Ingredients
400g leftover risotto of any kind
4 eggs, beaten
Salt and pepper
Freshly grated nutmeg
50g Parmesan, grated
100g dried white breadcrumbs
Vegetable oil, for shallow- or deep-frying
Preparation Method
Put the leftover risotto in a bowl, and add half of the beaten egg, some salt, pepper, a pinch of nutmeg and Parmesan. Mix well with wet hands, then shape into apricot-sized balls.
Place the remaining beaten egg on one plate and the breadcrumbs on another. Roll the rice balls first in the egg, then in the breadcrumbs, then shallow or deep-fry in hot oil on all sides until golden, about 5 minutes or so. Drain on kitchen paper, and serve warm or cold.
Makes 24 rice balls.
More Food on the BBC
Browse our selection of recipes from top chefs, cooks and food writers who have joined us on Woman's Hour.