Main content
Alison Dowling on the challenge of playing Elizabeth's mental illness
Alison Dowling, who has played Elizabeth since 1984, shares her experience of playing Elizabeth going through mental illness and reveals the parallels between her and Elizabeth's lives.
It has been quite a challenge to gauge the pace and tempo of playing Elizabeth's emotional unravelling. The writers have cleverly and subtly hinted that she has underlying cracks that could easily be misinterpreted by her erratic and explosive emotional outbursts towards others, in addition to her attempt to distance herself from everyone.
I've approached playing this storyline wanting most of all to portray Elizabeth's illness and pain with as much raw truth as possible. My understanding of depression and anxiety is that being 'locked inside your own head' is the worst of all prisons.
Reading, preparing and recording the 'therapy episode' came with a lot of added responsibility not least as mental health is such an important issue. Unlike the usual framework of an Archers episode with five or more scenes and characters, this was more like a short play. It provided an opportunity to explore and analyse Elizabeth's history in depth, and recognise certain triggers and contributing factors of her current mental state.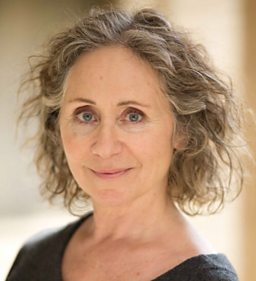 Alison Dowling: "I hope Elizabeth will eventually recover and emerge a stronger, happier woman."
Reliving Elizabeth's history
In studio I worked closely with the writer, Tim Stimpson, the director, Kim Greengrass, and Lorna Laidlaw, who played the counsellor. After reading and rehearsing, like a usual episode, it was then a case of rather like a theatre piece, just letting go of technique and being free with the performance. Trying to relive Elizabeth's history, feel her emotions and unlock the underlying causes of her illness, whilst telling the story and delivering the best performance I could.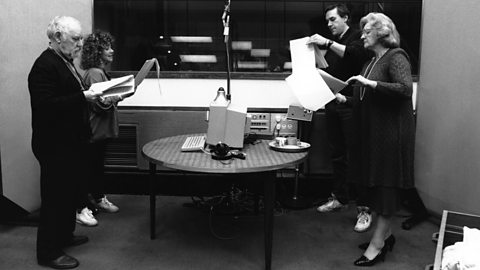 Upset by Cameron wanting an abortion, Elizabeth finds support in parents, Jill and Phil.
Having played Elizabeth for over 30 years I've a wealth of memories, some of which were revisited in the therapy episode. I remember in particular, scenes with Norman Painting (Phil Archer) and Patricia Greene (Jill Archer) where Elizabeth had to tell her parents she was expelled and later on pregnant and abandoned by Cameron Fraser. Norman and Paddy couldn't have been more supportive and generous to me as their Archers radio daughter.
I also remember lovely scenes with Jack May who played Nelson Gabriel, when Elizabeth used to confide in him regularly at Nelson's Wine Bar. He was remarkable on and off air.
I think what resonated the most from this episode was discovering the importance of professional help in unlocking buried trauma and negative ingrained thoughts. Who amongst us hasn't at some time felt the fragility of life and that fine line we walk either side of mental health?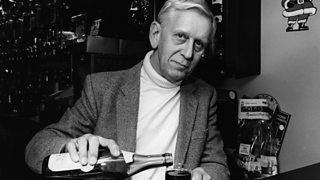 Parallel lives
I personally have two sons, the youngest is the same age as Freddie and Lily. Over the years I've mirrored Elizabeth's angst at landmark moments like first day at school, GCSEs , A Levels, first loves and university.
In fact, for the photo shoot of Elizabeth and her newborn twins, my actual newborn son is one of the babies I'm holding in the photo! I was also faced with the prospect of raising two children alone when my partner had a life-threatening illness. Thankfully he made a full recovery, unlike poor Nigel and his fatal fall.
Obviously I hope Elizabeth will eventually recover and emerge a stronger, happier woman. Hopefully she will find true love again one day. Once recovered, she will be emotionally better equipped to guide and support Lily and Freddie, and possibly Ruairi, as she had promised her dear friend Siobhan before she died.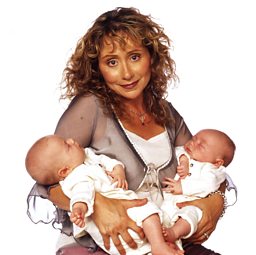 Elizabeth's twins: one of the babies is Alison Dowling's real life son
Through counselling I hope she appreciates how loved she is by her family and will be able to value and enjoy those relationships whilst courageously navigating her future in an everyday story of country folk!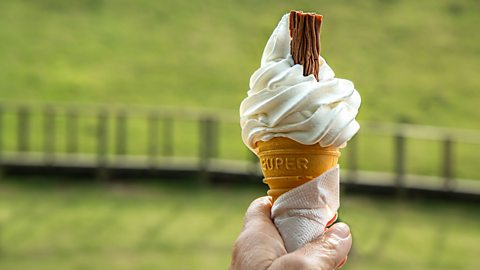 Elizabeth encroaches on Nigel's ice-cream selling territory and competes for customers.
Mental health support and more on Elizabeth