Main content
Tackling knitwear
Everyday artist of the week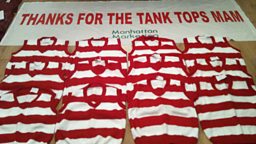 It is going to be a thrilling final Six Nations weekend as the rugby championship title race remains wide open. It is also the culmination of a creative marathon for one mum from West Wales who has helped kit out her son and his friends in homemade tank tops to help them cheer on their teams. So, in honour of supportive parents everywhere, we've made Cheryl Lloyd our everyday artist of the week.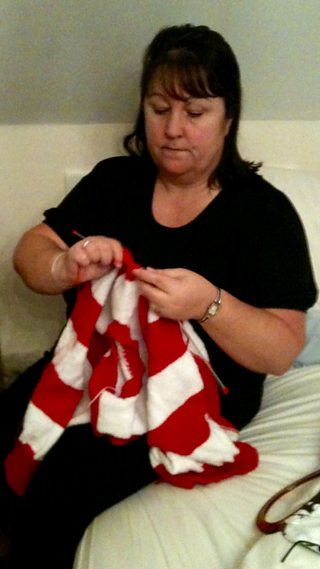 It's great seeing them all kitted out, but it's a relief when the knitting is over until the next tour
Cheryl Lloyd from Llanelli has been helping to add a splash of style to the stands of the Wales rugby team supporters by knitting retro tank tops for her son and his friends.
"I have been knitting since I was a child, my mother taught me. It's something I have always enjoyed. I knit various things, for the family and myself.
I used to work as a medical secretary for a consultant at the local hospital but had to retire because I have a bad back, mainly due to arthritis. However I thoroughly enjoy my knitting and find it very relaxing.
My son Daniel got me knitting these tank tops for when he and other rugby fans from Llanelli go to international matches and on tours.
We had to do about 30 for the current Six Nations tournament, so some other mums got involved too, but I knitted most of them.
They are all hand-knitted. I normally take a week to do one, maybe a bit less, depending what I am up to – and the deadline!
They tend to all be the red and white stripe, although I did knit a green and white one for one friend who has the nickname 'Token' - he's their token Irishman.
I keep it pretty simple with a stocking stitch. I knit pretty much every evening, and when I get these orders in I really have to put my mind to it.
I started the tank tops five or six years ago, and I think the inspiration was the 1970s and how well Wales were doing at rugby then. There was a player in the Wales team at the time, Phil Bennett, who comes from a neighbouring village to us, so I think the boys wanted to bring back a bit of the feeling from those days.
I've seen the boys wearing the tank tops on TV, and they accessorise them with ties and hats. It's great seeing them all kitted out, but it's a relief when the knitting is over until the next tour!"
If you'd like to be featured as our everyday artist of the week please get in touch. Share a photo or video on social media using #bbcgetcreative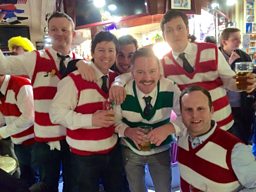 A look back at our artists
A jewellery designer who discovered a love for digital printing and uses it as a way to relax and to cure jet-lag

A dedicated mum and knitter who makes retro tank tops for her rugby- mad son and his friends to add a splash of style to the stands

A stitcher who joined a sewing group to meet like-minded people. She's made tea cosies and draught excluders as gifts and hopes to move to dressmaking

A stroke survivor who has used painting, music and writing to rehabilitate. He shared his first self-portrait using his affected hand with Get Creative

A keen cross stitcher and crafter who uses it as a way to relax and wind down after a day content producing for Get Creative
Millions of you already take part in creative activities and we want to put together an A-Z of all them