Main content
Seven things Prince Charles says you should do in the garden
The Royal Gardens at Highgrove have been a labour of love for The Prince of Wales for more than three decades. But what is his advice for young, amateur gardeners? His Royal Highness reveals all in an interview with Gardeners' Question Time...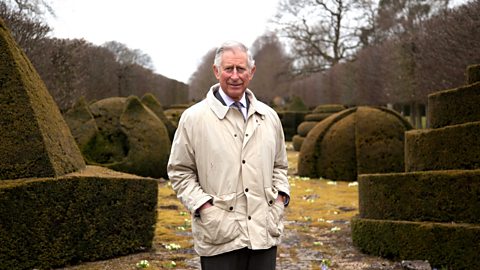 His Royal Highness The Prince of Wales talks about his lifelong passion for gardening.
1. Enjoy yourself
"Before you rush into things, see what you like and don't like and then get stuck in. For me it's the most marvellous, therapeutic business. You can get reward from it, but you can also be driven mad by it."
I cut off the end of my finger, banging in stakes. I had to be taken to Swindon Hospital to have it sewn back on again.
2. Take care with trees
"I planted a lot of the trees and I cut off the end of my finger, banging in stakes. I had to be taken to Swindon Hospital to have it sewn back on again."
3. Stay young
"I've tried to do that at Dumfries House... We've made a maze up there which is rather fun. I adored a maze when I was young. You just put yourself in the child's position and sometimes it works."

Cottage Garden and House Meadow © Highgrove Gardens
4. Paint a picture
"I have an absolute passion… for delphiniums – and I've always had it. There's something about those Edwardian watercolours… To me, gardening is rather like painting. You need to get the paint on – and not muck about."
5. Follow a path
"It's always rather fun following a path… It's always important to have paths that curve – you never quite know where you're going."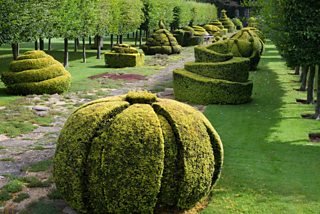 The Thyme Walk with Golden Yew Topiary © Highgrove Gardens
6. Work with nature
"We're losing so much that's really precious. Just one example is the wildflower meadows all over this country. Most of them have disappeared. Dug up, ploughed up, sprayed. At the time, in the 60s and 70s, I hated it to such a degree. It seemed to be going too far."
"Eventually it all comes round again and everybody's running around like headless chickens, trying to save desperately what's left… Suddenly they realise what has been done and the damage that's been done. You want to be able to use nature as your assistant, but you want to give back in return for what you take."
7. Keep your chin up
"No two years are the same. So, what was a disaster one year will probably be a success the next year. So don't despair. Nature's quite interesting like that."
GQT with HRH
The Prince of Wales reveals the story behind a tree house in The Royal Gardens in Highgrove.

Eric Robson chairs a special correspondence edition of the horticultural panel programme recorded at Highgrove in Gloucestershire.

On air since 1947, this broadcasting institution features a panel of the best brains in horticulture answering questions from amateur gardeners across Britain.